Healthy Pumpkin Spice Granola Recipe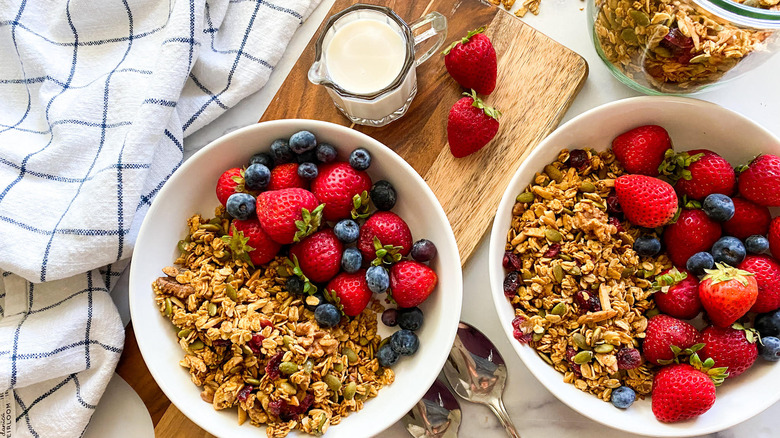 Miriam Hahn/Mashed
Although it might be far from your mind, summer is coming to an end and fall flavors will soon be everywhere. Miriam Hahn is a wellness coach and recipe developer who values seasonal flavors and nourishing ingredients. These qualities are immediately clear when you try her healthy pumpkin spice granola recipe. She remarks, "This one is great for fall!" Skip the pumpkin spice latte (or have it as well) and enjoy this delicious granola for breakfast or as a snack. Once you have a bite, you'll understand why Hahn says, "I always have a batch made!" 
If you've never made your own granola, you're in for a treat. As Hahn says, "It is easy to make and [it] makes the whole house smell amazing!" As well, doing it yourself means that you can control what goes inside. Even though granola is regularly praised as being a health food, lots of store-bought options leave much to be desired. They often contain high levels of sugar and additives to keep them shelf-stable. Homemade flavors and wholesome ingredients are a huge plus for Hahn. She notes, "I love being able to use my own ingredients so I can make sure they are organic," and she adds, "I always use raw nuts without salt." 
Gather the ingredients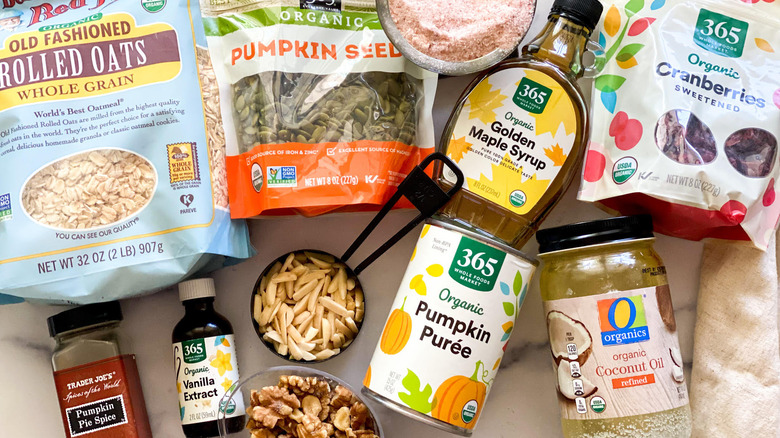 Miriam Hahn/Mashed
You'll notice Hahn prioritizes organic ingredients, but it isn't necessary if you don't usually buy organic. To start, you'll need rolled oats, aka old-fashioned oats. These hold their shape, maximizing the crunch factor in your granola. Next comes a mishmash of nuts and seeds. Hahn points out that "You can substitute any nuts or seeds you like in this recipe." She keeps it practical and says, "I change it up based on what I have in my pantry." For this recipe, she opts for raw pumpkin seeds, aka pepitas, slivered almonds, and walnuts. It's best to choose raw nuts and seeds for granola since you'll be baking them. 
Aside from the dry ingredients, you'll need wet ones to make everything stick together. For a fall flavor profile, Hahn uses pumpkin puree – she hasn't done it yet, but she is eager to try using homemade pumpkin puree for this recipe in the future. Maple syrup is used to sweeten the granola, but if you prefer honey, Hahn says it works fine and recommends, "raw honey, which retains the nutrients." A bit of melted coconut oil helps the granola brown in the oven, or Hahn says avocado oil is also a good option. A splash of vanilla extract adds a sweet sensation and pumpkin pie spice is sort of a requirement in the fall! Finally, a touch of salt (Hahn uses pink Himalayan salt) enhances the flavors and dried cranberries add a burst of tartness in every bite. 
Start by mixing the oats, pumpkin seeds, almonds, and walnuts in a large bowl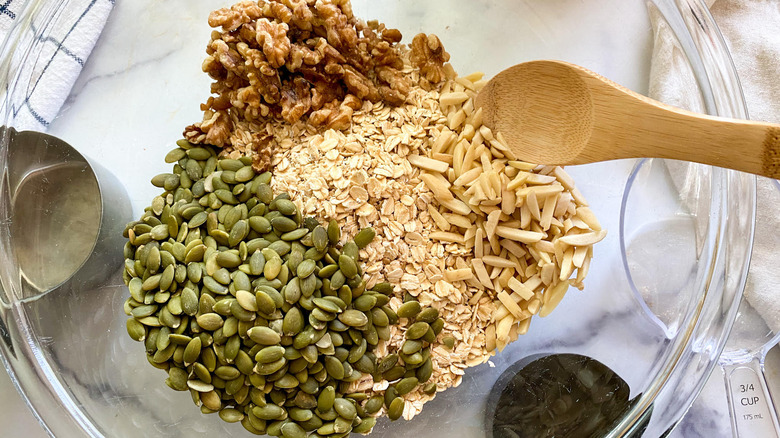 Miriam Hahn/Mashed
First of all, preheat your oven to 300 F – if your oven has a convection setting, then use it. It's best to keep the temperature relatively low for granola to avoid burning the components before they have a chance to dry out. Next, set out a large bowl and combine the rolled oats, pumpkin seeds, slivered almonds, and walnuts. Give the contents a quick stir to distribute the ingredients.
In a medium bowl, mix the pumpkin puree, maple syrup, coconut oil, vanilla, and seasoning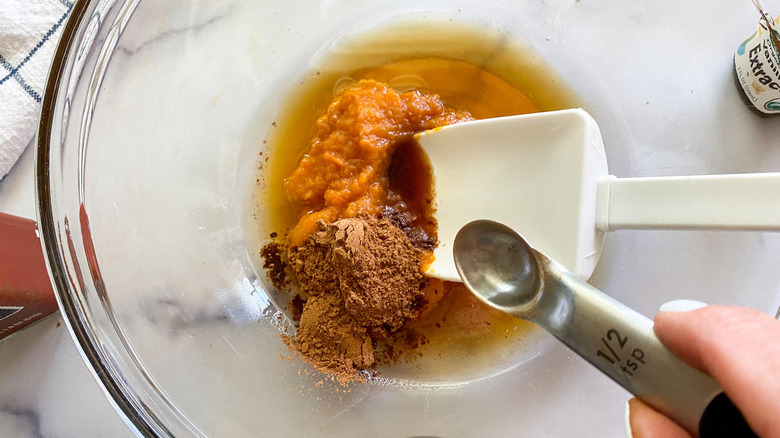 Miriam Hahn/Mashed
Next, set out a medium-sized bowl for the wet ingredients. Combine ⅓ cup of pumpkin puree, ¼ cup of maple syrup, ¼ cup of melted coconut oil, a splash of vanilla extract, 2 teaspoons of pumpkin pie spice, and ½ teaspoon of salt. Whisk the ingredients together until the mixture is smooth and uniform.
Mix the wet ingredients into the dry mixture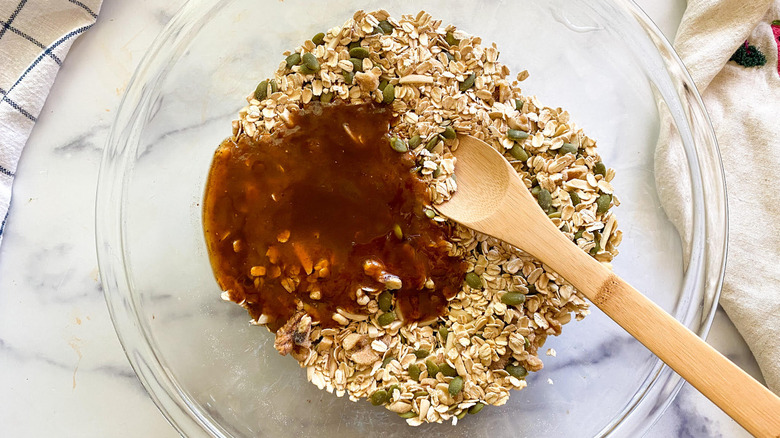 Miriam Hahn/Mashed
Now go ahead and pour the wet mixture into the bowl with the dry oat mixture. Then, stir all of the ingredients together using a wooden spoon or spatula. You'll want to ensure that the oats are uniformly coated with the wet ingredients in order for them to toast evenly. If the wet mixture is too concentrated in one area, then the granola won't be as crunchy as desired.
Spread the mixture onto a lined baking sheet and bake it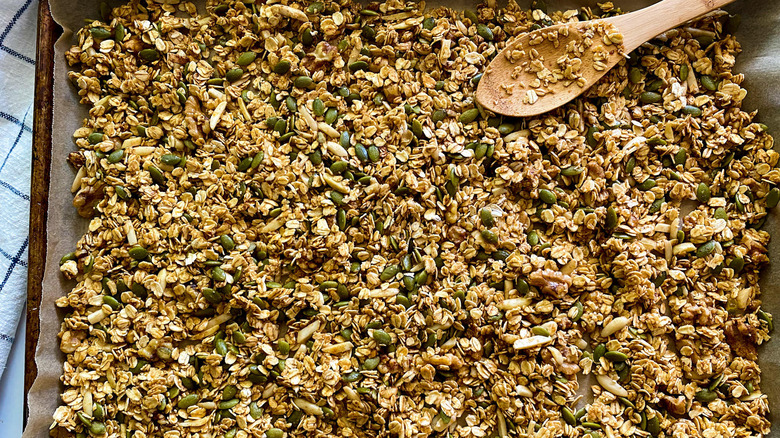 Miriam Hahn/Mashed
Line a baking sheet with some parchment paper and spread the granola mixture in an even layer on top. Transfer the baking sheet to the preheated oven and bake it for 15 minutes. After 15 minutes, remove the tray and drizzle 2 tablespoons of maple syrup over the top of the granola, stirring it in with the help of a flat spatula. Pop the baking sheet back into the oven and bake it for another 15 minutes or until it is golden brown. Hahn recommends checking around the 10-minute mark to avoid over-browning the granola.
Remove the tray from the oven and stir in the cranberries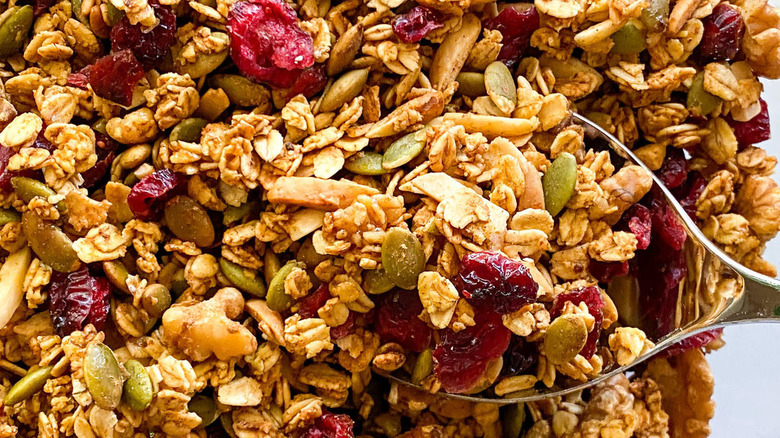 Miriam Hahn/Mashed
When the granola has finished baking, you'll know thanks to its golden brown color, reminiscent of the fall leaves. At this point, remove the tray from the oven and let the granola sit for 10 minutes while it cools down. Then, either mix the dried cranberries in directly on the baking sheet, or transfer the granola to a bowl to stir in the dried cranberries. 
Serve this delicious granola with your favorite accompaniment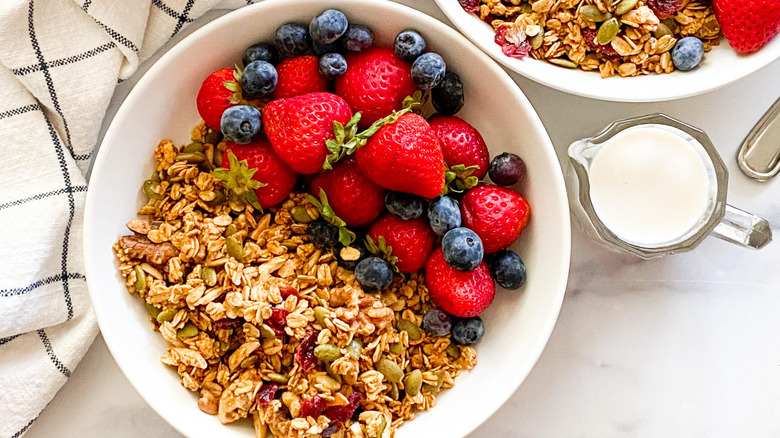 Miriam Hahn/Mashed
It's time to dig into this delicious healthy pumpkin spice granola! Hahn remarks, "My favorite thing to do with the granola is have it with almond milk." If you want to keep it crunchy, she loves having it with yogurt or as a topping for oatmeal. In the same vein, it would surely be great to sprinkle over a smoothie bowl. It's also tasty with no extra frills, as Hahn's husband knows – she says, "My husband is addicted to this granola and has it every night dry as a snack." Whatever you don't immediately eat can be stored in a sealed airtight container in the pantry for up to three weeks.
Healthy Pumpkin Spice Granola Recipe
Who doesn't love pumpkin spice? This healthy and delicious homemade granola can be enjoyed any time of year, perfect with almond milk or yogurt or even plain!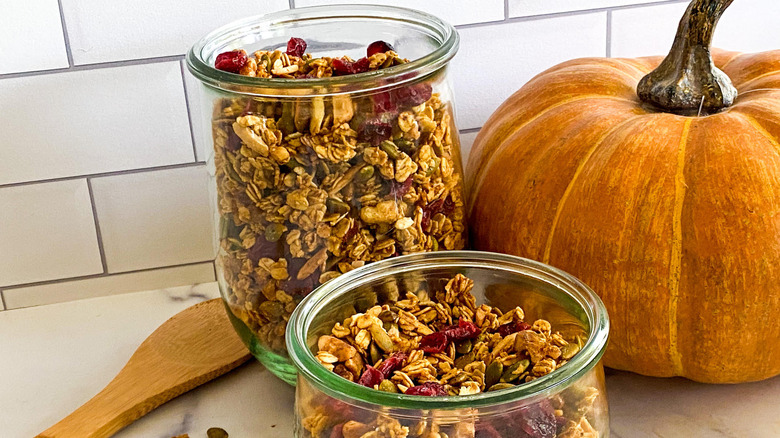 Ingredients
3 cups organic rolled oats
1 cup organic raw pumpkin seeds (or pepitas)
½ cup organic slivered almonds
½ cup organic walnuts, chopped
⅓ cup organic pumpkin puree
¼ cup + 2 tablespoons organic maple syrup, divided
¼ cup organic coconut oil, melted
1 teaspoon organic vanilla extract
2 teaspoons pumpkin pie spice
½ teaspoon pink Himalayan salt
½ cup organic dried cranberries
Directions
Preheat the oven to 300 F (use the convection setting if you have it).
In a large bowl, combine the oats, pumpkin seeds, almonds, and walnuts.
In a medium bowl, combine the pumpkin puree, ¼ cup of maple syrup, coconut oil, vanilla, pumpkin pie spice, and salt.
Next, add the wet mixture to the bowl with the oat mixture and stir well.
Transfer the mixture to a parchment-lined baking sheet, spreading it out to make an even layer.
Place the baking sheet in the oven for 15 minutes.
Then, remove the tray from the oven and drizzle on the remaining 2 tablespoons of maple syrup, stirring it into the granola with a flat spatula.
Return the baking sheet to the oven to bake for another 15 minutes, or until golden brown.
Let the granola cool for 10 minutes, then mix in the dried cranberries.
Serve as desired or store in a sealed jar for up to 3 weeks in the pantry.
Nutrition
| | |
| --- | --- |
| Calories per Serving | 255 |
| Total Fat | 14.4 g |
| Saturated Fat | 5.4 g |
| Trans Fat | 0.0 g |
| Cholesterol | 0.0 mg |
| | |
| --- | --- |
| Total Carbohydrates | 27.7 g |
| Dietary Fiber | 3.8 g |
| Total Sugars | 10.3 g |
| Sodium | 100.2 mg |
| Protein | 7.4 g |