Guiltless Low-Carb Two-Ingredient Pancakes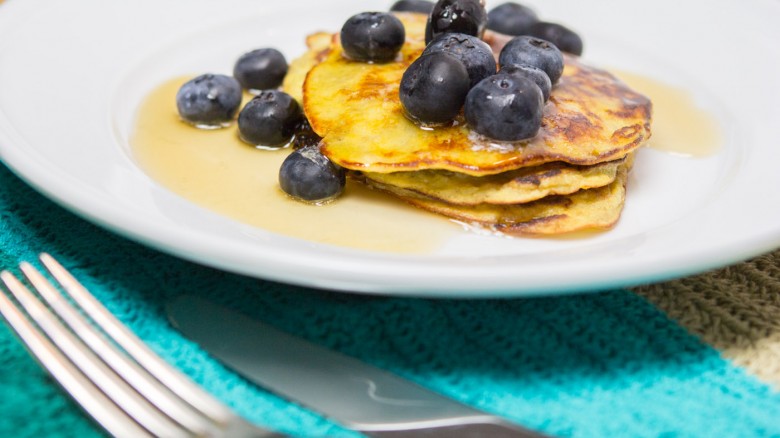 Prep time: 5 minutes. Cook time: 5 minutes. Servings: Makes about 6 small pancakes.
Two-ingredient pancakes may seem bonkers, but they're actually a thing and quite a delicious thing at that. Made with only a ripe banana and a couple of eggs, the batter is humble, rustic, and totally easy to pull together at the last minute, resulting in light and airy confections without the guilt. With just a little whisk action, these two mundane pantry ingredients transform into a glorious little stack. Blissfully simple, gluten-free, dairy-free, and downright scrumptious? Count me in, please.
At this point you're probably wondering what these strange-sounding pancakes could possibly taste like, and I completely understand. In the interest of full disclosure, these pancakes don't try to be what they are not. While they are not as bready as the ones you're accustomed to, they're incredibly light, addictively soft, and beyond tasty served with maple syrup and fresh berries. They're imbued with a naturally sweet banana flavor and fanciful sponginess from the well-whisked eggs.
I love how little these pancakes ask of me and how much they have to offer. Two eggs, one banana, and a pan are all I need to cook up a charming pile of warming pancakes ready to be drenched in the good syrup. While these are easy to whip up, keep their delicate nature in mind when you're flipping. Doing so with care will ensure they stay intact. While one batch makes enough for two people, I could have easily devoured all six adorable pancakes by myself. Just saying.
Ingredients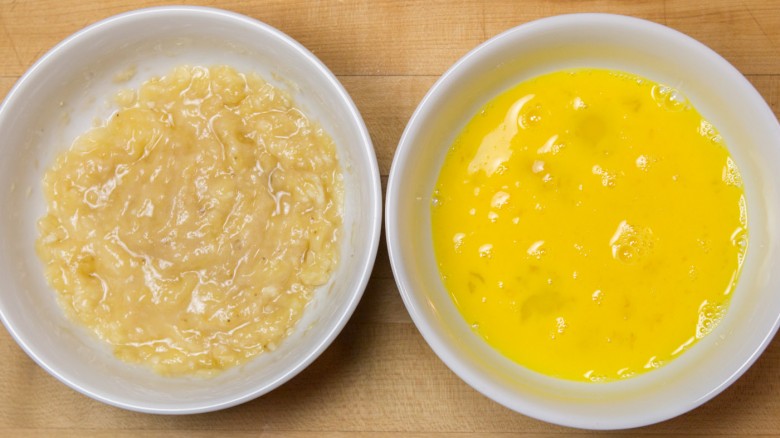 Shopping list


1 ripe banana, mashed


2 large eggs, beaten


⅛ teaspoon baking powder, 2 teaspoons honey, or 1 teaspoon vanilla extract, optional


fresh fruits for serving, optional


Equipment
Make batter
If using, add the baking powder, honey, or vanilla extract to the bowl with the mashed banana and stir to combine. Add the eggs to the bowl with the banana and whisk until fully combined.
Cook pancakes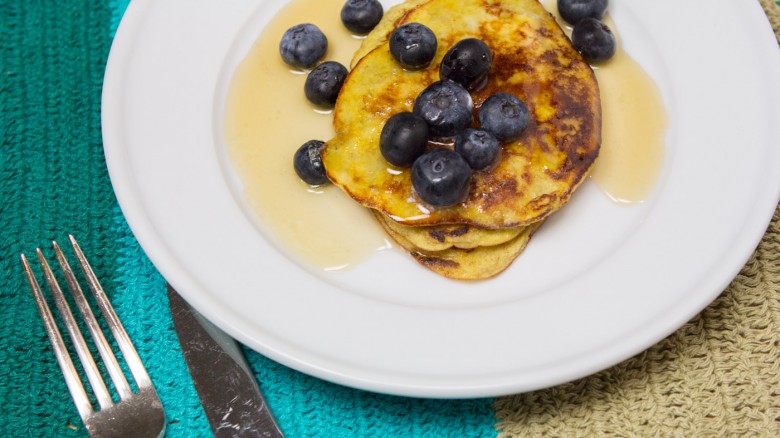 Heat a large pan over medium heat, using butter if desired. When the butter is foamy, add about 2 tablespoons of the pancake batter for each pancake, spacing apart slightly. Cook until the bottom is mostly set and the edges begin to brown, 1-2 minutes. Using a thin rubber spatula, carefully flip the pancakes and cook until the other side is golden brown, 1-2 minutes more. Serve warm pancakes with butter, maple syrup, and fresh fruit as desired.
Looking for another guiltless breakfast? Try this cloud bread breakfast sandwich.