Unexpected Ways To Use Cadbury Creme Eggs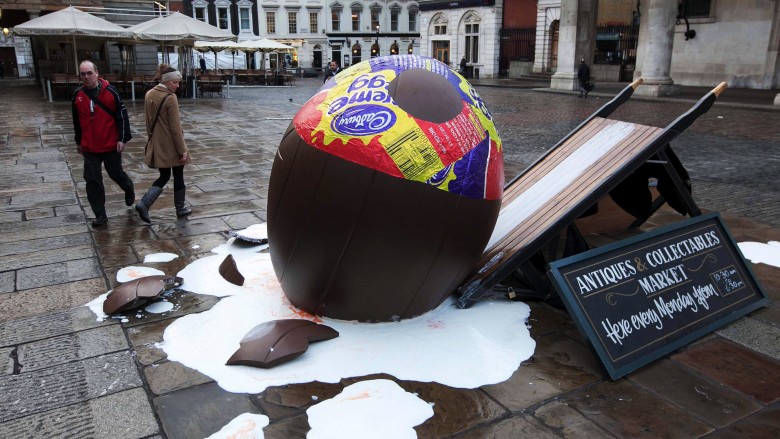 Getty Images
If you love Cadbury Creme Eggs, you probably know that the year only has two seasons: Creme Egg season and not Creme Egg season. Even if you're the type who picks up one or two as a treat and finishes them in the car on the way home, these ideas for unconventional desserts and treats starring Creme Eggs might persuade you to save them for later ... or at least pick up a few extra.
Creme Egg rocky road
Chocolate is a staple food of the spring season, but sometimes you find yourself craving something just a little bit different. Anytime you're looking for a quick and easy way to liven up dessert, rocky road is a super-flexible option that, of course, you can make with a Creme Egg-inspired twist.
Cadbury is a way of life in the U.K. and Ireland, and Charlotte's Lively Kitchen created this amazing version of rocky road with mini Creme Eggs that's super easy. As an added bonus, it only takes about 15 minutes to put together, and there are so many ways to mix it up that if your local grocery store doesn't have things like tea biscuits or golden syrup, it's easy enough to swap out another kind of cookie and syrup. You can give or take the raisins or add peanuts, although swapping out the mini eggs for the larger ones is not recommended, as tempting as it is to pack more fondant goodness in wherever you can. While there's nothing about this that looks healthy, everything certainly looks delicious.
Toasties
Toasties are hugely popular in Britain and Ireland, and if you've ever had a grilled cheese sandwich, you're familiar with a cheese toastie. While you're more likely to see ham and cheese toasties, a pop-up Creme Egg restaurant in Soho served up Creme Egg toasties for a limited time in 2016. It was one of four dishes available: the others were egg and soldiers, a Creme Egg tray bake that was essentially a rocky road, and a strawberries and Creme Egg dish.
This one's super easy to make at home, especially if you have a panini press. Directions (courtesy of AllRecipes UK) are simple as can be. Butter up a couple pieces of bread, pop them in the press, cut your Creme Egg in half, and smash it in the middle. You'll have a gooey treat within minutes, and it might just be your new guilty pleasure.
Creme Scotch egg
There's not much about traditional Scotch eggs that's good for you: they're an absolute treat. While there are some variations on the idea, it's a sausage-wrapped, hard-boiled egg that's deep-fried to cook the sausage coating. (Check out this recipe from the BBC if you're wondering how to make one yourself.)
Because the internet is a wonderful place, you can find a handful of different recipes that take the same idea and use a Cadbury Creme Egg as the center, instead of a boring chicken egg. Serious Eats has a version where you coat your Creme Egg in a cocoa powder batter, then deep-fry the whole thing for a cakey crust that gets coated in egg wash and cookie crumbs.
If you're looking for the ultimate Creme Scotch egg, check out Omm-Nomm's offering. It went viral for a reason. It has all the indescribable goodness of a Cadbury Creme Egg center, surrounded by a spongey chocolate cake that's dipped in chocolate for a second delicious crust then covered with a layer of grated chocolate. If this isn't enough to persuade you to make those chocolate eggs last until you get home, nothing will be.
Creme Egg ice cream
Anyone in Britain or Ireland can swing by the grocery store and pick up some Cadbury Creme Egg ice cream, and it's just as amazing as it sounds. Fortunately, you can also make your own.
Since you can never have too much chocolate, this recipe from Sweet ReciPEAs might just be the perfect thing to satisfy a Creme Egg craving and a chocolate one. It does require an ice cream maker, but there are plenty of options out there and if you're an ice cream fan, it's probably worth the small investment to be able to make all your favorite flavors and experiment with new ones. This non-essential piece of kitchen equipment might make for some hesitant home cooks, but the promise of this ice cream alone is enough to warrant a spur-of-the-moment purchase.
Getting hungry? What Jessica Baked Next has a recipe for a completely guilt-filled version that doesn't require any special equipment. Made with heavy cream, sweetened condensed milk, and plenty of chocolate, it's supposed to last for up to two weeks in the freezer, but once your family digs into this one, it won't last that long at all.
Roulade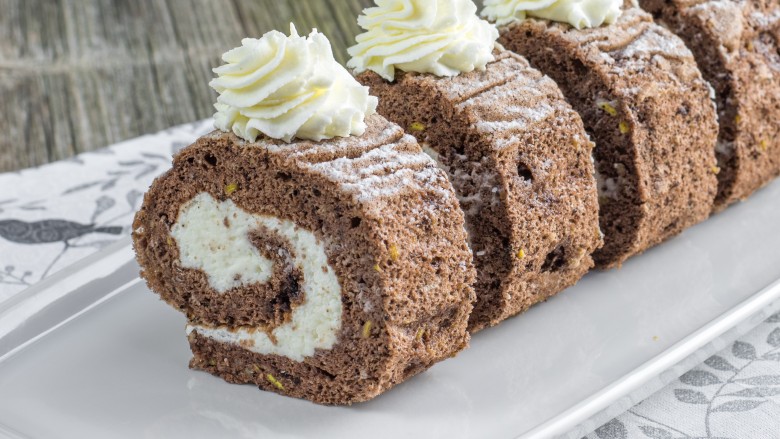 If you've ever found yourself scrambling for a last-minute dessert for brunch, lunch, or literally any springtime event, you know the feeling of mild panic. The pressure to come up with something quick, easy, and elegant is on. How about a Creme Egg roulade?
The only bit of slightly specialized equipment or ingredients you need — apart from the Creme Eggs — is a Swiss roll tin. (If you don't have one, you can substitute a baking tray lined with parchment.) It holds the cakey coating that you'll turn into an elegant-looking dessert. Once you roll the cake and creamy filling around the Creme Egg center, finish it off with some colorful splashes of icing and you'll have a dessert that's worthy of being a centerpiece.
Deviled Creme Eggs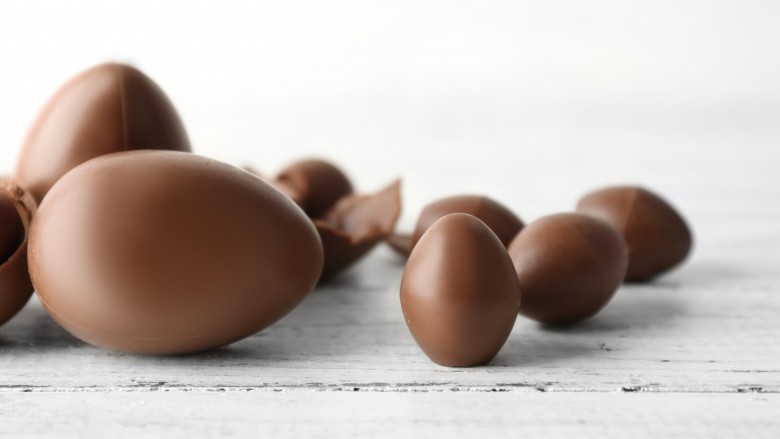 By the time Cadbury Creme Eggs hit the shelves each year, summer is right around the corner. Since that's the time of backyard barbecues and deviled eggs, why not usher in the season with a platter of deviled Cadbury eggs?
Cakespy has reimagined the deviled egg using only a few simple ingredients. Slicing the egg in half gives you the basics, and it doesn't take nearly as long as hard-boiling regular eggs, so that's a bonus. Leave the fondant filling where it is, and top it with a spiraled dollop of vanilla buttercream frosting colored yellow for effect. Use some red sprinkles to finish off the effect, and you'll have a sweet treat that's going to look — and taste — amazing on any holiday or party platter. Even better is just how fast this one is, and how clever you'll look when your guests see it.
Shortbread
When it comes to whipping up a tray of single-serving sized goodness, most of us default to thinking about cupcakes. While there are a ton of Creme Egg-inspired cupcake recipes out there, mix it up a bit and use that cupcake tin for shortbreads instead.
Kerry Cooks gives a great set of guidelines for making these layered desserts that start with a shortbread base then add on a layer of caramel, a layer of chocolate, and a sweet topping for a single-serve dessert that's sure to have a bit of every flavor in every bite. The shortbread helps cut the sweetness of the mini Creme Eggs on the top, and it's easy enough to make an entire batch topped with a variety of different things, just in case anyone you're sharing with isn't a fan of the Creme Egg. (You can also use a 9-by-9 baking tin if that's more your style.)
The hardest part of this recipe might be making the caramel from scratch, but there are plenty of ideas out there for simplifying this seemingly daunting task. For a bit of a variation on the idea, try this sweet salted caramel recipe from Sally's Baking Addiction. Homemade caramel is one of those things that should be in your arsenal of basic baking recipes, and it's so easy you might find yourself making up a batch just to keep in the fridge for ice cream night. (For Creme Egg ice cream night? Even better.)
Fudge
Fudge might be more traditional for the winter holidays, but there's no reason it can't be a special dessert any time of the year. When you make a version with Creme Eggs, you might find it becomes a new signature dessert for any brunch.
The flavor of a Creme Egg can be pretty powerful, and pairing it with your usual chocolatey fudge could easily be too sweet and overpowering. Luckily, Fuss Free Flavours has a non-traditional light fudge made with double cream, milk, white sugar, and butter, so it's the perfect compliment to the sweet fondant eggs. For all the true chocolate lovers out there, chocolate fudge is definitely doable, and Fab Food 4 All has a version calling for dark chocolate to flavor the fudgey base decorated with mini Creme Eggs and other mini chocolate eggs. It's definitely not good for you, but you're only eating a bite-sized piece at a time, right?
Your slow cooker might be the most underrated tool in your kitchen, and if the hassle of fudge is just too much of a pain, don't fret. A Keen Cook has a foolproof method for making fudge in your slow cooker. You have literally no excuse not to. This fudge has Creme Eggs mixed in as it cooks, and since it only takes an hour in the slow cooker, this a super-simple dessert that's a win all around.
Pancakes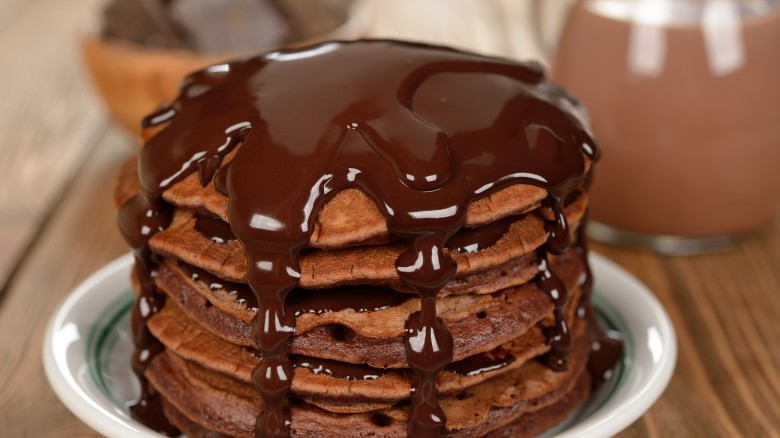 One of the only good things about adult life is the ability to choose what you're going to have for breakfast. It's OK to have things like cakes and candy every once in a while! Get a little creative with some Creme Eggs, and you can have the best of both worlds.
Great British Chefs put together this take on Creme Egg pancakes, and it's a super-sweet treat to start the morning off right. Following the recipe exactly will leave you with a stack of pancakes held together with a generous helping of double cream, covered with a drizzle of Creme Egg sauce, then topped with another Creme Egg. The presentation on this one certainly doesn't have to be perfect, and even better is the fact that it's not much more complicated than the pancakes you're already making. The drizzle is nothing more — or less — than a single melted Creme Egg, and that could make this an absolutely perfect breakfast for any day of the week.
Doughnuts
Whether doughnuts are a regular breakfast item or an occasional treat, Creme Egg doughnuts are a must for any time of the year you can get your hands on some the eggs. Cut Squash offers some great guidance on making these sweet, sweet morning treats. Assembling your doughnuts is easy, but this recipe calls for frying your doughnuts in true doughnut fashion. Baking a Mess has a more straightforward recipe that includes all you need to know from start to finish, and it's easier to do than you might think. The doughnuts only need to cook for a minute or two in the hot oil, but the setup and clean-up involved means it's a great excuse to get your money's worth, so to speak, and whip up a dozen or so at a time! And because there's no wrong way to make doughnuts, both of these recipes lend themselves to a bit of experimentation. Finish them off with a dollop of chocolate frosting, some whipped cream, or dip them in chocolate for a neat, thin chocolate shell. Yum.
Pavlova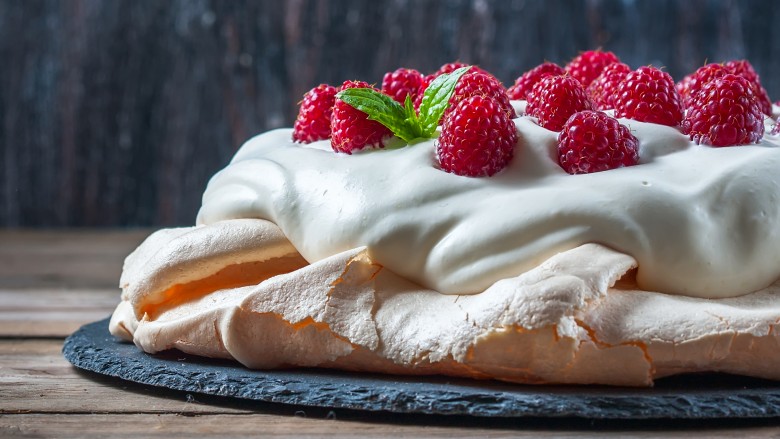 Pavlova is another popular dessert that looks much more complicated to make than it actually is, and while there are countless versions you can whip up in a matter of minutes, this Creme Egg-inspired pavlova from Taming Twins is sure to be a springtime favorite.
The base is premade pavlova shells, but that's not cheating: it's working efficiently. (When the end product is this delicious, no one's going to be pointing any fingers.) With a whopping 10 Cadbury Creme Eggs, some chocolate cream, and drizzles of chocolate, this is a fun and delicious idea that you'll be happy to take to anyone's house for an after-dinner treat or just to go along with an afternoon coffee.
The pinata cake
This one is "the" pinata cake because it's the creation of Martha Collison, the baker who rose to fame as the youngest contestant to appear on The Great British Bake Off. It's also the answer to the question, "What's better than a cake topped with Creme Eggs?"
The more precise answer is, of course, a cake topped with Creme Eggs and filled with even more Creme Eggs. Collison's cake is a simple but delicious buttery sponge cake with a secret that's all in the assembly. After stacking it and sandwiching in some chocolate ganache, the center of the cake is removed and filled with Creme Eggs. Then the top is added, along with some more ganache and a drizzle of icing. Top that with another Creme Egg halved, centered, and covered with icing drizzle. Cutting into this one might be breaking into one of the best pinatas ever, but when the Creme Eggs start to spill out, everyone will be scrambling to snarf them up.
Creme Egg dip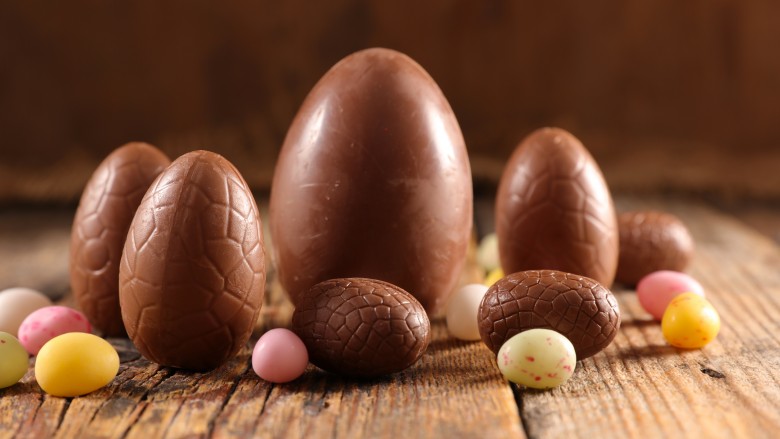 Platters are always a great thing to bring to a party or set out on a table when the family's in town or over for a visit, and there are always Cadbury Creme Egg devotees in any gathering. Give them something they've almost definitely never had before when you set out a platter with this Creme Egg dip from Bitz & Giggles in the center.
That's right, Creme Egg dip. It's not just smashed and stirred Creme Eggs. (Although, if the thought had crossed your mind, you're not alone.) It's also Creme Eggs mixed with marshmallow creme, cream cheese, and whipped cream to make a sweet, fluffy dip that's perfect with apple slices. This would also make a great centerpiece for a platter of cookies or brownies. Be sure to include a knife for slathering this delicious dip over anything you can pair it with.
An evening cocktail
No matter how long it's been since you've had a Cadbury Creme Egg, it's a flavor you just don't forget. Even if it's been months, you know the taste as soon as you see them back on the shelves. If you have any doubt about how well that distinctive sweet flavor will work in an alcoholic cocktail, here are a few drinks to banish the last pieces of that fear.
Nesting with Style has perfected a Creme Egg martini, and it's made with vanilla vodka, salted caramel vodka, a white chocolate liqueur, creme de cocoa, and, of course, a Creme Egg. The gooey center of the egg is poured over the inside of the glass, and the two different types of vodka mean that it's delicious drink that can double as a complete dessert. For something even more decadent, try a Cadbury Creme Egg cocktail. It's also made with vanilla vodka but then mixed with heavy cream, white creme de cacao, and yellow Chartreuse. Garnish with chocolate and a mini egg, and you'll have another drink that's an entire dessert in itself.
If you don't keep a stocked bar, it can be tough to justify buying that many bottles for one or two drinks. That's how overstocked cabinets and expired food happen, and no one wants that. Fortunately, Food Fanatic has a brilliant recipe for a Creme Egg milkshake that's a lot less intensive. You'll need whipped cream vodka, vanilla ice cream, and whole milk. Sprinkles optional. (But seriously, get the sprinkles.)