Here's How Much Donald Trump And Melania's Wedding Cake Really Cost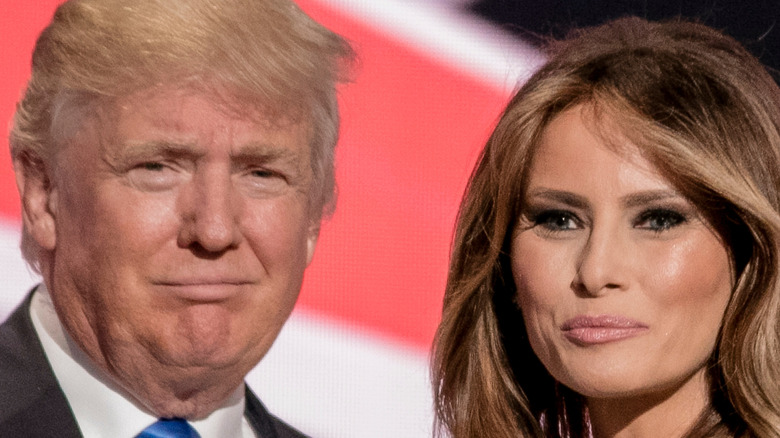 mark reinstein/Shutterstock
If there's one thing Donald and Melania Trump know how to do, it's making a splash with their money. The couple tied the knot back in 2005, and people are still talking about their lavish wedding, which reportedly cost about $1 million, per Showbiz Cheat Sheet. That estimated price point does not include the $1.5 million Donald had already spent on Melania's 12-carat Graff diamond engagement ring. So realistically, Trump probably dished out close to three mil on his third wedding. Go big or go home, right?
The opulent soirée attracted over 350 guests including, P. Diddy, Anna Wintour, Rudy Giuliani, The Clintons, Shaquille O'Neal, and Kelly Ripa (via HuffPost). The wedding was held at Donald Trump's Mar-a-Lago estate in Palm Beach, Florida, presumably because he needed a large enough space to fit all their guests. Maybe it also saved on wedding expenses (not like money was an issue). If you're thinking, "350-plus guests? That's a lot of mouths to feed. That can't be cheap, right?" then you'd be absolutely correct. According to Showbiz Cheat Sheet, French chef Jean-Georges Vongerichten was hired to construct a five-star menu that came with Cristal champagne. Based on media estimates, the cost of catering may have averaged out to $275 per head.
Melania had two dresses for the big day: a custom-designed Dior gown for the ceremony and a silk Vera Wang number for the after-party. The Dior gown reportedly weighed 60 pounds and cost $100,000. Last but certainly not least, there was the wedding cake.
The cake was for seeing, not eating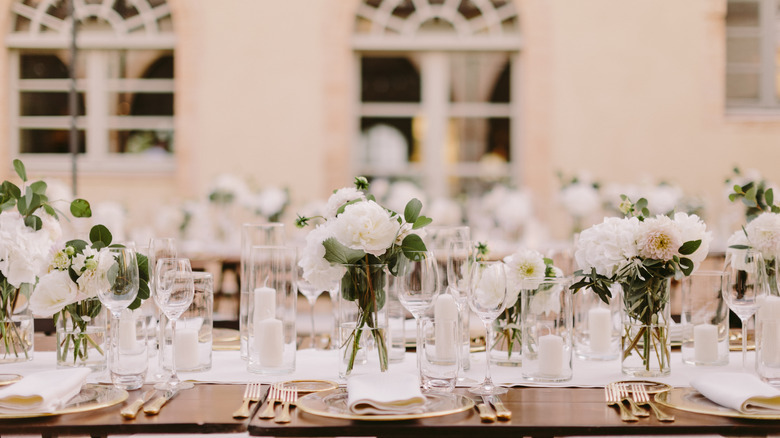 shevtsovy/Shutterstock
Sometimes the glamorous wedding cake on display is not the same cake guests are served when it comes time for dessert (via the Martha Stewart website). This could be for a variety of reasons, such as cost concerns or the physical makeup of the cake. The latter was the case for Donald and Melania Trump.
According to Showbiz Cheat Sheet, Mrs. Trump oversaw the wedding cake details, and to say she went all out would be an understatement. Their yellow sponge wedding cake cost a whopping $50,000 and stood seven tiers high, weighing in at 200 pounds! It was soaked in a French liqueur called Grand Marnier, boasted 2,000 sugar-spun flowers, and was situated on a gold-ornamented stand. All that aside, the reason guests were unable to enjoy the cake was that it was held together with an exhausting amount of metal wiring.
Though they couldn't eat the new Mr. and Mrs. Trump's towering cake, guests were given personal mini versions of the dessert during the reception instead. The wedding favors were stored in monogrammed boxes (via Vanity Fair). Some of those slices have gone on to be auctioned for thousands of dollars!