Easy Eton Mess Recipe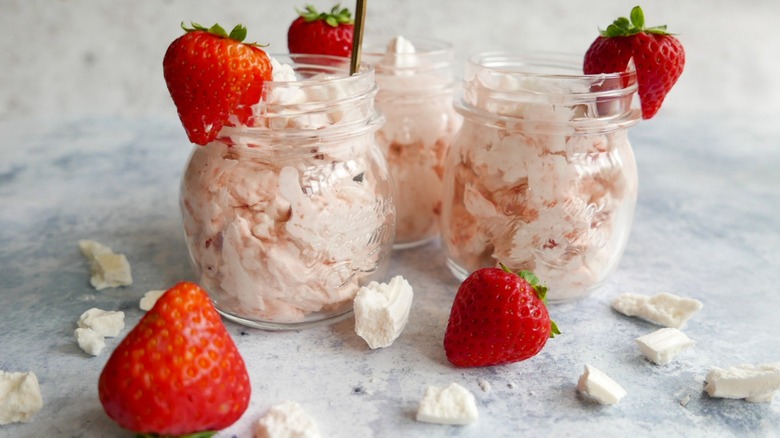 Ting Dalton/Mashed
When it comes to oddly-named desserts, Eton mess is up there. It sounds strange to American ears, certainly. Tell guests who have never heard of it that you're going to be serving them a "mess" for their post-dinner enjoyment, and that's where some strange looks come in.
That suspicion will absolutely disappear once they see this light, fruity, summertime-on-a-spoon dessert because it looks and tastes delicious. But ... what is it? Let's just say that anyone who loves strawberries and meringue may find that this is their new favorite dessert.
The dish did indeed originate at Eton College in the UK, and it's an airy dessert that typically stars strawberries. The history of just how it came about is a little foggy, and even though no one's entirely sure where the "mess" comes from, it's still become a major favorite. Recipe developer and travel writer Ting Dalton explains: "This is the ultimate British summer pudding. And it's so simple to make! This is my son's favorite dessert, and he is super happy when I make it for him."
It's a guarantee that everyone will love this traditional British dessert!
Gather your ingredients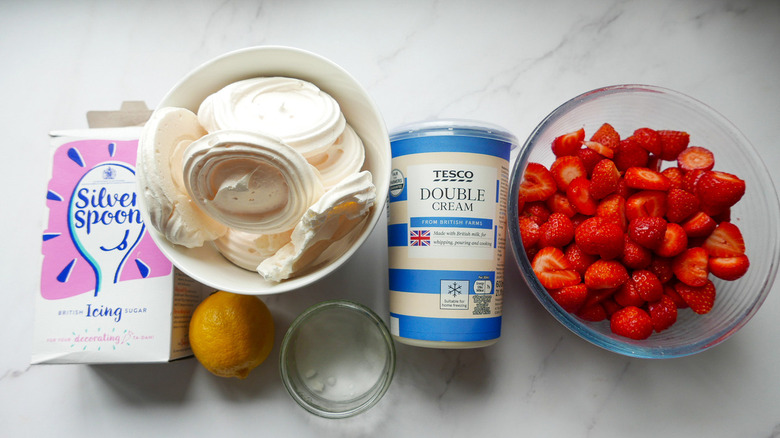 Ting Dalton/Mashed
We're all about making things easy, because let's face it — life is busy, and any time we can combine authentic and easy, it's a total win. That's why Dalton's recipe starts with ready-made meringue nests, and she notes: "This recipe uses ready-made meringues for speed and simplicity, but you can also make your own meringues."
If that's the way you're going to go, check out our homemade meringue recipe here. 
You're also going to need a pound of strawberries, lemon juice, caster sugar, heavy cream, and powdered sugar. (If you don't happen to have caster sugar on hand, Dalton says you can use granulated sugar and see no difference in the final product.)
Prep your ingredients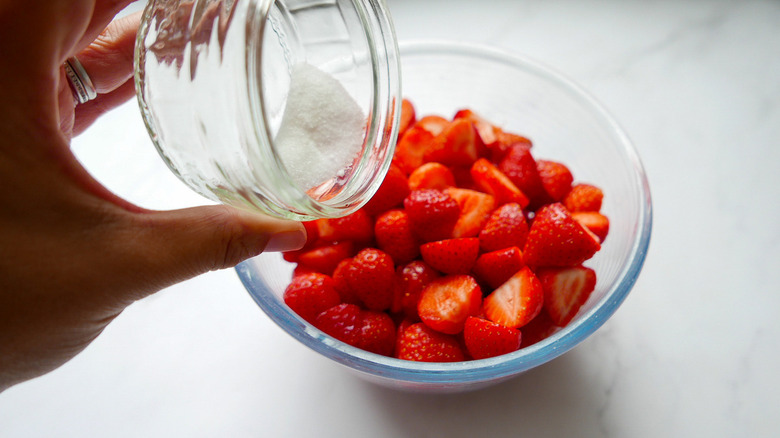 Ting Dalton/Mashed
There's a few things you can do ahead of time to make the entire assembly process easier, and that starts with roughly chopping your strawberries. There's no need to be too particular here: this is a "mess," after all, so there's no need to worry about keeping pieces even. The same goes for the meringue nests. Give them a rough crush, and while we're using ready-made nests, here's some food for thought: this is the perfect use for not-so-perfect-looking meringues if you're experimenting with making your own!
Place your chopped strawberries in a bowl, and add the caster sugar and the lemon juice. Let that stand for 10 minutes, while you're moving on to the next part.
Mix the dessert components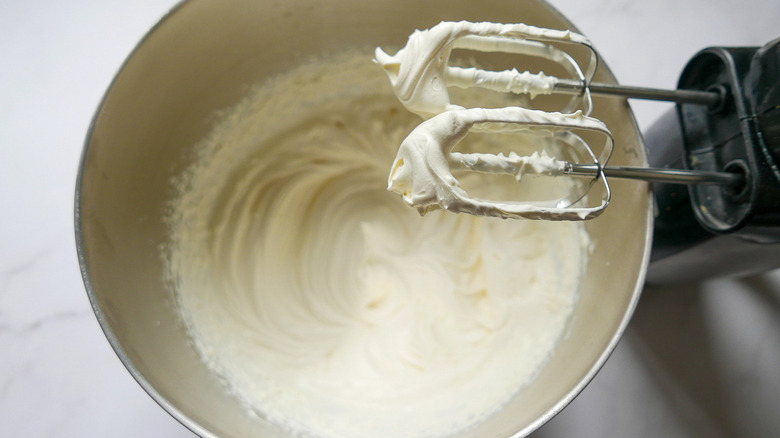 Ting Dalton/Mashed
In another large bowl, combine the heavy cream and the powdered sugar. This should only take about 2 minutes with an electric mixer, and you'll know you're at the right stage when the cream starts to hold its shape.
Eton mess goes back to the late 19th century, and The Runnymede on Thames says there's a couple of different stories about just how it originated — including one that involves a delicate pavlova that got ruined by a super excitable dog, but was still delicious when Eton College students decided to eat it anyway. Anyone who knows (or has been) a college student knows that's entirely possible, but Eton mess had been served long before the incident in question, and it has traditionally included everyone's favorite summer fruit: the strawberry.
Make your strawberry sauce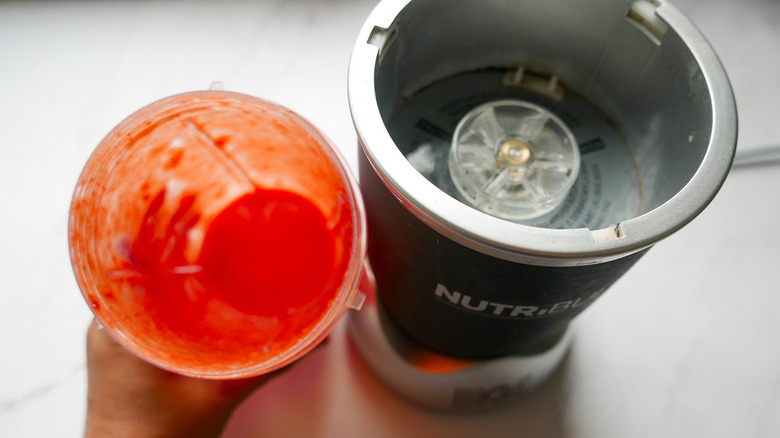 Ting Dalton/Mashed
Strawberries are the star of Dalton's dish, and if a pound seems like a lot, that's because you're going to separate out about a third of the berries. After they've had a chance to stand in the sugar and lemon juice, blend them into a smooth sauce with your blender. 
One of the best things about strawberries is that they bring such a natural sweetness to a dessert that there's no need to a ton of added sugar, and that's something we can all get behind. 
This is also a great way to experiment. While strawberries are traditional, Dalton says that other fruits can be used, too. She suggests raspberries as an alternative, or even as an addition. 
Mix up the mess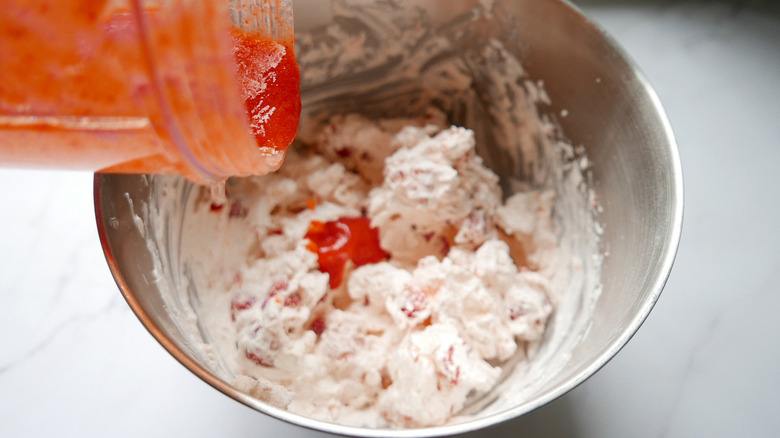 Ting Dalton/Mashed
Eton mess is still served at cricket matches, but you don't need to watch — or like, or even understand — this distinctly British sport in order to enjoy this dessert.
Assembling it is easy, and Dalton says you're going to want to hold off on this until you're ready to eat. "You can make all the elements ahead of time and assemble them before serving, but this doesn't keep very well. Once the meringue is left for too long in the cream, it loses its crunch," she explains.
Add the rest of your strawberries and ¾ of your crushed meringue to the cream mixture, and combine. Mix gently, as you want the meringue to keep some texture. Then, swirl your strawberry sauce through — again, gently.
Plate and serve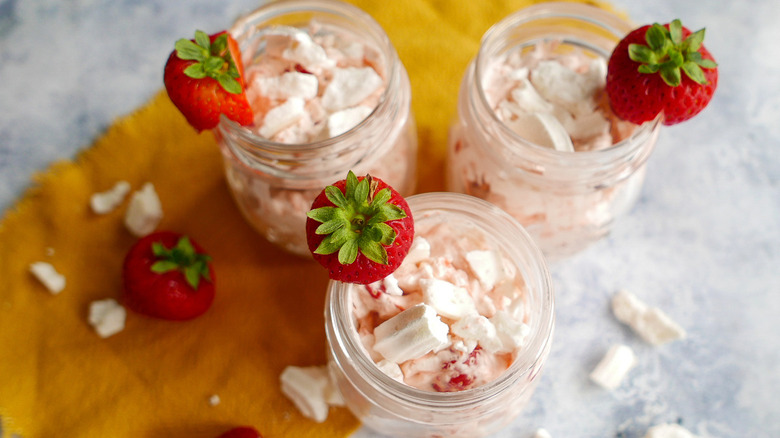 Ting Dalton/Mashed
Dalton's Eton mess doesn't just taste good, but it looks pretty cool, too. She recommends using glasses or mason jars, but adds, "If you don't want to use fancy jars or glasses, this works just as well dolloped in bowls."
Scoop a serving of the mix into each, and sprinkle with the rest of the meringue crumbles. Add extra strawberries — whole or chopped — for decoration, and here's another chance to get a little less traditional, but still delicious. You're not going to go wrong by adding a few other fruits, like blackberries and blueberries, and there's one more thing you can do, too. Eton mess is often served with bananas, too: Slice up a banana, add a few, and voila! 
Easy Eton Mess Recipe
This British dessert is airy, light, and absolutely delicious. Ready in just 15 minutes, you can whip this up in no time to serve at your next summer outing.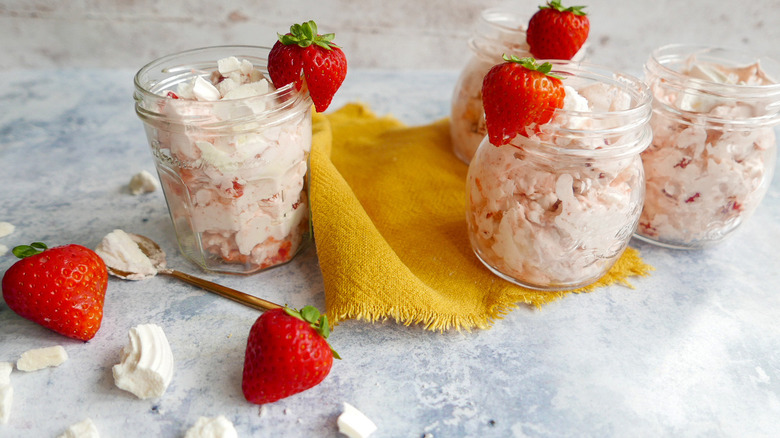 Ingredients
1 pound of strawberries, roughly chopped, plus extra for topping
Juice of ½ a lemon
1 teaspoon of caster sugar
2 cups of heavy cream
2 tablespoons of powdered sugar
8 ready-made meringue nests
Optional Ingredients
Bananas, for topping
Raspberries (or other berries), for topping
Directions
Place the chopped strawberries in a bowl and add to it the caster sugar and lemon juice. Let stand for 10 minutes.
In another large bowl, whisk the heavy cream with the powdered sugar for 2 minutes, until the cream stiffens and begins to hold its shape.
Blend ⅓ of the strawberries in a blender to make a sauce. Set aside.
Roughly crush the meringues, and put ¾ of the crumbles in the cream, along with the rest of the chopped strawberries. Gently mix.
Swirl the strawberry sauce through the cream mixture.
Scoop the mixture into individual glasses or mason jars.
Sprinkle with the remaining meringue pieces and top with more strawberries, bananas, or raspberries, if desired.
Serve immediately.
Nutrition
| | |
| --- | --- |
| Calories per Serving | 349 |
| Total Fat | 29.6 g |
| Saturated Fat | 18.3 g |
| Trans Fat | 0.0 g |
| Cholesterol | 108.7 mg |
| | |
| --- | --- |
| Total Carbohydrates | 20.4 g |
| Dietary Fiber | 1.6 g |
| Total Sugars | 17.9 g |
| Sodium | 39.4 mg |
| Protein | 2.5 g |