Jamie Oliver Tops His Pork Burger With This Fresh Fruit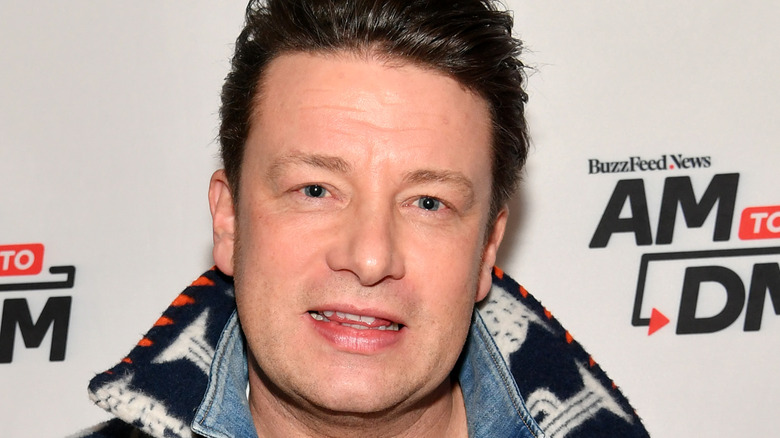 Slaven Vlasic/Getty Images
Though burgers may seem like a very simple food, there are actually a lot of components that you need to get right in order to craft a truly mouthwatering burger. First of all, you want the bun to be the right type for what's inside. While the classic soft white burger bun is a staple, some prefer options like a buttery brioche bun or pretzel bun, depending on what else is going on in the burger. Then, of course, there's the patty — whether you're going with a bean-packed veggie burger, a classic beef patty, or something using lean meats like turkey or pork, you want to make sure your patty is tender, well-seasoned, and cooked to perfection.
Last, but certainly not least, are the toppings. It's absolutely possible to put together a very simple, almost topping-less burger that still tastes incredible, as Ron Swanson knows very well. However, burger toppings often add that little something extra. A creamy sauce with a bit of heat, a punch of saltiness from a few bacon strips, a bit of textural variety thanks to fried onions: The sky's the limit when it comes to burger toppings. If you're looking for a new topping idea for a pork burger, chef, television personality and cookbook author Jamie Oliver has just the thing for you in his self-proclaimed "Crazy good pork burger" (via Jamie Oliver).
The fresh fruit you need to add to your burger repertoire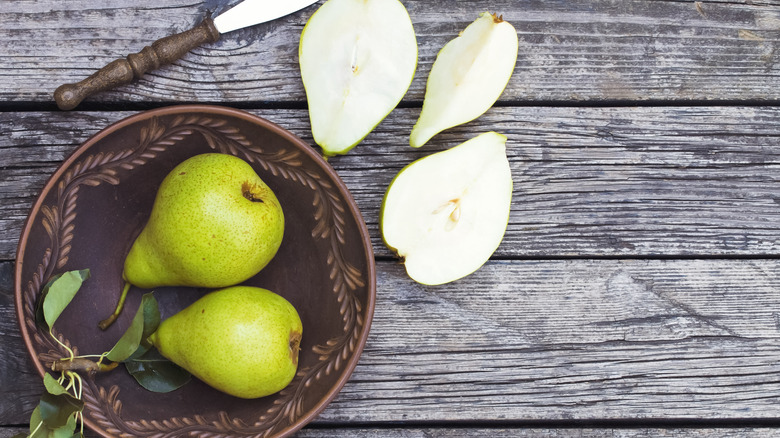 Kasabutskaya Nataliya/Shutterstock
The pork burger that Oliver crafted was relatively simple, with just three toppings. However, they all bring something specific to the table and add to the overall dish (via Jamie Oliver). You may have heard of pork roast and similar dishes being served with fruit of some sort, such as apples; Oliver opts to top his pork burger patty with ripe, sweet pears, sliced lengthwise into thin sheets. You don't need to spend ages poaching or prepping the pears. Instead, his recipe calls for just combining the sliced, raw pears with some of the mixed greens you'll also be placing atop the burger (he suggests a mix of spinach, arugula and watercress for a little variety) and tossing all the produce in a drizzle of extra virgin olive oil, red wine vinegar, and black pepper. The final bit of decadence on his burger is the addition of blue cheese, melted slightly in the pan until it's cooked to perfection.
The flavor combination of pork, pear and blue cheese seems like something you'd encounter in a plated dish, perhaps of carefully sliced pork tenderloin topped with a pear compote, with a delicate mixed green salad topped with blue cheese on the side. However, Oliver's recipe proves you can add some elevated flavors even to something as simple as a burger. Why not try out the combination next time you're itching to mix it up a little?