Vaccinated Krispy Kreme Fans Won't Want To Miss This Giveaway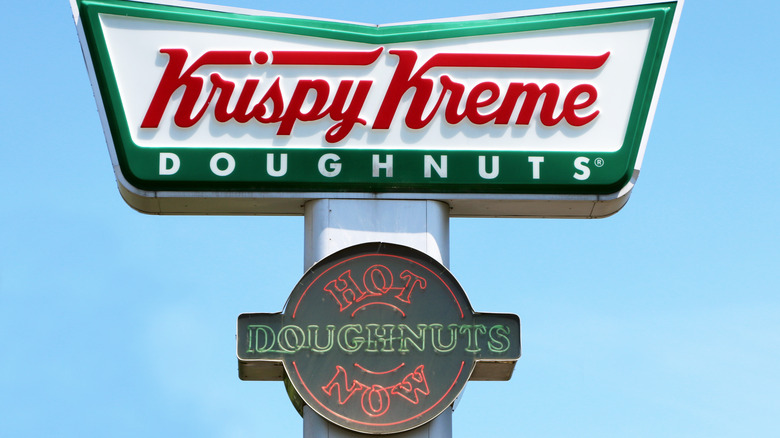 James R. Martin/Shutterstock
When you're hankering for a sweet treat, nothing compares to the donuts served up at Krispy Kreme. Founded in 1937 in Winston-Salem, North Carolina, this chain has now grown into an international phenomenon with more than 1,000 locations across the globe. From rich double dark chocolate donuts to light and airy crullers, Krispy Kreme has mastered classic and traditional flavors, but also occasionally likes to mix things up with limited-time and seasonal options. 
That's not to forget the shining star of the Krispy Kreme roster: the Original Glazed Donut. While there are no wrong decisions when selecting a Krispy Kreme pick, the original is a top seller for good reason. These fried dough rings are sugary sweet perfection, and if you pick one up right after the famous "Hot Light" turns on, they are even better fresh off of the conveyor belt. This melt-in-your-mouth recipe has been around since 1945, and has stayed true to its recipe roots (via Krispy Kreme).
As if this beloved chain couldn't get any better, Krispy Kreme is continuing to do their part to help prevent the spread of COVID-19. If you are a fan of their treats (really, who isn't?), and have also received at least your first COVID-19 vaccine shot, you'll want to keep reading. 
Krispy Kreme encourages nationwide U.S. vaccinations through the "Show Your Heart" campaign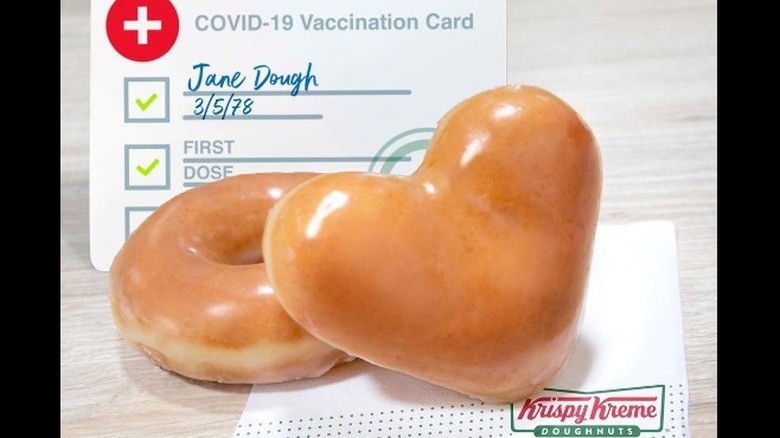 krispykreme/Instagram
This week, the U.S. Food and Drug Administration granted full approval for Pfizer's COVID-19 vaccine for people ages 16 in older in the U.S., marking a major milestone in the pandemic. To support the country's efforts in overcoming the virus, Krispy Kreme is rewarding vaccinated people in the States with a sweet deal. Starting August 30 through September 5, the chain will be offering two free donuts any time of the day to every American customer that can show they have had at least one vaccination shot, according to a Krispy Kreme press release. This weeklong "Show Your Heart" offer comes with one of the Original Glazed donuts and another glazed donut in a heart shape.
Of course, this is not the first time Krispy Kreme has played a role in the fight against COVID-19. Earlier this spring, the North Carolina-born brand began offering one free glazed donut to customers that got their shots, leading the charge as one of the first brands to support vaccinations. So far, 2.5 million donuts have been distributed as part of this offer, which will remain intact until the end of 2021. And, last year, more than 30 million donuts were also given away to those that have faced unique hardships as a result of the pandemic, including healthcare workers, teachers, and graduating seniors.
Don't miss out on this offer. To make the most of this sweet deal, all you need to do is present your COVID-19 vaccination card with proof of at least one dose administered.
"We all hoped we'd be near the end of this pandemic by now. We're not. So, please consider getting vaccinated if you've not done so already. And then enjoy and share two amazing doughnuts with our heart-felt thanks," Dave Skena, Krispy Kreme Chief Marketing Officer said in the press release.