In Hell's Kitchen History, This Scandal Caused The Most Backlash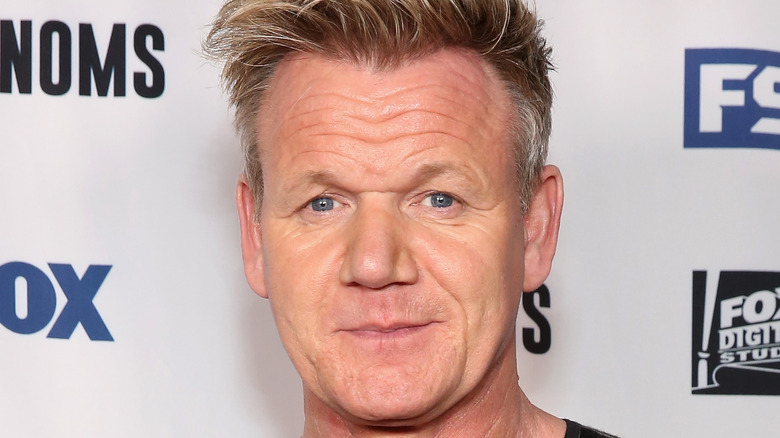 Robin Marchant/Getty Images
Considering the unfiltered sailor's mouth on chef and TV personality Gordon Ramsay, it's no surprise that he's stirred up some scandals through his many years hosting "Hell's Kitchen." Ramsay has berated aspiring chefs time and time again onscreen, but in Season 18, something stood out: Contestant Jen Gavin firing right back at the celebrity chef. Gavin was a familiar face on "Hell's Kitchen," as this was her second go at claiming the grand prize. She first appeared in 2008 on Season 4 (via Screen Rant) and became notorious for her sour attitude, which stood out even against Ramsay's abrasive demeanor.
During her first stint on the show, Gavin's double-crossing tendencies and general disrespect caused her teammates to distrust her. Years later, one fan referred to her as "a different brand of awful" on Reddit, going on to say that if one of the kindest contestants "calls you a b-word, that's when you know you need to shape up." When Gavin returned to the "Hell's Kitchen: Rookies Vs. Veterans" set a decade later, she caused even more chaos and was ultimately booted from the show mid-service.
Chef Ramsay won't put up with being called a liar
The feud between Ramsay and Gavin all started with a garnish, confirms the Chicago Tribune. In the infamous "Hells Kitchen" scene, available on YouTube, Ramsay complained that Gavin didn't make enough leek garnish for a duck dish, which prompted Gavin to accuse Ramsay of hoarding her leeks in order to mess with her performance. Ramsay appeared personally insulted by the accusation, dropped a bus tub, and kicked her out of the kitchen. Gavin stormed off, yelling, "You're trying to sabotage me right now." Typically, contestants will take the discipline and reply, "Yes, Chef," but not Gavin.
While many viewers seem to love nothing more than throwing back some popcorn and watching Ramsay scream absurdities at contestants, they also find him endearing, so Gavin's allegation, which clearly upset Ramsay, didn't sit well with them. A Gold Derby poll found that 93% of fans were happy with Gavin's premature elimination. Not only did Gavin snap back at Ramsay, but she also essentially called him a fraud and, in turn, questioned the integrity of the entire show. A certain level of drama makes for entertaining TV, but when fans catch wind of a reality show being staged or rigged against contestants, it stirs up controversy off the screen. Fans and former crew members of "Hell's Kitchen" have dived deep into this very topic on Quora for years, debating about just how much of the show holds true.