Easy Apple Bruschetta Recipe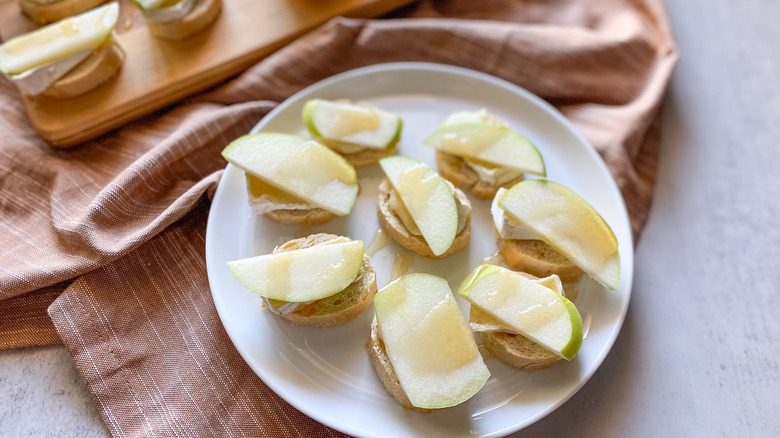 Kristen Carli/Mashed
Traditional bruschetta is one of the finest appetizers out there. Made using toasted slices of bread (ideally, a French-style baguette) rubbed with garlic and topped with chopped tomatoes and olive oil, it's a perfect finger food, making it an ideal light snack that allows you (or your guests) to still enjoy that multi-course feast coming later.
The only problem with bruschetta? It's rather predictable. So why not switch things up a bit and serve a sweet and tangy take on the classic app with this apple and brie twist? Chef, recipe developer, and registered dietician Kristen Carli of Camelback Nutrition & Wellness says, "This is ideal for a party appetizer [and] it is perfect for fall." Indeed, autumn is apple season, so it makes sense that trading in those fresh summer tomatoes for a sweet taste of cooler weather works so well. As for the brie and honey? Well, we've always known those pair well with apple. Placing them all on together on toasted bread is simply a perfect vehicle for that wonderful combo.
Gather your ingredients for apple bruschetta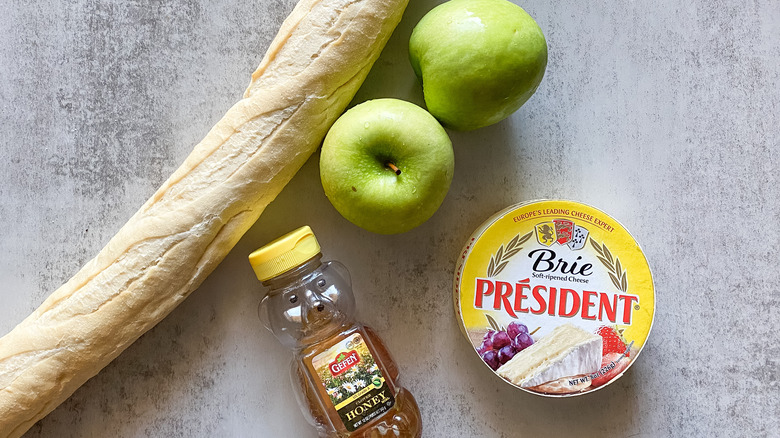 Kristen Carli/Mashed
Given the simplicity of traditional bruschetta, it's no surprise that this autumnal take on the popular app is also pretty simple in terms of ingredients. All you need is a good, fresh baguette, a couple of green apples (Granny Smith, e.g.), a wheel or hunk of brie, and some honey.
While other apples can work here, green is your best bet. "I love the tartness of the green apple here," Carli says, adding that if you want a bit of a kick, "I love the idea of a sprinkle of freshly cracked black pepper for some spice."
Prep all the ingredients first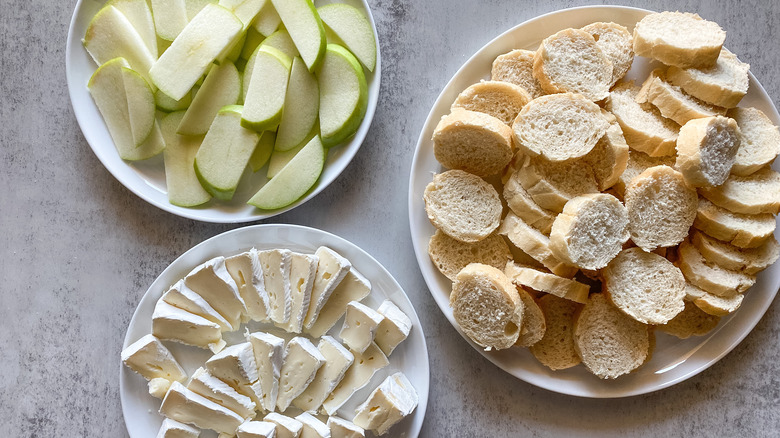 Kristen Carli/Mashed
As with classic bruschetta, with apple bruschetta, you want to serve and enjoy the snack as soon as possible. "This dish does not keep, so best to eat it fresh," Carli says.
To that end, it's a good idea to slice everything before you get cooking, so you can assemble and serve the bruschetta in a snap. Start by slicing the bread into discs about 1/3-inch-thick, then cut the cheese into 1/4-inch-thick pieces. You can slice the apples while the bread cooks and the cheese melts, to keep the fruit from prematurely browning.
Toast the bread and melt the cheese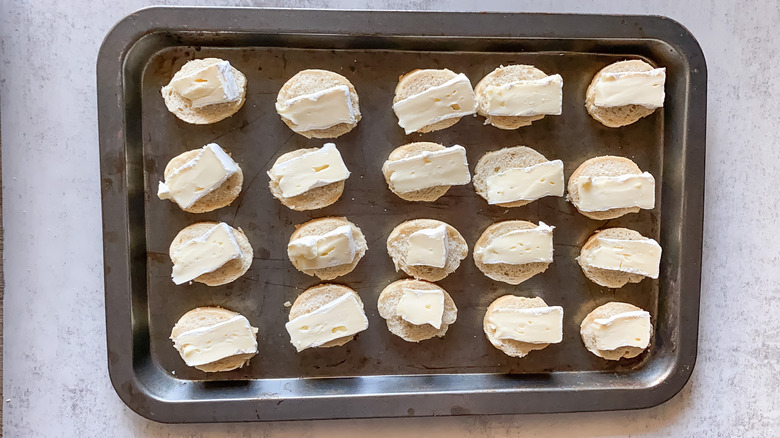 Kristen Carli/Mashed
Before prepping ingredients, preheat the oven to 350 F. Then lay out the slices of bread on a baking sheet, spacing them so none are touching. (Use two baking sheets if needed.) Next, place the slices of brie onto the bread.
Now pop the baking sheets into the oven and cook for seven to nine minutes, or until the cheese begins to melt. Remove the baking sheets and proceed to the last step.
Add the apple and honey and then serve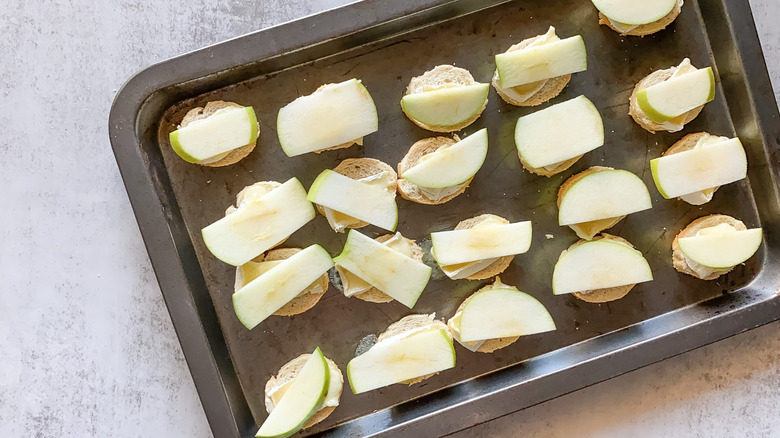 Kristen Carli/Mashed
Quickly top the melted cheese and toasted bread with slices of apple, then drizzle a line or two of honey over each piece of the bruschetta. Transfer everything to a serving platter for your guests (or friends or family or just yourself!) to enjoy.
Again, do encourage them to eat every last piece, because the leftovers will be summarily tossed out as the apples brown and the bread gets soggy.
Easy Apple Bruschetta Recipe
Traditional bruschetta is one of the finest appetizers out there, but here's a new autumnal twist using apples. Check out this easy apple bruschetta recipe.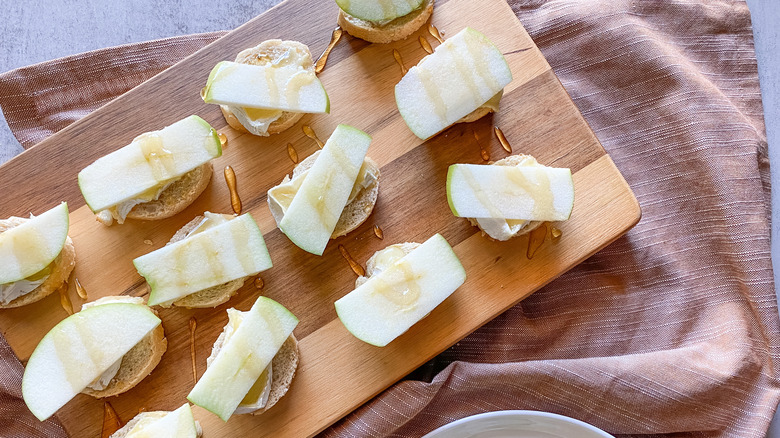 Ingredients
1 large baguette, sliced
1 (8-ounce) wheel of brie cheese, thinly sliced
2 Granny Smith apples, thinly sliced
3 tablespoons honey
Directions
Preheat oven to 350 F.
On 2 large baking sheets, place baguette slices and top with slices of brie.
Bake for 7 to 9 minutes, or until cheese begins to melt.
Top with apple slices and drizzle with honey.
Serve immediately.
Nutrition
| | |
| --- | --- |
| Calories per Serving | 271 |
| Total Fat | 9.1 g |
| Saturated Fat | 5.2 g |
| Trans Fat | 0.0 g |
| Cholesterol | 28.3 mg |
| | |
| --- | --- |
| Total Carbohydrates | 36.9 g |
| Dietary Fiber | 2.3 g |
| Total Sugars | 12.9 g |
| Sodium | 461.3 mg |
| Protein | 11.1 g |