Twix Just Announced A New Mystery Flavor. Here's What Fans Think It Will Be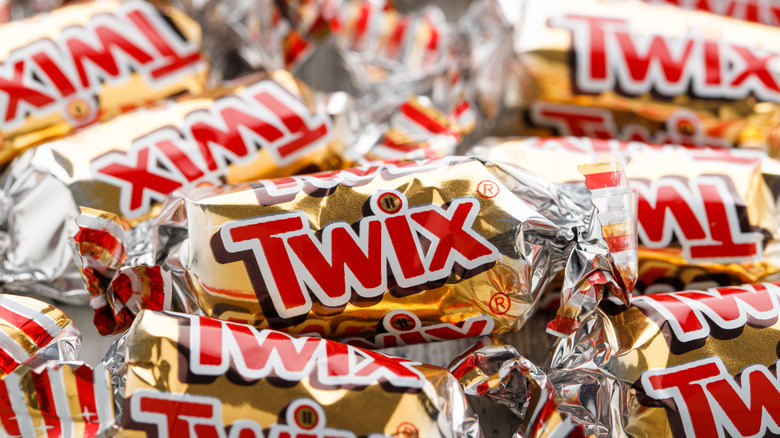 Martin Rettenberger/Shutterstock
Any true fan of the popular candy bar Twix knows its layers by heart: A crunchy shortbread center topped with stretchy caramel and a thick coating of milk chocolate.
In addition to their classic recipe, over the years the beloved candy brand has debuted a variety of reinvented flavors, including white chocolate Twix, dark chocolate Twix, peanut butter Twix, gingerbread Twix, and cookies-n-cream Twix (per Chocolate Brands List). Now, the confection company is gearing up to unveil a brand-new flavor, and is offering one lucky fan the chance to get a sneak peek before the rest of the world.
Twix took to their Instagram page to share a post counting down the time until the announcement of the new flavor is made; precisely, in 7 days, as of publication. In the caption, Twix also announced a sweepstakes offering one chocolate lover the chance to win an "exclusive first taste" of the brand-new bar.
"A new Twix bar is coming," the caption reads, and then it prompts followers to "drop your best guess below" for what the flavor might be in order to have the chance to win the grand prize. The sweepstakes is only open to U.S. residents 18 years or older, and the post announcing it has already racked up over 375 comments from Instagram users vying for the bragging rights of that coveted first taste.
Fans have begun to theorize about Twix's new flavor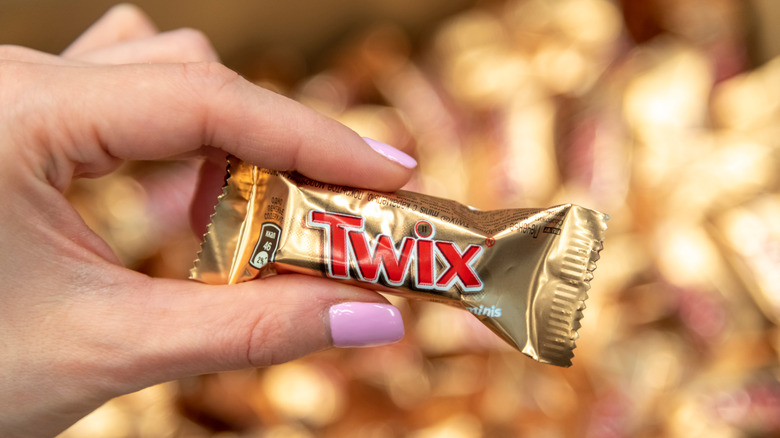 Bayhu19/Shutterstock
In an effort to win an exclusive first taste of the new Twix bar, users must comment on the Instagram post with their best guess of what the mystery flavor is. And many have already dropped their thoughts about the upcoming release. Some of the comments theorized that it could be a classic dessert flavor like mint, peanut butter, or s'mores, while others opted for more outside-the-box guesses like PB&J, birthday cake, apple pecan pie, and key lime pie.
Many fans took a hint from the upcoming change in seasons with fall-friendly guesses like pumpkin caramel, caramel apple, and pumpkin spice, the latter of which was overwhelmingly one of the most frequently guessed flavors, showing that the PSL obsession is still very much alive. Even other major candy brands got in on the fun, with the official Snickers account commenting "SNICKERS TWIX" (and wouldn't we all love to see that collaboration?).
After offering a series of guesses, Instagram user @snack_qween_ summed up the mystery perfectly with this comment, "I hope it's good whatever it is! And send me one to try please!" If you think you just might have the right answer, you'll have to act quickly as entries to the Twix sweepstakes are only being accepted through August 26.