Tuna Salad Recipe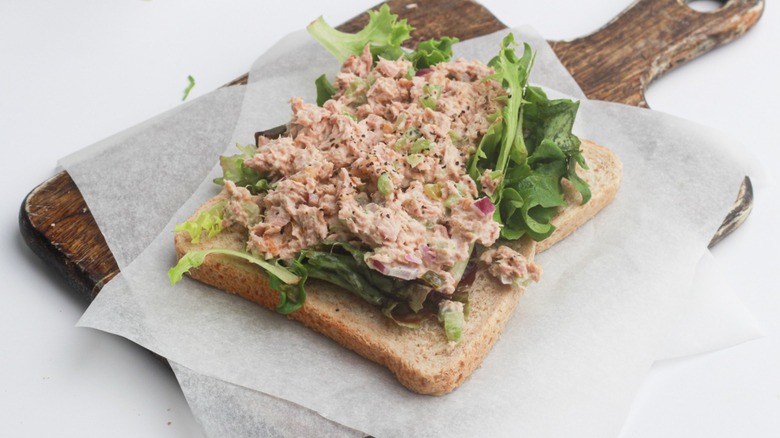 Susan Olayinka/Mashed
Back to school season is upon us, and lunches can start to get boring pretty quickly. We totally get it, and we have a tasty solution to that issue. Recipe developer Susan Olayinka of The Flexible Fridge makes a mega easy tuna salad sandwich that features just eight ingredients and simple steps to toss together. We know your family will relish this recipe — pun completely intended.
Do you know the history of tuna salad? According to Smithsonian Magazine, the idea came about through some of the greatest inventors: mindful moms. In the early 1900s, as primary homemakers, women were careful to use every bit of their groceries. This resulted in combining leftovers into various relishes and salads, like tuna salad! Whoever decided it should be spread between two pieces of bread was a savvy genius. And so we have it: the famous, all-American tuna salad sandwich. Want to put it together quickly? Read on to learn how you can.
Gather the ingredients to prepare the best tuna salad of all time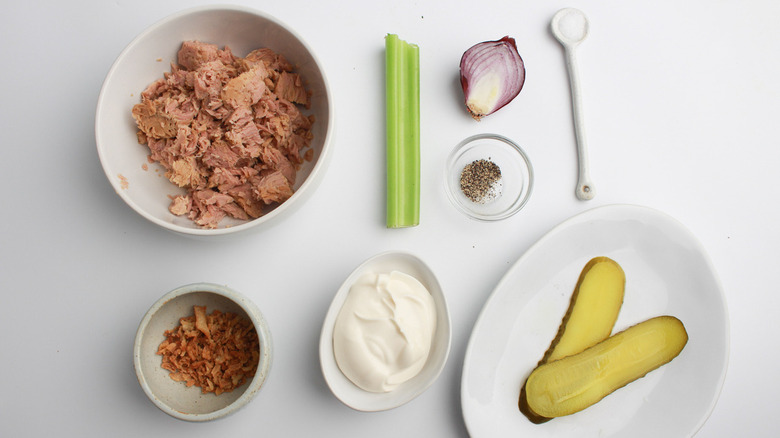 Susan Olayinka/Mashed
If the fridge is running low, but you have tuna in tow, here's all you need to begin: a small red onion, a stick of celery, sliced pickles, a can of tuna, crispy onions, mayonnaise, a sprinkle of salt, and a bit of black pepper.
We always advise using ingredients based on your family's preference. Your tuna can be fresh, canned in water, or in oil. Eating tuna is a fantastic source of Omega-3s (healthy fats) and vitamin D, according to Healthline. Canned tuna typically has a lot of sodium, so opting for water-based tuna may be best for your family. Let's continue with the next step.
Prep the veggies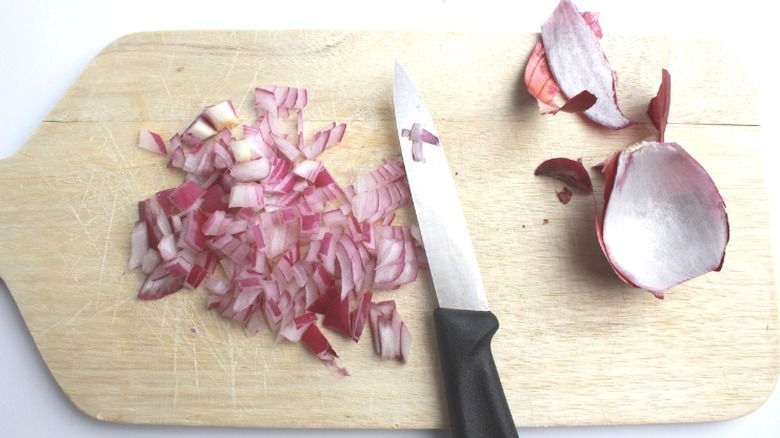 Susan Olayinka/Mashed
Grab your best chopping board and trusty knife. Peel the skin from half of a small red onion, and dice it up. If you're going for more bulk in each bite, dice the veggies somewhat bigger to end up with larger cuts. To appease the picky eaters in the crowd, dice them smaller for a less pronounced crunch.
Next, wash and dice half of a celery stick in the same manner. Lastly, cut two small slices of pickle, and chop them, too. Once you're finished, set these chunks aside.
Add all of the ingredients to a mixing bowl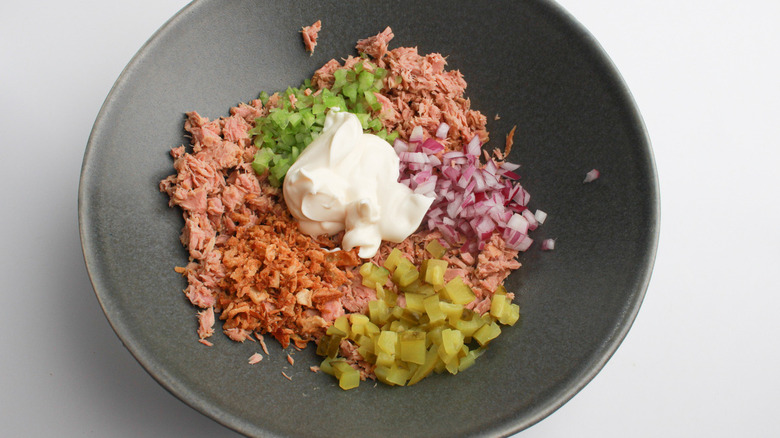 Susan Olayinka/Mashed
Next, drain 6 ½ ounces of tuna, and toss it into a mixing bowl. Drop in the chopped red onion, your chopped celery stick, and the chopped pickle. For texture, add in 1 tablespoon of crispy fried onions and ¼ cup of your favorite mayo.
Although we can't settle the Miracle Whip vs. mayonnaise debate, we know the Heinz brand is an international favorite. Olayinka notes, "Heinz is the way to go!"
Mix the tuna salad together so all the ingredients are well incorporated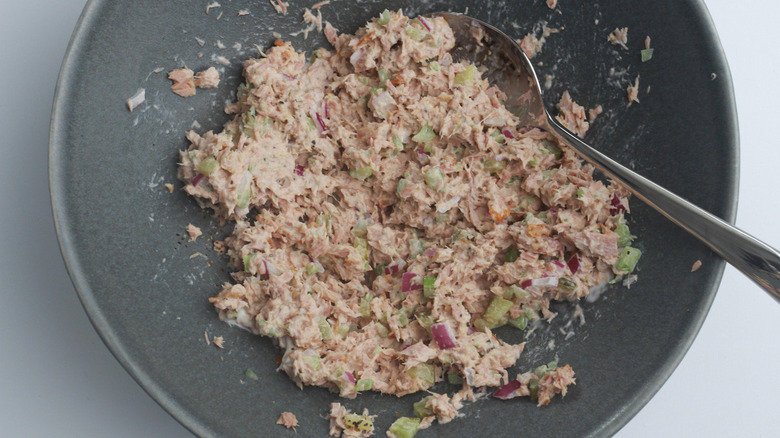 Susan Olayinka/Mashed
Amazing work! Your final step here is to mix everything together until it's well incorporated. Ideally, the mayo is just enough to cover each ingredient nicely. Use your best judgement when it comes to adding more mayo or more veggies. Adding pickle relish is another option if you'd like to magnify the tangy, pickled taste. If you're going for a more creamy texture, add extra mayo to smooth things out a bit more. Remember to give it a quick taste test to be sure it fits your fancy!
Enjoy your tasty tuna salad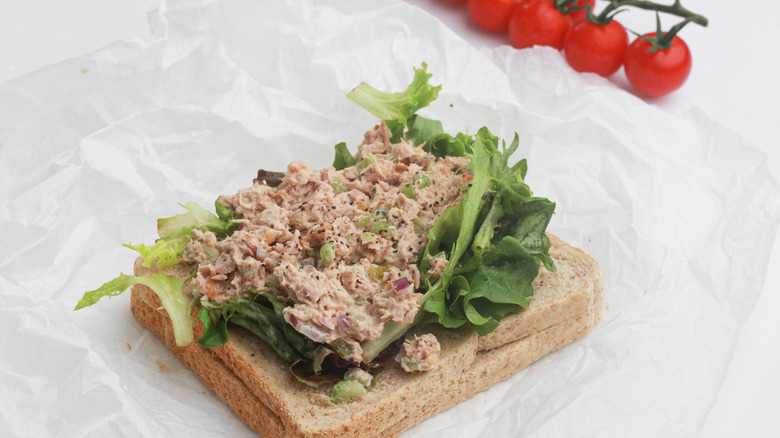 Susan Olayinka/Mashed
To bring out the tuna's flavor, drop in ¼ teaspoon of salt, sprinkle in ¼ teaspoon of black pepper to the mix, and stir it in. Gently spoon the tuna salad onto whole grain or wheat bread (for a healthy touch), and there you have it — the perfect sandwich.
Olayinka added some lettuce for extra crunch. The fishy taste also pairs well with fresh arugula or spring mix. To make easy-grabbers for the kids, you can use sandwich buns, or cut the sandwiches into little squares. Halving them into triangles works for kids and adults alike. These four-step tuna salad sandwiches are best served fresh with chips and fruit. Our method is a great start, yielding just two servings, so you can multiply to fit your family size. Olayinka recommends making this in larger batches, and says, "This will be best stored in the fridge for two [to] three days."
As summer fades into fall, we hope you'll hold onto this recipe and use it when time allows. Until next time. Enjoy!
Tuna Salad Recipe
This tuna salad sandwich recipe features just eight ingredients and incredibly simple steps to toss together.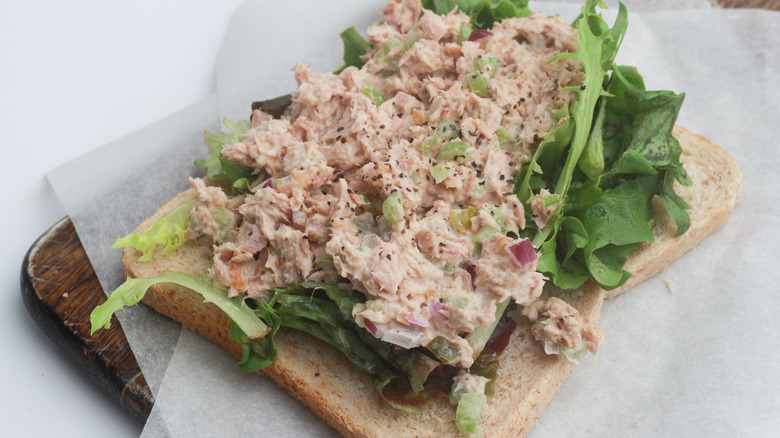 Ingredients
½ small red onion
½ celery stick
2 pickles
1 (6.5-ounce) can tuna
1 tablespoon crispy onions
¼ cup mayonnaise
¼ teaspoon salt
¼ teaspoon black pepper
Directions
Chop the red onion, celery stick, and pickles into small pieces, and set aside.
Into a mixing bowl place the tuna, chopped red onion, chopped celery stick, chopped pickle, crispy onions, and mayonnaise.
Mix together until well incorporated
Sprinkle in the salt and black pepper, and mix together.
Serve immediately.
Nutrition
| | |
| --- | --- |
| Calories per Serving | 291 |
| Total Fat | 23.2 g |
| Saturated Fat | 3.5 g |
| Trans Fat | 0.0 g |
| Cholesterol | 44.4 mg |
| | |
| --- | --- |
| Total Carbohydrates | 2.6 g |
| Dietary Fiber | 0.6 g |
| Total Sugars | 1.1 g |
| Sodium | 403.2 mg |
| Protein | 18.3 g |