Basic Tuna Salad Recipe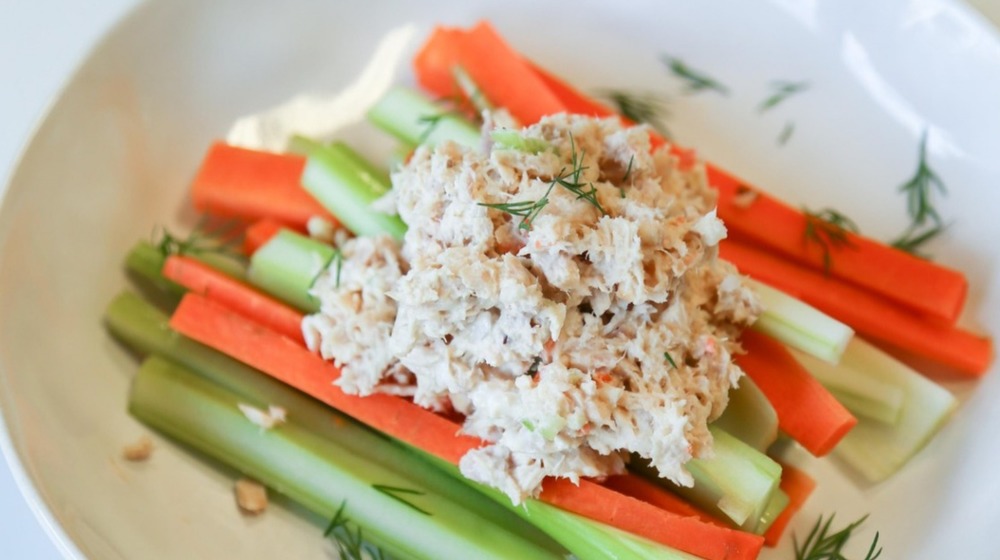 Maren Epstein/ Mashed
Everyone needs a good, dependable tuna salad recipe in their arsenal of go-tos. Tuna salad is the perfect quick lunch for one, and a crowd-pleasing party menu must-have. The best recipe will be quick, and fuss-free, like Maren Epstein's take on the deli staple. As Epstein, a professional chef who blogs about healthy eating at Eating Works, told Mashed, "This tuna salad recipe is set apart because it's so easy to make and uses common ingredients." Despite its simplicity, the New Jersey native adds, "This recipe really elevates simple ingredients to create extraordinary flavor."
You'll love the versatility of this recipe, because as Epstein notes, "While I loved eating this salad on a sandwich, a more elevated way to serve this salad is over freshly sliced vegetables." So, last minute, or as part of a planned menu, casual or fancy, this is one recipe we know you'll make again and again. Wait, anyone craving tuna salad? We thought so!
Grab your tuna salad ingredients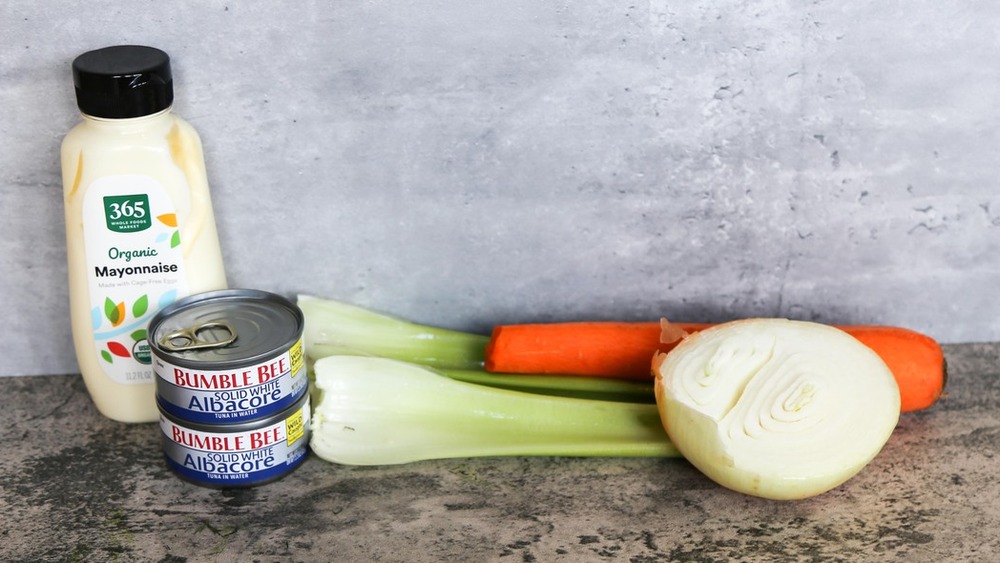 Maren Epstein/ Mashed
So, you'll first need to gather your ingredients, many of which you probably already have on hand: white albacore tuna in water, celery, onion, carrot, mayo, black pepper, and vinegar, but only if you'd like. "Vinegar is an optional ingredient for this recipe," Epstein explained, adding, "My daughter prefers the salad without the vinegar, but adding a teaspoon of vinegar to the salad at the end adds a bit of acidity to the dish."  
Meanwhile, if you aren't a big mayonnaise fan, that's okay. "If you don't like mayo you can leave it out and use 2 tablespoons of vinegar and a 1 tablespoon of dijon mustard instead," Epstein suggested, adding, "You can also use a vegan mayo substitute." 
Prep your tuna by breaking up the larger chunks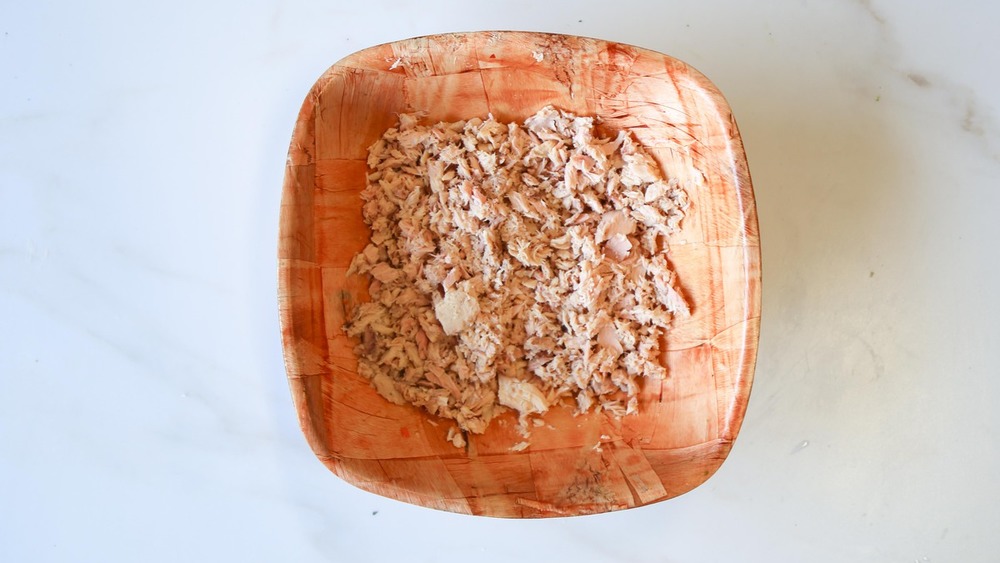 Maren Epstein/ Mashed
The next step is to drain your canned tuna, add it to a wide bowl, and then break up the chunks into smaller pieces. This is not just an aesthetic move. Believe or not, breaking up the tuna serves a vital function in a salad such as this one. As Epstein explained to Mashed, "It's important to break up the tuna so that the dressing gets mixed evenly into it." Life changing, right? 
Meanwhile, you can use a dough cutter or a fork for this step, but either way, you want to aim for smaller flakes of fish before moving on to combining any of your other salad ingredients.
Mince your onion for the tuna salad mixture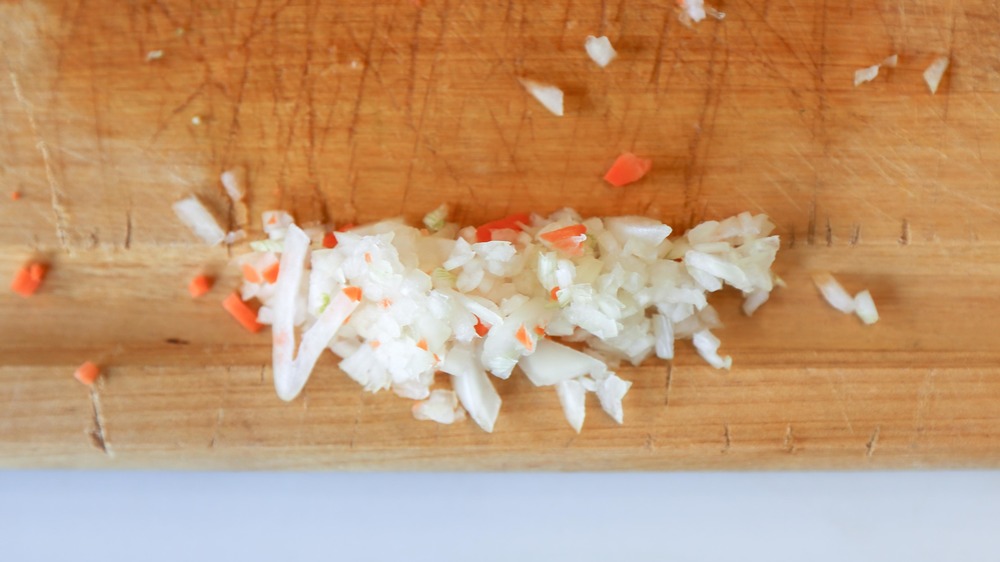 Maren Epstein/ Mashed
Next up is mincing your veggies for the tuna salad, and in this case, size matters. "Mince is the finest level of chopping," Epstein explained. You want your onion, celery, and carrot to be finely chopped, with Epstein elaborating, "The idea is that the vegetables seem to melt into the dish. The smaller you can chop the vegetables the better." 
She offers this tip for achieving the right effect with your mincing technique: "The best way to mince vegetables is to create a pile of vegetables in the middle of the cutting board and to quickly make a series of chops across the pile, regather the pile and repeat." 
Mince your tuna salad's carrot and celery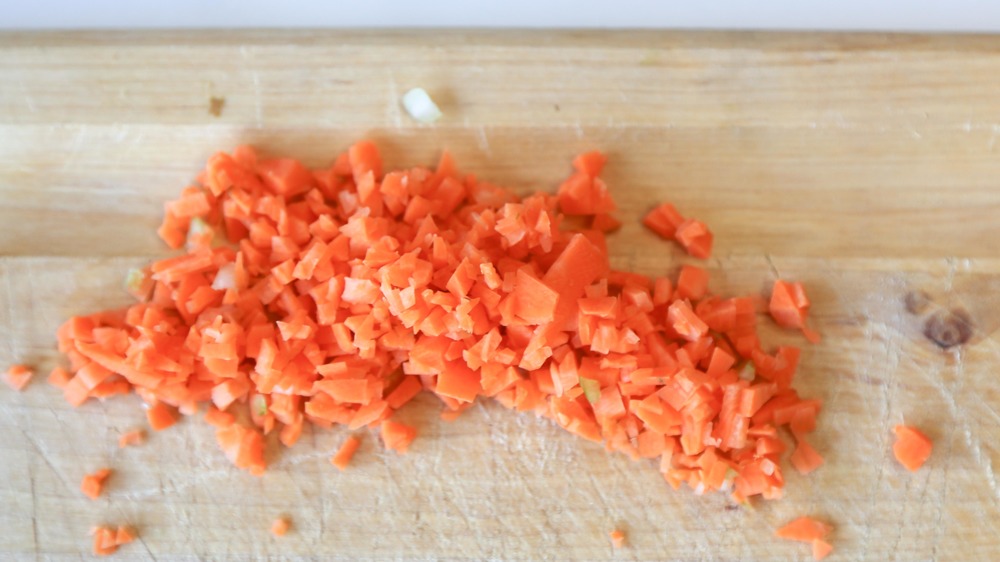 Maren Epstein/ Mashed
We've seen onion and celery in tuna salads before. But carrot? This unique and colorful touch adds something a little different to Epstein's take on tuna salad. As she noted, "I chose carrot for this recipe because it adds a bit of crunch and sweetness to the dish." She also explained this veggie's role in balancing out this sandwich filling or salad topping. "Tuna salad is creamy and I find that a bit of crunch from celery and carrot helps wake it up a bit," said Epstein.
We are convinced! Because who doesn't want to liven up a familiar standby and make it fresh again?
Combine your tuna and veggies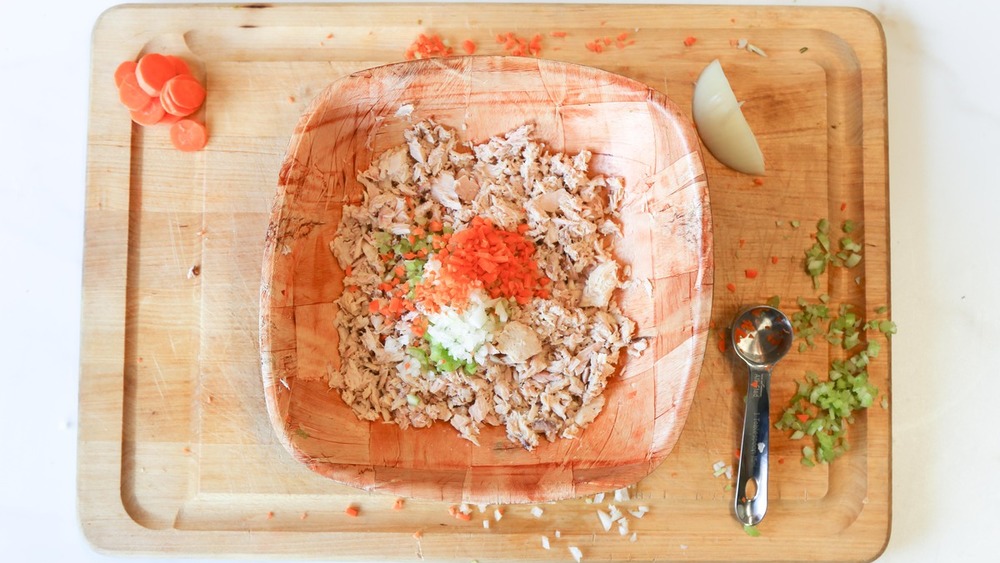 Maren Epstein/ Mashed
After breaking up your tuna, and then mincing your onion, celery, and carrot, you are going to combine the fish and veggies. Next is when you would add the vinegar, if like Epstein notes, you prefer a tuna salad with "a bit of acidity." If you are not sure if you'd be into the bite vinegar provides, you can always prepare the rest of the salad, and add it in at the end. Or, make one batch with the vinegar, and one without — and decide which version you prefer. Ultimately, the thing about tuna salad is there are so many different ingredients you can try to make it your own — even sugar! Hey, don't knock it until you've tried it.
It's time to put some mayo in your tuna salad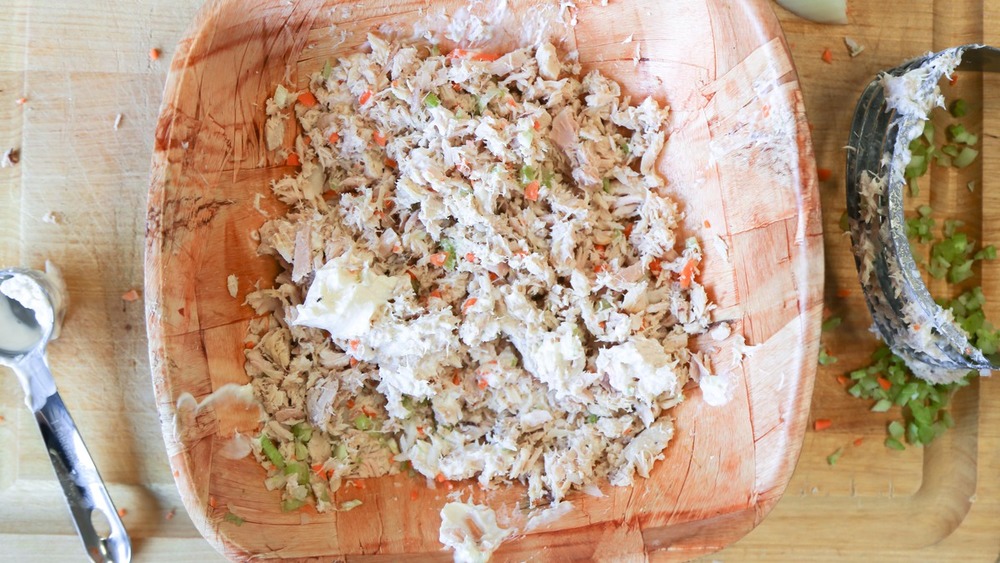 Maren Epstein/ Mashed
Finally, you'll add your mayo, one tablespoon at a time. "I like to use five tablespoons," Epstein noted, adding that for her, "The right consistency for this recipe is mushy but not runny. The salad should be soft and sticky but not wet. It should also be easily picked up with a spoon without falling off of it." Season with black pepper until it's just right for you.
Once you salad is prepped, you can either dig in, or save it for up to one week in the fridge, according to Epstein. She advises, "Keep it in an airtight container separate from the bread and make the sandwiches right before eating it, or in the mornings before you send the kids off to school. This will prevent the bread from getting soggy." 
Basic Tuna Salad Recipe
Tuna salad is a classic component of both the brown bag lunch and deli party platter. This dish can be customized any number of ways.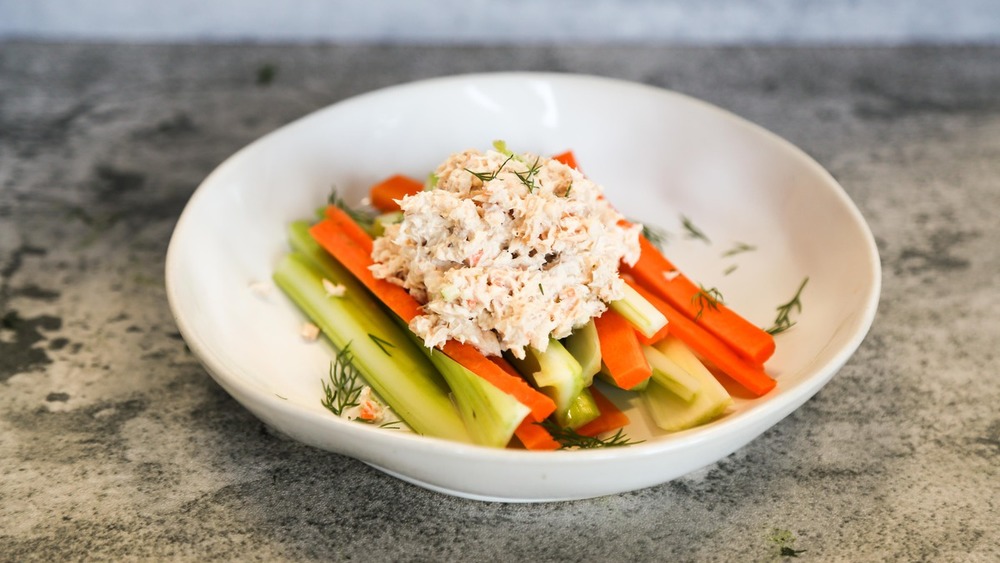 Ingredients
2 7-ounce cans white albacore tuna packed in water
2 tablespoons celery, minced
2 tablespoons onion, minced
2 tablespoons carrot, minced
5 tablespoons mayo (or to taste)
⅛ teaspoons black pepper
Optional Ingredients
Directions
Open the cans of tuna and strain them. Place the tuna in a wide bowl, and use a dough cutter or fork to chop the tuna into smaller flakes.
Mix in the celery, onion, carrot and vinegar. Next, add the mayo one tablespoon at a time until you've reached the perfect consistency.
Season with black pepper and enjoy.
Nutrition
| | |
| --- | --- |
| Calories per Serving | 215 |
| Total Fat | 14.9 g |
| Saturated Fat | 2.3 g |
| Trans Fat | 0.0 g |
| Cholesterol | 42.8 mg |
| | |
| --- | --- |
| Total Carbohydrates | 1.0 g |
| Dietary Fiber | 0.3 g |
| Total Sugars | 0.5 g |
| Sodium | 355.2 mg |
| Protein | 19.4 g |