Costco Shoppers Can't Agree On The Best Kirkland Olive Oil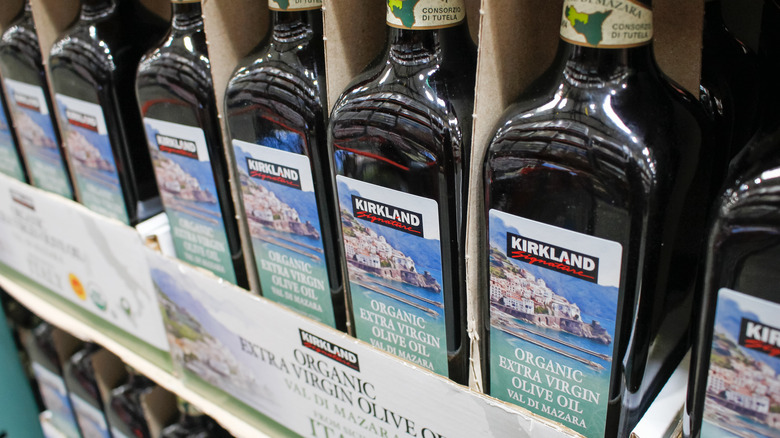 TonelsonProductions/Shutterstock
If you thought the Coke vs. Pepsi war or the great Burger King/McDonald's debate were splitting hairs, then you should see what they're arguing about on Reddit. Costco shoppers, which do you prefer? Kirkland's organic extra virgin olive oil, or the 100% Italian EVOO?
Don't get us wrong. You need to take a lot of things into account when buying olive oil. For instance, is it too old, or is it adulterated with another kind of oil (via Business Insider)? Is it in a plastic or a glass bottle? Olive oil degrades quickly, and it stays fresher longer in glass, according to Olive Oil Times. But the Costco olive oil debate on Reddit wasn't about the primo stuff. They were talking about oil that comes in 2-liter bottles for about 15 bucks. Still, Reddit oil connoisseurs wanted to weigh in.
"I find the organic often has some off flavors," Reddit user cheesepage commented. "The Italian has a better taste and is cheaper." We must correct cheesepage here because the 100% Italian Kirkland extra virgin olive oil actually is pricier than the organic, per OliveOil.com. It seems counterintuitive that an organic version of something would be less expensive, but Costco certifies that its 100% Italian EVOO is grown, pressed, and bottled in Italy, according to the Costco product page. The Strategist reports that Kirkland organic EVOO is a blend of olives from Italy, Portugal, and Spain.
Kirkland's organic and Italian extra virgin olive oils both have their fans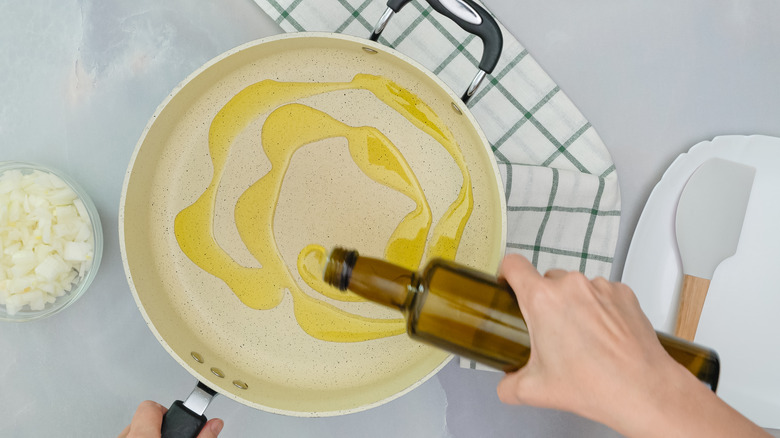 HannaTor/Shutterstock
Votes on Reddit were split between Kirkland's 100% Italian extra virgin olive oil and the brand's organic EVOO. These were Costco shoppers casting the votes, of course, so some just said "whatever's cheaper," which would be a vote for the organic.
Kirkland's organic extra virgin olive oil actually got a huge, unsolicited celebrity endorsement from Samin Nosrat, author of "Salt, Fat, Acid, Heat" (via The Seattle Times). Other food experts like Kirkland's organic, too. Registered dietitian nutritionist Kaleigh McMordie told The Healthy it was tasty, healthy, and — importantly — available in bulk quantities. "I go through tons in my house!" McMordie said. Chef and author Danielle Oron recommended Kirkland organic to The Strategist for the same reason. If you're a heavy olive oil user, you gotta like a decent brand that's available by the half-gallon.
But Samin Nosrat and the others might want to give the 100% Italian a taste. Sure, it's a little more expensive, but expert tasters at OliveOil.com gave the Italian a rating of 2.9 out of 5, saying it was good for dressings and cooking both. The Kirkland organic rated a 2 out of 5, with reviewers calling it "a bit tired."
If packaging matters to you, know that both of these Kirkland EVOO's come in plastic bottles, so you'll want to make like chef Oron and use them up quickly.