Guy Fieri Thinks Twitter May Have 'Gone Too Far' With This Drake Meme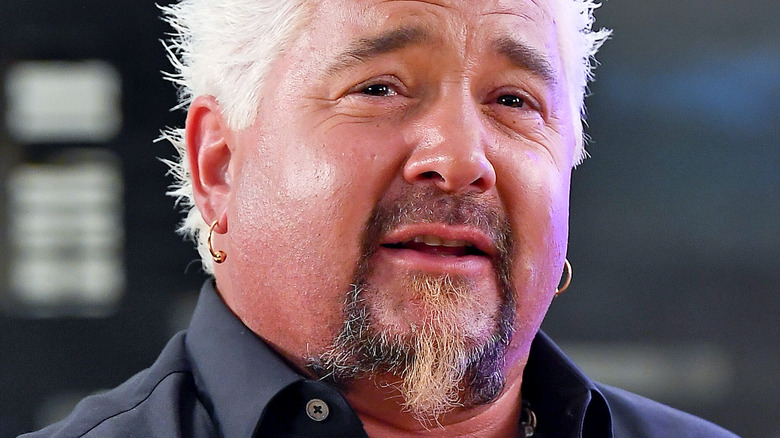 Steve Jennings/Getty Images
Guy Fieri's bromance with Drake has been well-documented over the years. According to First We Feast, the relationship between the music artist and the culinary guru began in 2012 when the two hooked up for a fundraiser collab in Toronto. But the two men crushing on each other's talents was real, with Drake giving a shoutout to the "Flavortown" mayor in his song "6 Man," where the rap artist sings, "Fieri, I'm in the kitchen, I'm a magician." Fieri apparently had no clue about the lyrics when the song dropped and shared his feelings with First We Feast, saying, "I'm still getting a big grin out of that one. Drake's an awesome guy. I love his music and energy." 
Fieri went on further to return that love, saying of Drake, "But how great? Because the guy has got skills in the kitchen, he really does. He has an appreciation for great food. It was quite a moment for me to get that name drop." Those are some nice props from the Triple D's host, for sure. But recently, that's not what has the Internet wagging their tongue about these two superstars. No, it's a meme, and Fieri thinks Twitter may have gone a little overboard with this one.
Guy Fieri's signature spikes might not be right for Drake
Guy Fieri's "Flavortown" crew posted a hilariously funny altered photo of Drake with hair in the fashion of Fieri's signature spikes and captioned the meme, "someone say new Drake." Fieri responded on his personal Twitter account, saying, "@flavortown might have gone too far with this one," and followed it with several cry-laughing emojis. Fans' reactions were priceless, too. One user said, "The Flavor police must be called on this one, Guy." While another wrote, "Imitation is the sincerest form of flattery." Still another tweeted an alternative possible caption, "Drake and Bake?" Flavortown's post has received close to 1,400 likes and is still going strong at the time of this writing.
What did Drake think of the meme? We don't know for sure, but we bet he had a good laugh, as well. Clearly, Drake and Fieri's friendship and admiration for one another is real. In 2013, per Food Network Gossip, there were rumor that the rapper skipped a Grammy nomination concert to, instead, cook with Fieri. The food host posted a photo of Drake in the kitchen on Twitter, typing, "My brutha @drake cookin' it up Nikos & Sikey at Voula's Offshore Cafe tonight." And, in 2020, Fieri posted side-by-side photos of the two of them cooking together with the caption, "The student has become the master."