Gordon Ramsay's Latest Instagram Offers A Peek Inside His Million-Dollar Kitchen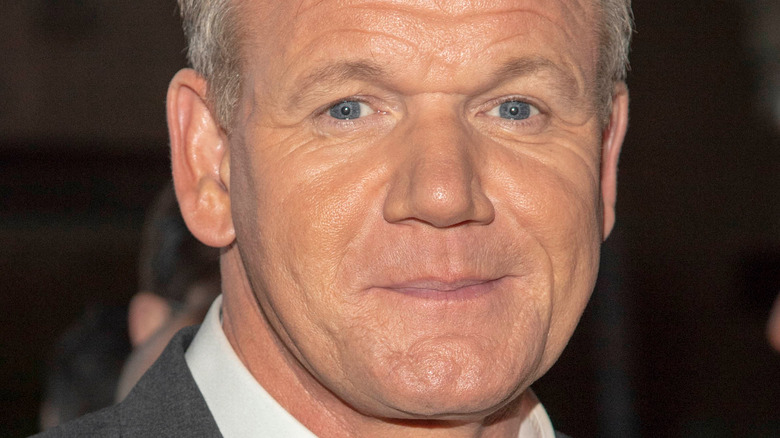 Eugene Powers/Shutterstock
Whether you love or hate him (or love to hate him), it's undeniable that Gordon Ramsay is a force to be reckoned with in the kitchen. Known for his fiery temper and obsession with Beef Wellington, Ramsay has written over 40 cookbooks, owns over 35 restaurants, and is currently a proud recipient of an astonishing 22 Michelin Stars (via Fine Dining Lovers). And that's not all — Ramsay has gone down almost every food-related avenue known to man.
This 54-year-old multimillionaire has developed a restaurant-related app game called "Dash" that received rave reviews (via Eater). And because Ramsay just can't get enough of the culinary world, for his most recent project, the Scottish-born chef is opening up his own Cooking Academy in Surrey, England this coming fall. For all you home-chef wannabes, now's your chance to learn how to cook from the best there is (although, hopefully he's nicer in real life).
When he's not mentoring home cooks on his top rated cooking shows like "MasterChef" and "Hell's Kitchen," Ramsay is cheffing it up at home with his wife, Tana, and his five kids. Practically culinary royalty, one can imagine that Ramsay's home kitchen is fit for a king. Want to take a look inside?
Gordon Ramsay's home kitchen is fit for a Master Chef
In a video shared last July through Hello Magazine, the "Hotel Hell" host eagerly revealed how excited he was to finally be reopening his London restaurants after temporary closures during the peak of the COVID-19 pandemic. "Hi guys, it's Gordon and I'm so excited to have you back in all our restaurants. Honestly, from the bottom of my heart, we've missed you," Ramsay shared at the time. Awwww!
Ramsay filmed that heartwarming video from his home kitchen, providing us all with the perfect excuse to sneak a peek at the multi-Michelin starred chef's natural habitat. With numerous hanging copper pans, sleek and shiny cabinets, multiple sinks, and not one, but two kitchen islands, the state-the-art room is far from a Kitchen Nightmare. Ramsay even has a warming drawer, to keep his plates hot to the touch — how cool is that? You can see some of his kitchen decor, too, in the above snapshot from a more recent Instagram video of him making pancakes at home.
According to CNBC, Ramsay's kitchen originally cost $820,000, prior to a major remodel, and includes a $110,000 oven. It's official: Ramsay's kitchen is everything we were hoping for (and more).