Popular Pizza Hut Wing Flavors, Ranked Worst To Best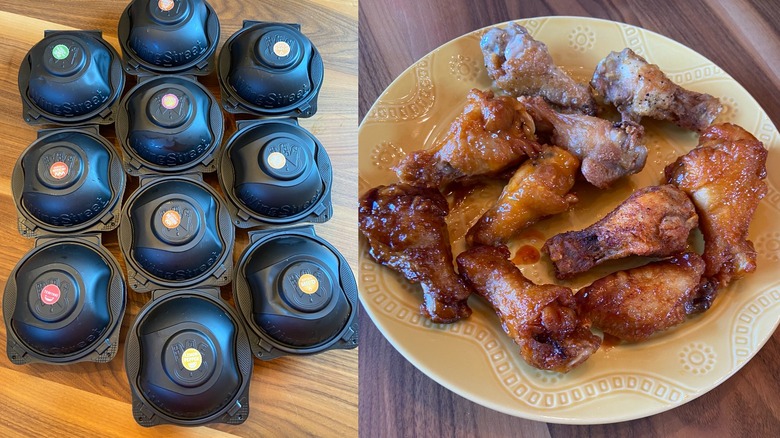 T.S. Lowry/Mashed
Pizza Hut's wing game has taken a step into the limelight over the years. In fact, the chain restaurant's wings, provided by WingStreet, now have 10 flavors –– if you include the "naked" wings, that is, which are actually really good.
Though the restaurant's quality in wings has improved, other restaurants such as, say, Wingstop tend to get higher praise. That aside, we took up the honorable challenge of trying and ranking Pizza Hut's wing flavors, which include Buffalo Burnin' Hot, Buffalo Medium, Buffalo Mild, Cajun-Style Dry Rub, Garlic Parmesan, Hawaiian Teriyaki, Honey BBQ, Lemon Pepper Dry Rub, Naked, and Spicy Garlic. For this challenge, we used Pizza Hut's Large Traditional Wings.
While taste is subjective –– one person's favorite wing flavor could be another person's least favorite –– Pizza Hut's wings are savory and delicious, and all the flavors are worth the try. Needless to say, there's not really a bad wing flavor on the menu ... at least at the time of this writing. Without further ado, here are popular Pizza Hut wing flavors, ranked worst to best.
10. Buffalo Burnin' Hot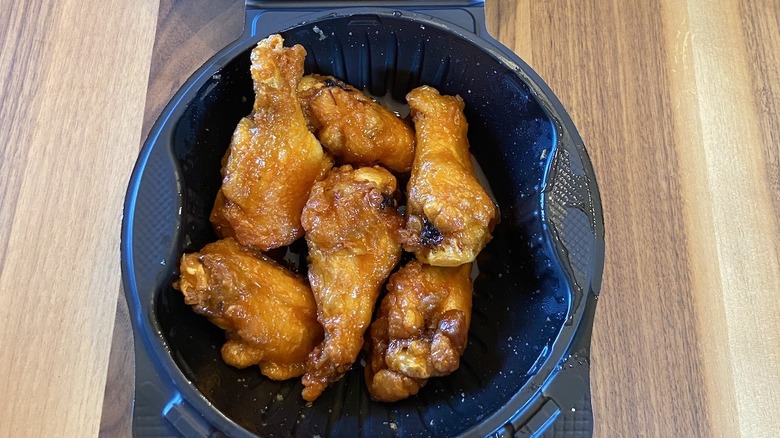 T.S. Lowry/Mashed
Maybe it was the batch we received, but the Buffalo Burnin' Hot only packed a little heat. Surely, these wings are hotter than the Buffalo Mild and Buffalo Medium, but if you're going to throw "Burnin' Hot" in the name, the spice better deliver. This flavor is only slightly spicier than the average buffalo wing, which may be a positive thing if someone can't handle the heat. After all, some restaurant's wings are unbearable after a single bite and taste awful, yet Pizza Hut's hottest wing was tolerable and also had a great flavor. You can skip the glass of milk and rest assured that this wing's buffalo flavor is actually good.
Suffice to say, the Buffalo Burnin' Hot wing didn't live up to Pizza Hut's own words: "lip-numbingly spicy burn." And this might be welcomed for people who want more of a kick yet don't want to ruin their day with too much heat. The Buffalo Burnin' Hot is manageable. With extremely spicy sauces, you can't get a break. Yet with this one, a simple drink of water will turn down the heat. To some, that's reassuring –– but to fans of burning hot sauces, it's a letdown.
9. Lemon Pepper Dry Rub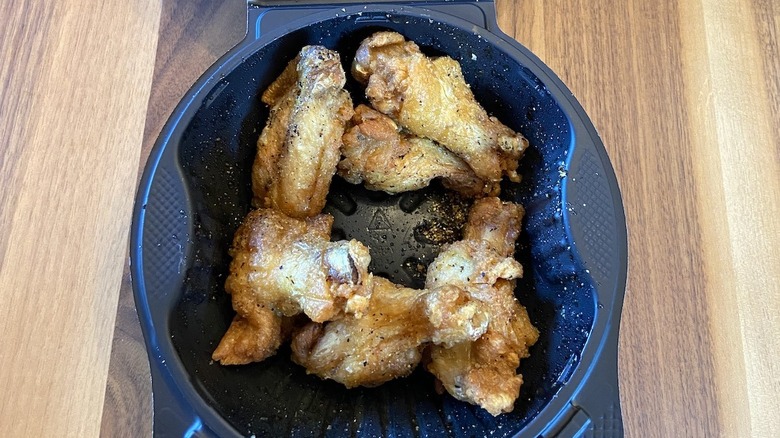 T.S. Lowry/Mashed
The Lemon Pepper Dry Rub provides a good flavor, but not a great one. The combination of pepper (and there was a lot of pepper) and lemon was a bit awkward for a chicken wing. If you're not a fan of pepper or lemon, then this bad boy could easily wind up last on your own ranking.
The dry rub itself made eating the chicken wing less messy, and that's certainly not a food sin — quite the opposite, really. Less messiness aside, the powerful lemon and pepper flavors really take away from the chicken-y aspect of the wing, and that is, unfortunately, a food sin. Most food lovers want to taste their food and don't want a seasoning, especially one that's not delicious, to overpower the natural flavor of the dish.
Would we order the Lemon Pepper Dry Rub wings again? If we're being honest, we probably wouldn't.
8. Garlic Parmesan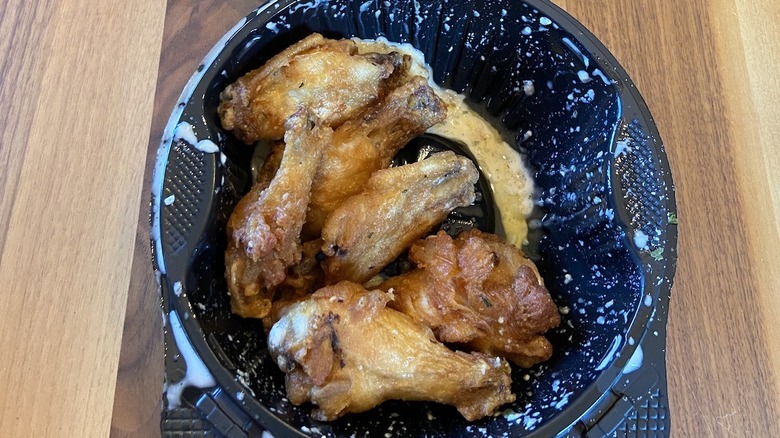 T.S. Lowry/Mashed
The Garlic Parmesan wings are one of those dishes that you might bite into once and then your taste buds start to dance –– only for you to take another bite and realize that Pizza Hut isn't messing around on the Parmesan aspect of this wing. Especially if you dip the wing into the extra sauce at the bottom of the container, you're going to get blasted with a strong Parmesan taste.
Unlike the other wings on the menu, the Garlic Parmesan wings are a tad cheesy –– given, of course, the addition of Parmesan –– which, in a way, gives this wing a pleasantly different texture than the other flavors. Yet the titular flavors make it tough to taste the natural flavors of the chicken wing. Believe it or not, Pizza Hut's wings, when cooked properly, are oozing with flavor. Known for pizza? Sure. Yet WingStreet knows how to do a chicken wing, so it's important to actually taste the flavor of the chicken.
7. Hawaiian Teriyaki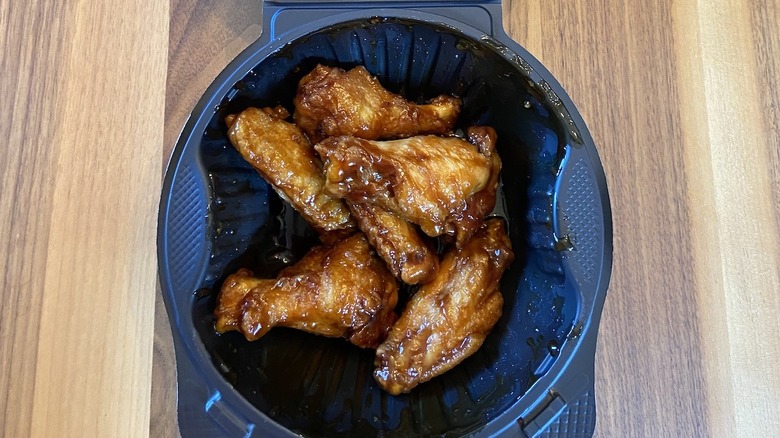 T.S. Lowry/Mashed
The Hawaiian Teriyaki wings are very good but have a very strong teriyaki flavor. If you like a robust teriyaki taste, then you're going to love this wing. It might be easier to wolf down original buffalo wings, and if you fancy a unique chicken wing experience, then this is the flavor for you. It's sweet, but you can definitely taste the soy sauce, which adds a savory component to the dish.
The Hawaiian Teriyaki wings bring a typical Hawaiian teriyaki flavor to the table, which is perfect when you're looking for something that's a little out of the ordinary. Of course, if you're not a fan of soy sauce or a sweeter chicken wing, well, there are luckily nine other wing flavors to try at WingStreet. Yet we'd still recommend this wing to anyone who wants to bite into a Hawaiian treat at a local Pizza Hut.
6. Naked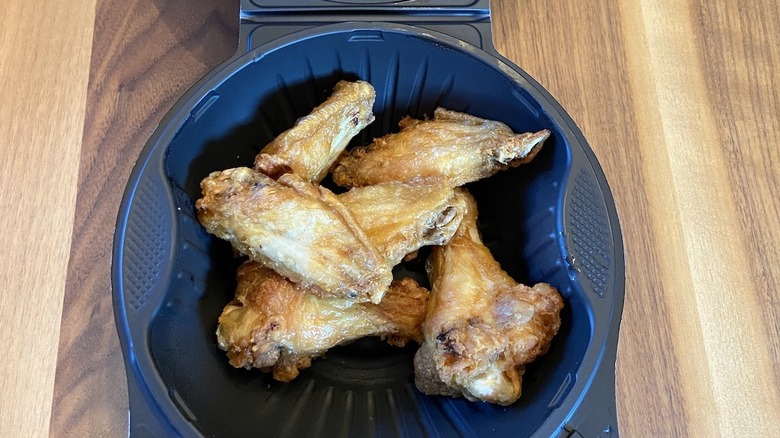 T.S. Lowry/Mashed
We know what you're thinking: How can a wing flavor with no flavor nudge out wings with actual personality? Hear us out: The Naked wing proves WingStreet's quality in poultry, and it very well could be your go-to when you just want to dip your wings in a glorious pool of ranch dressing. Because no matter what the flavor, chicken wings and ranch should be placed on a pedestal alongside peanut butter and jelly.
Unlike nearly all of the other wings, it's quite easy –– and delightful –– to eat nothing but chicken wing when biting into the Naked wing. And having no distinct flavor, such as garlic, teriyaki, or buffalo, makes the Naked wing oddly versatile. Although we recommend dipping this no-frills wing in ranch, you could, realistically, drown it with whatever sauce you desire. Or, of course, enjoy the pleasure of a wing with no real namesake flavor that actually has a lot of natural flavor from the chicken. Another bonus? Because this wing isn't drizzled with, say, Hawaiian teriyaki sauce, you don't have to worry about extra variables such as sugar.
5. Buffalo Medium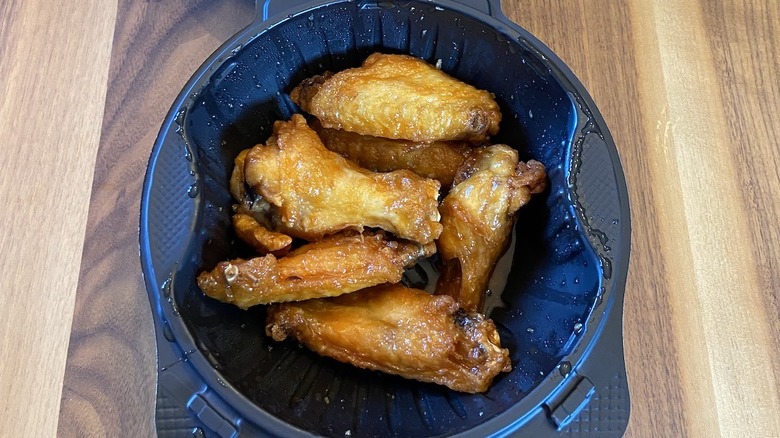 T.S. Lowry/Mashed
The Buffalo Medium, as its name would suggest, isn't too spicy nor too bland. It packs a considerable amount of flavor. It's not the best flavor of all time, but this is a very safe chicken wing option. Consider it the perfect wing flavor if you want a little more heat than the Buffalo Mild but still don't want to burn your tongue. The Buffalo Medium, for what it's worth, is a safe bet –– assuming the eater in question likes buffalo sauce. It's not too hot, the sauce is actually true to its buffalo flavor, and the Buffalo Medium tang doesn't overpower the chicken flavor, so you can still taste appreciate that juicy, tender meat.
We understand that some people are all about the sauce, but a good wing doesn't only feature a zesty blast –– it also has a mouth-watering foundation. Although the Buffalo Medium, Mild, and Burnin' Hot all tasted similar, unlike the Burnin' Hot, the Medium and Mild are more true to their names.
4. Spicy Garlic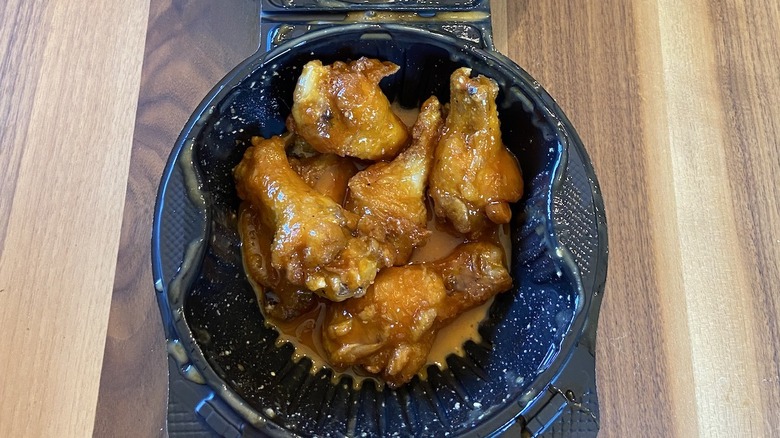 T.S. Lowry/Mashed
The Spicy Garlic wings are a total game-changer and very well could be Pizza Hut's best flavor –– yet it doesn't rise to the top because, universally speaking, spicy wings aren't everyone's jam. Although this certainly isn't the spiciest flavor on the menu, it does offer some heat. When comparing the Spicy Garlic to the Buffalo Medium, the Spicy Garlic was arguably just as spicy, only it has a better flavor thanks to the addition of garlic.
When biting into this wing, our taste buds felt like they were at a rodeo –– and that is to say, we weren't expecting the intensity of the garlic flavor. If you fancy the Garlic Parmesan and any of Pizza Hut's buffalo wings, then the Spicy Garlic is a logical option. The Spicy Garlic's combined seasoning is fun, but we understand how the spiciness or the garlicky nature of this wing can be too much for someone who's not looking for either feature in a wing.
3. Cajun-Style Dry Rub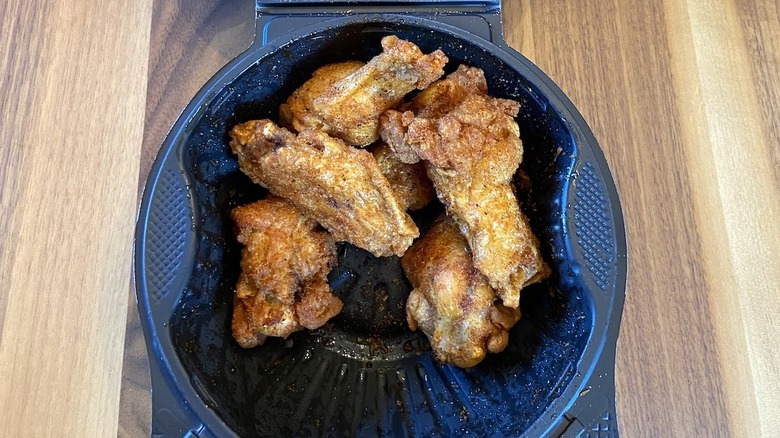 T.S. Lowry/Mashed
The Cajun Style Dry Rub is a 10 out of 10 in the taste department. Yet we realize that dry rubs aren't for everyone. After all, when people eat wings, they expect to get a little messy –– they've earned that right. Having sauce-covered hands after eating a wing is a rite of passage. As a dry rub, this wing flavor involves a significantly less messy meal. Either way, one can –– and should –– opt to dip this wing in ranch dressing.
Because the Cajun Style-Dry Rub flavor is so unique, this dry rub easily stood out as one of Pizza Hut's most appetizing wing flavors. Although it might sound like overkill, dipping your finger in the left-behind seasoning at the bottom of the WingStreet box will allow you to truly enjoy this dry rub. Yes, it's that good –– you don't want to waste a crumb. Nevertheless, this wing flavor is one you have to try if you love a good dry rub.
2. Buffalo Mild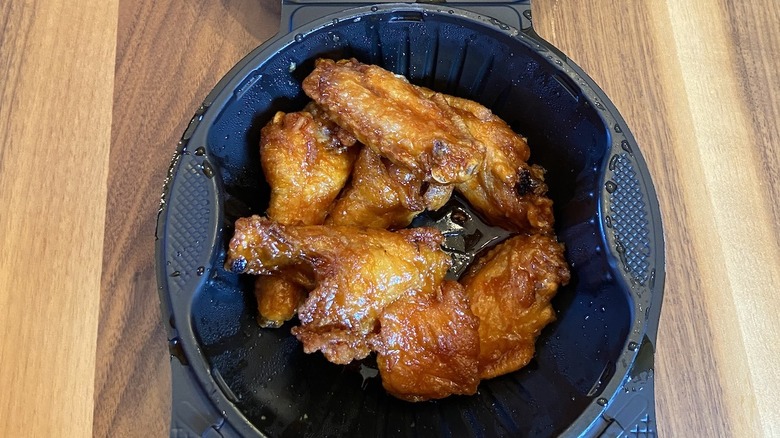 T.S. Lowry/Mashed
Buffalo Mild: good taste, not hot –– it's a perfectly splendid mild buffalo wing.
While this wing could easily be at the top of many people's rankings –– it's really hard to go against a mild buffalo wing as it's not too hot and brings the flavor –– it doesn't have as quite as much flavor as the only wing on the menu that tops it.
Although there are certainly adventurous eaters out there, it's safe to say that many people pick the flagship wing, which is the buffalo wing, when ordering chicken wings. Typically, this wing isn't too spicy, yet the heat does tap on your door. This all goes up in smoke if a restaurant prides itself in bringing the heat. But it's still safe to say that, generally speaking, buffalo wings are the most popular wings –– and for that reason alone, it's hard to go against the Buffalo Mild, as it checks all the boxes. It's slathered in delicious buffalo sauce that isn't overpowering, so you can still taste the flavor of the meat. If you prefer a spicier kick yet still enjoy the flavor, then the Buffalo Medium or Buffalo Burnin' Hot might be better options.
1. Honey BBQ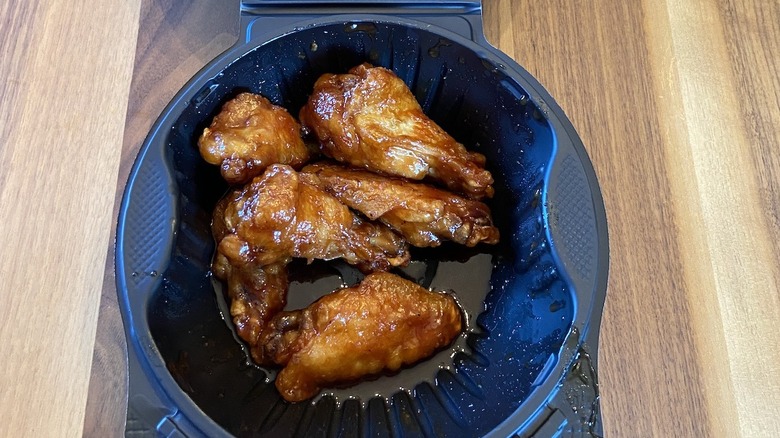 T.S. Lowry/Mashed
The Honey BBQ wing is the perfect balance of sweet and tangy. It's sweet, smoky, and juicy all at once. These opposing flavors are a match made in wing heaven.
Now, we understand that not everyone is a fan of barbecue sauce, not to mention, not everyone wants to bite into a sweet chicken wing, but taste for taste, this is Pizza Hut's best sauce. Sure, taste is subjective, but we wouldn't mind dipping pizza, breadsticks, or other cherished Pizza Hut menu items in a separate order of Honey BBQ sauce.
We'll put it this way: If you ever stroll into a Pizza Hut (or swipe over to a food delivery app) and are looking for a safe bet, then we recommend the Buffalo Mild. But if you're in search of something new that, without a doubt, brings the flavor, then Honey BBQ wings are definitely the winner.