What Andrew Zimmern's Home Kitchen Actually Looks Like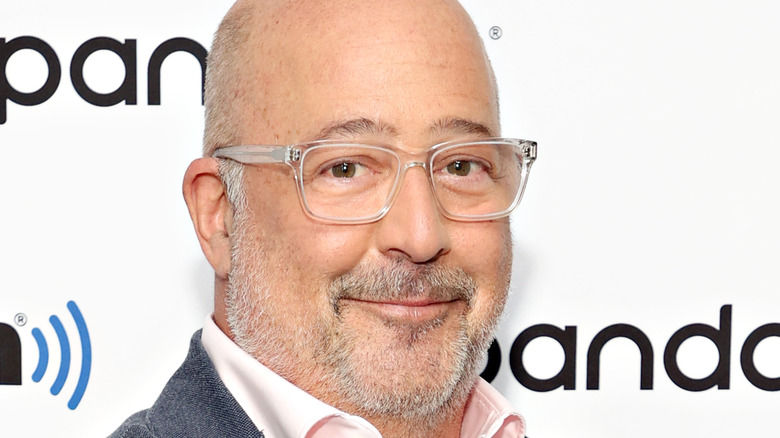 Cindy Ord/Getty Images
Andrew Zimmern recently renovated his home in the Twin Cities and, of course, inquiring minds want to know about the most important room in the house — the kitchen!
You might know Zimmern from one of his TV shows — he once hosted "Bizarre Foods" on the Travel Channel and is known for the series "The Zimmern List" and "Andrew Zimmern's Driven by Food," also on the network. He has won Emmys, James Beard awards, and has dedicated his career to promoting cultural acceptance and tolerance through food exploration (via his official website). Or maybe you know him from his YouTube channel, where Zimmern takes us into his kitchen and teaches us his favorite recipes from his travels around the world.
Either way, we know that food, cooking, and community are paramount in the celebrity chef's life. So, when it came time to renovate his home, the kitchen needed to be just right. We have all the details on what it looks like.
Inside Andrew Zimmern's home kitchen
The kitchen in Andrew Zimmern's newly renovated home is central to the whole abode. As reported in Artful Living, the kitchen island is immediately visible from the entryway as if to invite guests, friends, and family directly into Zimmern's special space. The front door, kitchen, and living room all flow into each other to make entertaining dinner guests easy. "This way, I can just wave people right in. Plus everyone tends to congregate in the kitchen, so we opened it up to the living room to create one big, lofty space," Zimmern said in the article.
The kitchen has Gaggenau appliances, including four ovens. Zimmern can cook all of his favorites in his customized cooking suite that has four normal burners, a wok burner, and a plancha with three separate heat-controlled zones under a ventilation hood. The sleek, light-colored Puustelli cabinets maximize storage. Zimmern also opted for a small refrigerator and freezer to limit food waste, citing smaller refrigerators used in countries like Vietnam as inspiration. The centerpiece is the 15-foot red oak island, which is customized with a slot for his favorite cutting board and drawers designed for his knife collection. The island has a large sink, and four stools beckon guests to take a seat.
It looks sleek, modern, efficient, and inviting. The kitchen is perfect for Zimmern to cook, entertain, and bring people into his home. Including those who get to watch him in his element on his various shows.