Bobby Flay Revealed The Trick To Perfect Anchovy Butter In Bobby & Giada In Italy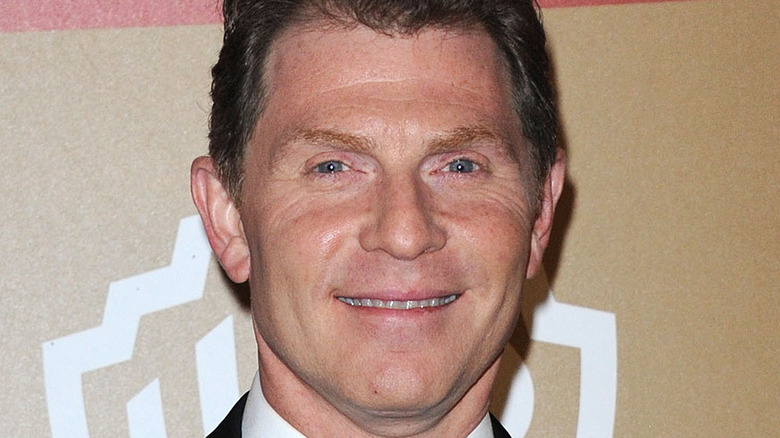 DFree/Shutterstock
Have you ever tried cooking a meal with no flame? That's exactly the process of making anchovy butter, according to Bobby Flay's latest learnings from Rome. On a recent episode of "Bobby & Giada in Italy," Bobby joined a skilled Italian chef to create a signature Anchovy Butter Pasta. The pasta was cooked in an anchovy butter sauce, in which the anchovies are warmed in butter and pasta water, rather than over a flame. The reasoning behind this cooking method is that the anchovies are too delicate to be heated over fire, as stated in a clip shared on Twitter.
Pasta water, as we all know, is often labeled as "liquid gold" via (Bon Appétit), and many chefs will tell you to save it when you drain your pasta. Pasta water can make bread chewier and can thicken sauce, due to the added starch it has inside. And the same applies for this recipe, which will take your anchovy butter to the next level.
Bobby Flay learned to value pasta water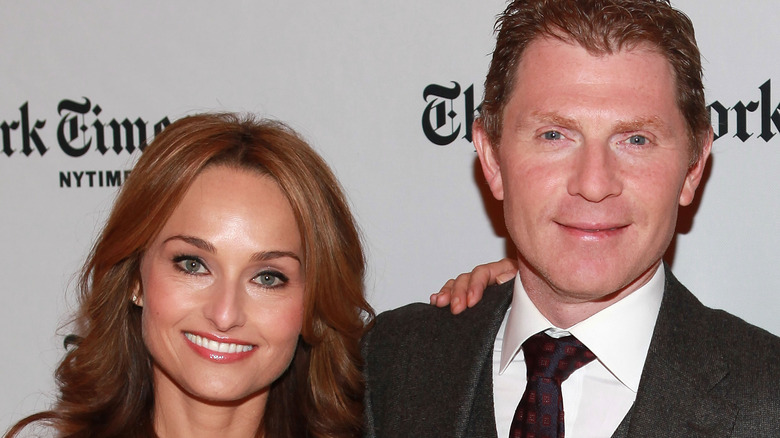 Robin Marchant/Getty Images
Though you might be skeptical about cooking anchovies, or any food, without a fire, it actually makes for some tasty pasta sauce, as proven by someone who tried out Flay's recipe. After the clip from the episode was shared on Twitter, user @Y_uPeekaboo69, wrote, "I made this and let me tell ya.... it was so freaking good. It's different but would definitely eat this again! [heart eyes emoji]."
"Bobby & Giada in Italy" is full of helpful tricks, like the one from the skilled Italian chef. And although there are some solo missions, like the one mentioned above, featured on the series, the show is typically a collaboration between Flay and Giada de Laurentiis. In fact, on Season 1, Episode 2, both Flay and de Laurentiis discovered that pasta water wasn't good only for sauces, but also for making deliciously fresh cacio e pepe (via Giadzy).