Starburst Just Announced An Unexpected New Twist On Its Classic Candy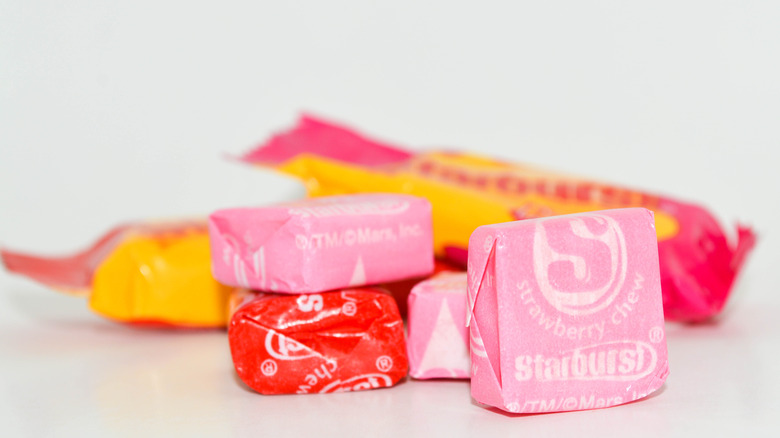 Jennifer Wallace/Shutterstock
It's hard not to love Starburst with its oh-so chewy texture and juicy, fruity flavors. While there have been a number of different flavors over the years to shake up how you enjoy Starburst, the candy is now coming out in a whole new form. On August 30, Starburst announced that it will be making its classic chewy candy in an aerated gummy version, called Starburst Airs (via PR Newswire). The new version of the candy will be squishy and bouncy for a fun, new texture that still packs in all the great taste.
"Starburst is delivering better moments and more smiles to gummi fans with our next generation aerated gummies — Starburst Airs," Justin Hollyn-Taub, Senior Director of US Fruit Snacks for Mars Wrigley, said in a statement. "Starburst Airs are reimagined gummies that will leave candy lovers enamored with the combination of Starburst flavors in a pillow-like texture." The new launch is set to hit some store shelves as early as this fall, with a nationwide expansion planned for 2022, and it's clear fans have a lot to look forward to with this fluffy new version.
This is what we know so far about Starburst Airs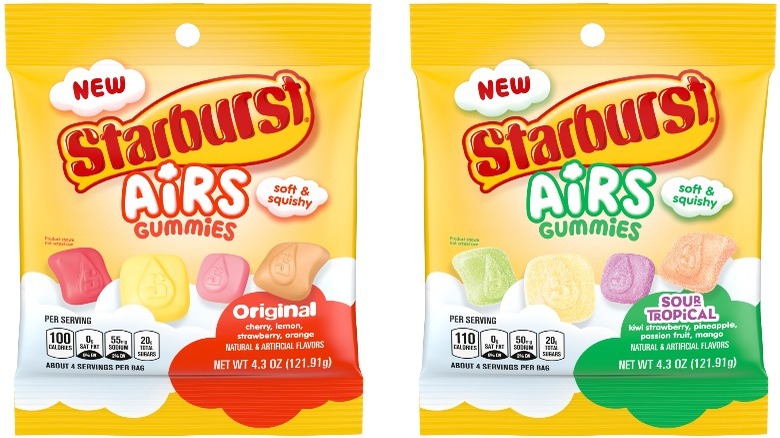 Mars Wrigley
Unfortunately, the new edition of Starburst Airs won't be available across the entire U.S. until early 2022 (via Chew Boom). So, only a few lucky locations will carry the new candy this year. But keep your eyes open as it's not totally clear as to where and when Starburst Airs will make their full debut across the country — and perhaps if they prove to be popular enough early on, that timeline could move up.
As for the flavors, the new Starburst Airs will be available in Original and Sour Tropical packs, each one coming in a 4.3-ounce bag filled with the light and puffy gummies. The Original will have the traditional Starburst flavors you know and love like strawberry, cherry, orange, and lemon. The Sour Tropical edition will offer sour kiwi strawberry, pineapple, passion fruit, and mango. After trying a bag, the question of which Starburst flavor is the best may be come a new trending topic.