Hasselback Zucchini Recipe
Miriam Hahn/Mashed
Everyone knows about Hasselback potatoes, those distinctive accordion-cut baked tubers whose cracks and crevices hide copious amounts of butter, herbs, and sometimes even cheese and bacon crumbles. In case you were wondering, no, they weren't named after the former star of Baywatch (his name is Hasselhoff). Instead, they take their name from the Swedish hotel where they were created in the 1950s (via Center of the Plate).
Hasselback zucchini, on the other hand, appear to be a far more recent invention, developed as a less-starchy alternative to the potato version. Recipe developer Miriam Hahn says that her Hasselback zucchini recipe is "a lower-carb, vegan version of Hasselback potatoes!" She goes on to tell us, "I got the idea a few years ago when I bought some really nice-sized zucchini at the farmers market." As she is always thinking up new recipes, particularly ones involving veggies, she says she decided to give it a try, and we're pretty sure you're going to love the results!
Zucchini is a super-healthy veggie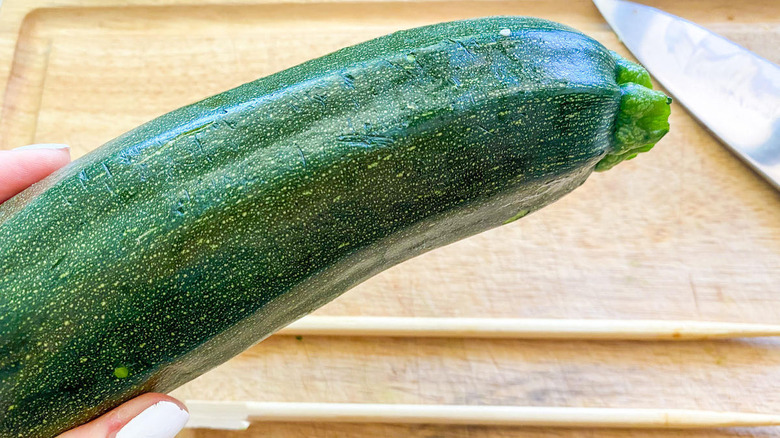 Miriam Hahn/Mashed
Zukes are having somewhat of a resurgence lately due to the fact that they are so low in carbohydrates, but they're still not exactly everyone's favorite veggie. Hahn herself admits, "I was never a fan of zucchini either. We had it a lot growing up, and it was always kind of mushy." She goes on to say, though, that "When I got older and started cooking with it, I discovered lots of new ways to use zucchini that were so much better."
Hahn, a wellness coach, is a big fan of zucchini's numerous health benefits. As she points out, "It is loaded with fiber, vitamins, and minerals all packed in with very few calories." Whether you use zucchini as a replacement for pasta or potatoes, you're not only losing the excess carbs, but you're gaining a nutritional powerhouse!
Here are all the other ingredients you're going to need to make this Hasselback zucchini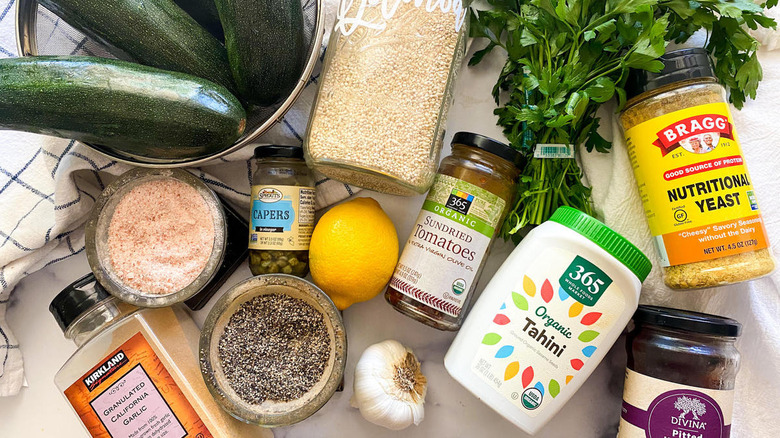 Miriam Hahn/Mashed
Unlike Hasselback potatoes, which tend to be heavy on the dairy products, Hahn's vegan dish goes in a different direction. "The flavor of this is definitely Mediterranean," she tells us. The ingredients that give it this flavor profile include fresh Italian parsley and garlic as well as sun-dried tomatoes (Hahn used the kind from a jar), kalamata olives, capers, and pepper. The filling is bulked out with quinoa and gets its "cheesy" flavor from nutritional yeast, while the finished dish is topped with a sauce made from tahini, lemon, and garlic powder.
Hahn describes the finished dish as "very savory," saying that, "the saltiness of the olives matched with the tanginess of the sun-dried tomatoes is so good with the zucchini." While she does say that "zucchini on its own is very plain and neutral," she explains that "these ingredients really doll it up!"
Make the Mediterranean-style filling first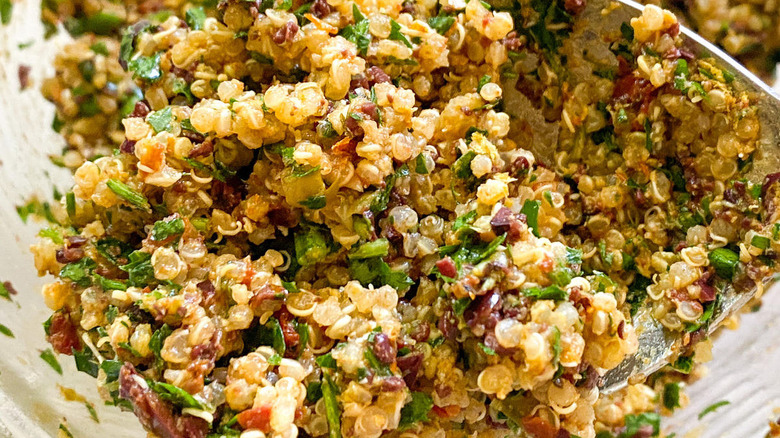 Miriam Hahn/Mashed
Preheat the oven to 400 F, then prep the produce by rough-chopping the parsley, peeling the garlic cloves, and zesting the lemon. Add these ingredients to a large food processor along with the tomatoes, olives, capers, pepper, and half a teaspoon of salt. Pulse the food processor in short bursts about 20 times so the resulting mixture is well-blended but still retains some chunkiness. Use a spoon to stir in the quinoa and yeast. If you prefer, you can take the mixture out of the food processor and transfer it to a bowl before adding these last two ingredients.
Slice and fill the zucchini, Hasselback-style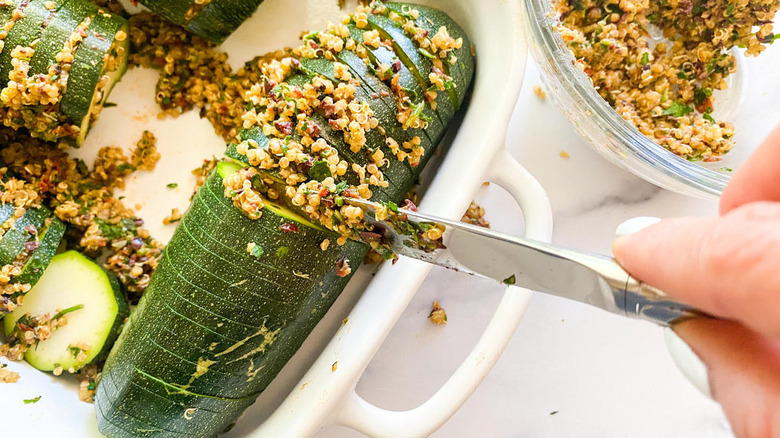 Miriam Hahn/Mashed
And now for the part that puts the "hassle" in Hasselback, be it potatoes or zucchini: the slicing and stuffing. You'll need two chopsticks or wooden spoons for this, as they serve as a kind of a guide for the cutting. Place them about two inches apart, then lay the zucchini atop them. Slice down into the zucchini, making cuts about a quarter-inch apart but not cutting all the way through. As Hahn tells us, "The chopsticks [or spoons] should stop you from doing this." You will, of course, need to repeat this process for each zucchini.
Next, take a butter knife or similar instrument to scoop up a teensy bit of the quinoa filling and stuff it in between every zucchini slice. Hahn admits, "You do need some patience when making these," saying, "It is a slow process when you are stuffing the zucchini because you are going slice by slice." She does say, though, that you can prepare the Hasselback zucchini to this point ahead of time, then bake the dish when you're almost ready to serve it.
Prepare the sauce while the zucchini bakes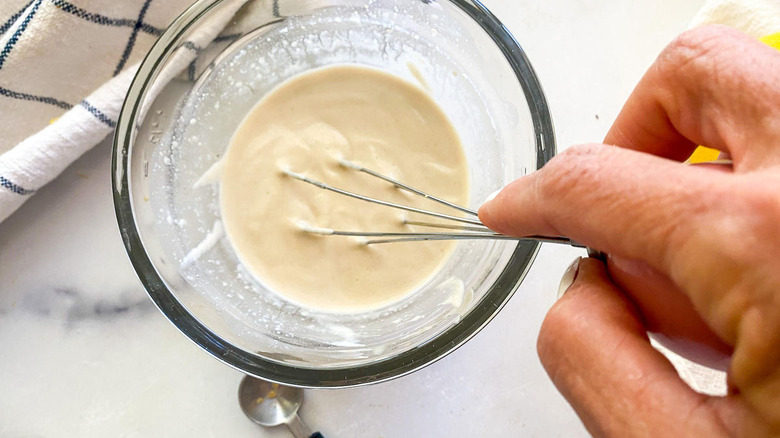 Miriam Hahn/Mashed
When you're finally done stuffing the zucchini, place them in a baking dish and top them with any leftover filling. Bake them for 25 minutes, by which time they should be a nice light brown. While the stuffed zucchini are cooking, whisk together the tahini, lemon juice, and garlic powder along with half a teaspoon of salt and one tablespoon of water. Pour this sauce over the zucchini before you serve them. As to what constitutes a serving, Hahn says, "If you have large zucchini, like mine, a serving would be half a zucchini."
Serving suggestions for these Hasselback zucchini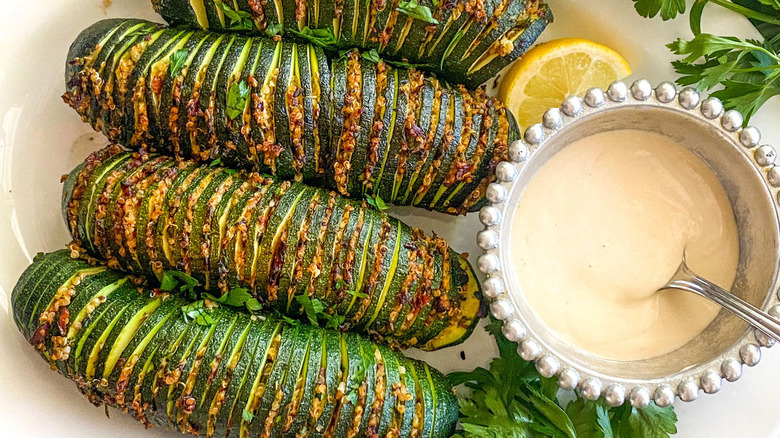 Miriam Hahn/Mashed
While Hahn tells us, "The tahini sauce is fabulous," she says, "you can also do a warm marinara as a topping that complements the Mediterranean flavors as well." If you're wondering how to serve this Hasselback zucchini, Hahn says this stuffed zucchini is "great with any main dish like lasagna, pasta, [or] meat of any kind."
Another suggestion Hahn has for us is that Hasselback zucchini "works beautifully as a side dish for a holiday meal [since] it is very festive and adds some 'wow' factor to the spread." She offers that, "If you have several side dishes with your holiday meal, you can cut these [zucchini] into smaller two-inch portions to go alongside the rest of the meal," or you could even serve these smaller Hasselback zuke chunks as a vegan appetizer.
Hasselback Zucchini Recipe
Recipe developer Miriam Hahn says that her Hasselback zucchini recipe is "a lower-carb, vegan version of Hasselback potatoes!"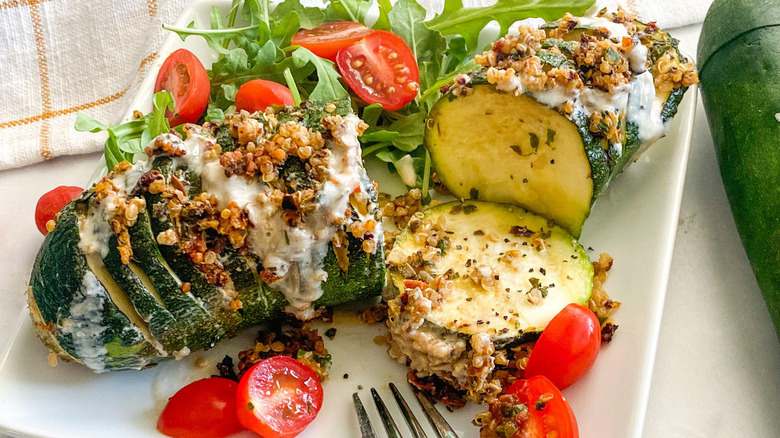 Ingredients
1 bunch fresh Italian parsley, chopped
3 cloves garlic, minced
¼ cup sun-dried tomatoes from a jar
½ cup kalamata olives
2 teaspoons capers
Zest from one lemon + juice from ½ the lemon
¼ teaspoon pepper
1 teaspoon salt, divided
1 cup cooked quinoa
¼ cup nutritional yeast
4 large zucchini
3 tablespoons tahini
¼ teaspoon garlic powder or granules
Directions
Preheat oven to 400 degrees F.
Mix the parsley, garlic, sun-dried tomatoes, olives, capers, lemon zest, pepper, and ½ teaspoon salt in a large food processor, pulsing about 20 times to get a blended but chunky consistency.
Stir the quinoa and nutritional yeast into the parsley mixture.
Position two chopsticks or wooden spoons about 2 inches apart and place the zucchini on top.
Cut ¼-inch slices of zucchini, being careful not to cut all the way through. Repeat for all 4 zucchini.
Spread quinoa mixture between each zucchini slice.
Place the stuffed zucchini in a baking dish and spread any remaining quinoa mixture over the top.
Bake the stuffed zucchini for 25 minutes until lightly browned.
While the zucchini is cooking, combine the tahini, lemon juice, and garlic powder with ½ teaspoon salt and 1 tablespoon water.
Top the baked zucchini with tahini sauce before serving.
Nutrition
| | |
| --- | --- |
| Calories per Serving | 132 |
| Total Fat | 5.3 g |
| Saturated Fat | 0.8 g |
| Trans Fat | 0.0 g |
| Cholesterol | 0.0 mg |
| | |
| --- | --- |
| Total Carbohydrates | 16.5 g |
| Dietary Fiber | 5.6 g |
| Total Sugars | 5.6 g |
| Sodium | 401.4 mg |
| Protein | 8.6 g |