Vegan Pulled Pork Recipe
Susan Olayinka/Mashed
According to Deals on Health, out of all the people on the globe this year, about 79 million identify as vegan. That's nearly one in every hundred of us. Veganism has become a mainstream ethical way to live. Abstaining from all animal-based products (including honey) is an act of advocacy for fair treatment of animals and the environment. 
But how do you make barbecue pulled pork without the pork? (Cue the Mashed look-a-like.) We've got you covered! Recipe developer and food photographer Susan Olayinka from The Flexible Fridge whipped up a magical vegan version so good, you won't know the difference!
Jackfruit is a popular stand-in for meat. Its neutral taste and versatility make it a perfect base for many different meals including ribs and carnitas to even crab-less crab cakes and kebabs. This barbecue pulled pork recipe is appetizing whether you stand for protecting your furry friends or are just down to throw fruit on a sandwich (sounds risky right?). We assure you, our method takes just over an hour to make and is well worth it!
Gather your ingredients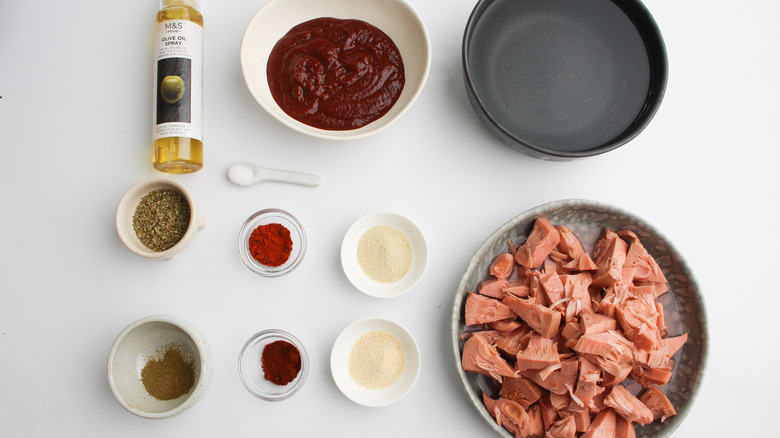 Susan Olayinka/Mashed
We have an interesting list of ingredients for you, starting with 17 ½ ounces of jackfruit. To get it fresh, check your nearest Whole Foods or Trader Joe's, but Olayinka chose another version: "This was canned, and it's the most easiest accessible way to get it nowadays," she said. Nowadays, you can find canned jackfruit at just about any major supermarket.
Also, do have a few cups of water on hand with some paprika, chili powder, salt, and ground cumin. The other seasonings we'll toss in are onion powder and garlic powder. Lastly, find a barbecue sauce that works for you (we used vegan, of course) and have some olive oil cooking spray on hand, too.
Boil your beautiful jackfruit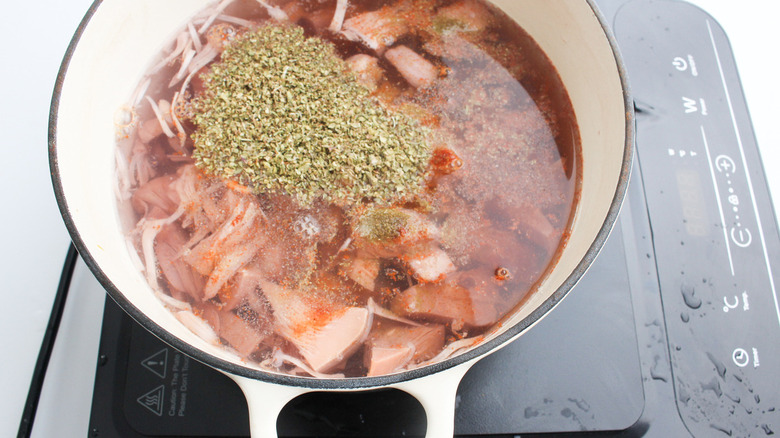 Susan Olayinka/Mashed
The first step here is to begin by draining the jackfruit in a strainer. 
Place the drained jackfruit into a stockpot filled with four cups of water. Season the water with a teaspoon of paprika, half a teaspoon of chili powder, and a tablespoon of salt. Immediately after, pour in the cumin, onion powder, and garlic powder. Put the pot on the stove and set it to medium high heat. Let the jackfruit boil in the seasonings for about 20 minutes.
Give the jackfruit a good bake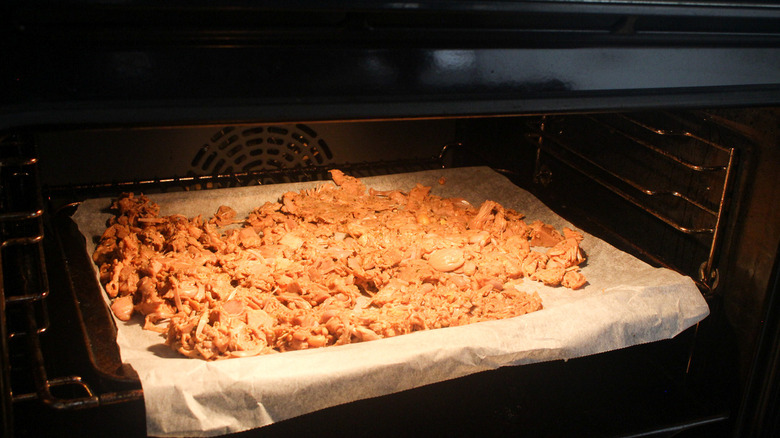 Susan Olayinka/Mashed
Now, you know what they say, if you can't stand the heat stay out of the kitchen, right? Well, this one might get a little warm. Go ahead and turn up your oven to 350 F.
After the jackfruit has boiled down, drain it once more. Then, line a large baking tray with parchment paper. Spread the boiled jackfruit evenly to fill the tray and place it in the heated oven to bake for 30 minutes. Doing so gives the jackfruit the pulled "pork" look. 
As professional foodies, we asked Olayinka if jackfruit has a distinct taste.  "Surprisingly not at all. It's very neutral," Olayinka shared. "It's so good and I love the fact that its a fruit! That blows my mind every time!" We know you too will be surprised by these results.
Cover the jackfruit in sauce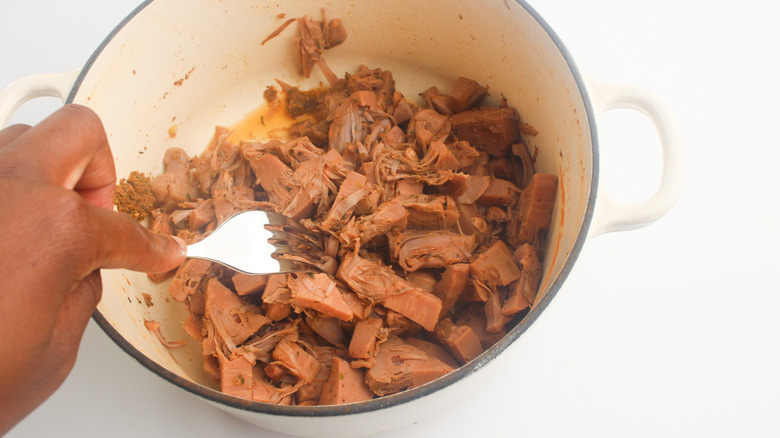 Susan Olayinka/Mashed
Remove the jackfruit from the oven. While it's still warm, transfer it to a mixing bowl. Pour a cup of your favorite barbecue sauce over the jackfruit. Stir them together to combine, until the jackfruit is well coated. Add extra sauce as needed.
You have only one more step to go before enjoying this delicious vegan delicacy. Are you thinking of tasty sides yet? Coleslaw and fries? Potato salad? Vegan baked beans? We are here for it!
Re-bake the barbecued "pork"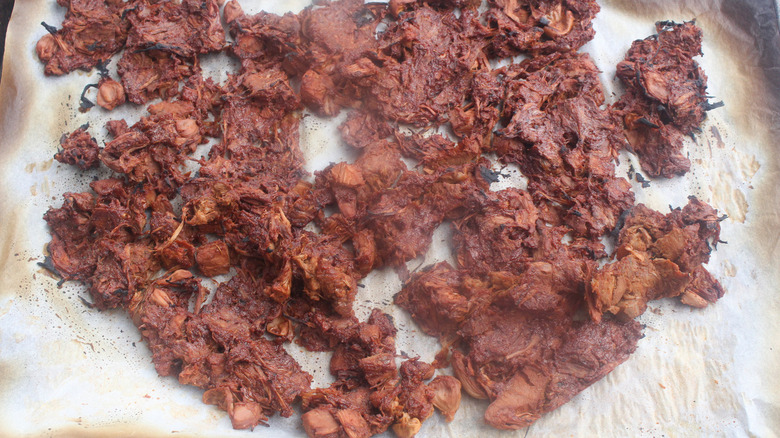 Susan Olayinka/Mashed
Reline your baking tray with new parchment paper. Take and spread out the barbecued jackfruit onto the tray. Spray it down with olive oil afterwards. 
Now slide it into the oven and set it to broil. You know how the broiler can be sometimes, so keep a close eye on it. Olayinka recommends cooking the jackfruit for about four minutes in total. After the first two minutes, give the jackfruit a flip and cook the other side for two more minutes.
Enjoy your incredible vegan pulled pork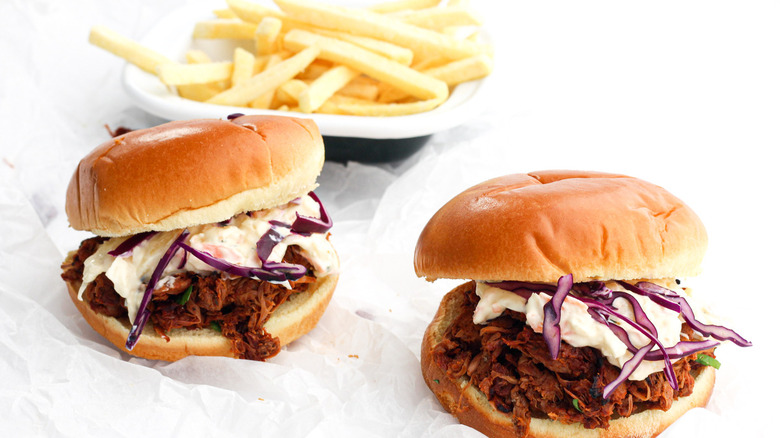 Susan Olayinka/Mashed
Pull your vegan pulled pork out from under the broiler and you're ready to serve! 
While it's warm, set all of this deliciousness between a brioche bun and serve with french fries. Pictured above, this vegan pulled pork sandwich is perfectly accented with coleslaw and red onions, but Olayinka says there are many ways to enjoy its decadence. "You could actually pair this [pulled pork] with any sort of bread, put it in salads, top sweet potato with it," she told Mashed. Doesn't that sound amazing? 
As for the taste, you know it's to die for! "If it's grilled in the final step, it really does taste like pork," Olayinka told us. In case you made more than enough for the family, leftovers keep well in the fridge for three to four days. Whether you're vegan or up for trying a new dish, we hope you put this recipe to good use! All your guests will be shocked at this healthy alternative, and hopefully they'll come back asking for more. Until next time!
Vegan Pulled Pork Recipe
How do you make barbecue pulled pork without the pork? This vegan pulled pork recipe uses jackfruit for a magical version so good, you won't know it's vegan.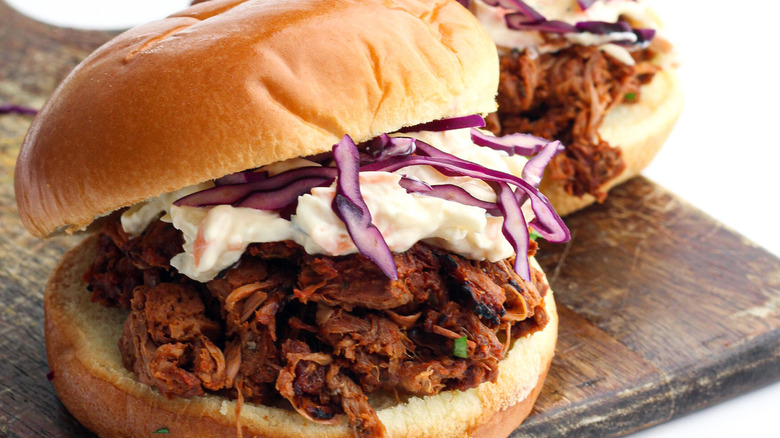 Ingredients
17 ½ ounces canned jackfruit
4 cups water
1 teaspoon paprika
½ teaspoon chili powder
1 tablespoon salt
½ teaspoon cumin
½ teaspoon onion powder
½ teaspoon garlic powder
1 cup vegan barbecue sauce
olive oil spray
Directions
Preheat the oven to 350 F.
Drain the jackfruit into a colander and place it straight into a pot.
Add the water, paprika, chili, salt, cumin, onion powder, and garlic powder.
Put the pot on medium-high heat and boil the jackfruit for 20 minutes.
After 20 minutes, drain the jackfruit through a colander again and place it on a baking tray.
Cook the jackfruit for 30 minutes.
After 30 minutes, remove the jackfruit from the oven and place it in a mixing bowl.
Stir in the barbecue sauce.
Spread the jackfruit on a parchment-lined baking tray.
Spray the jackfruit with olive oil spray and put it in the oven on the broil setting.
Broil it for 4 minutes, turning it over after 2 minutes.
Serve the broiled vegan pulled pork between a brioche bun with some fries.
Nutrition
| | |
| --- | --- |
| Calories per Serving | 253 |
| Total Fat | 1.9 g |
| Saturated Fat | 0.2 g |
| Trans Fat | 0.0 g |
| Cholesterol | 0.0 mg |
| | |
| --- | --- |
| Total Carbohydrates | 60.0 g |
| Dietary Fiber | 2.2 g |
| Total Sugars | 23.9 g |
| Sodium | 1,012.8 mg |
| Protein | 1.3 g |