Mac & Cheese Ice Cream Is Officially Back. Here's How To Get Some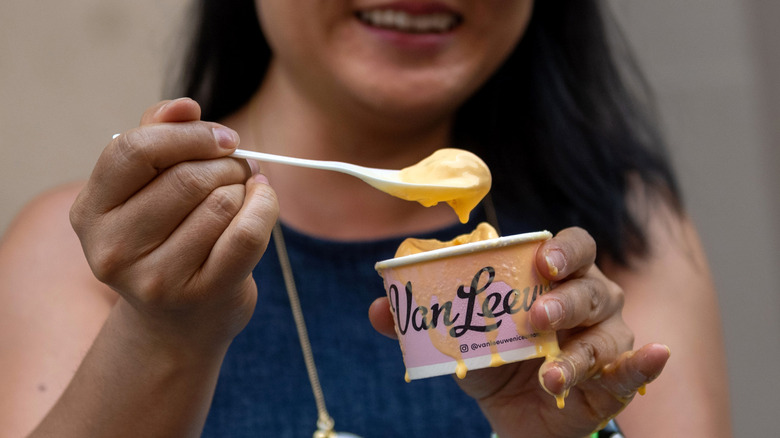 Alexi Rosenfeld/Getty Images
The Brooklyn-based artisan ice cream company Van Leeuwen went viral last month with the release of a one-of-a-kind ice cream flavor created in partnership with an unexpected brand: Kraft Macaroni & Cheese.
The quirky Mac & Cheese ice cream, which was created for National Mac and Cheese Day, had the internet divided. Some were repulsed by the mere thought of cheddar-flavored ice cream; others clamored for a taste. Demand for the eccentric treat was so large that the limited-time ice cream sold out almost instantly. However, customers who didn't get a chance to taste the cheesy flavor on the first go-around now have a chance to snag one of the unique pints.
Earlier this week, Van Leeuwen teased the return of the eyebrow-raising flavor in an Instagram post of bubbling Kraft-yellow liquid with the caption: "The flavor you never knew you needed but then maybe wanted it because you were intrigued but then it sold out. Yeah, that one. Should we bring it back?"
While some commenters mused that the bright yellow flavor could be "turmeric ginger" or "pumpkin cinnamon roll," today the plans to re-release the limited edition Kraft ice cream were officially revealed. In another Instagram post, Van Leeuwen shared that the unique ice cream flavor will make its return today, for a limited time only, while supplies last.
How to snag a pint of Mac & Cheese ice cream
Cheese-loving ice cream enthusiasts will likely have to act fast. When the first batch of Mac & Cheese ice cream made its debut last month, the pints sold out within one hour, and the flow of customers was so intense it crashed Van Leeuwen's website, causing the ice cream company to post on social media "WHO WOULD'VE THOUGHT #NationalMacandCheeseDay WOULD BREAK THE INTERNET."
When announcing the cheese-flavored confection's return, the ice cream maker ensured customers on Instagram that the website "shouldn't crash like last time," and that they "made more than last time." However, 30 minutes past the ice cream's release time, the company's website did appear to be erroring once again. Commenters seem to be having the same experience — "Get a refund from your developer because the site immediately crashed," one wrote.
The creamy, cheesy treat officially went back on sale today, August 31, at 12 p.m. EST via Van Leeuwen's website and in-store at the company's scoop shops. Customers are limited to 2 pints per order to give more shoppers the opportunity to buy the treat, although, as the website notes, "no one says you can't place more than one order." Pints of the funky ice cream are $12 plus shipping, and can be shipped nationwide. And if you still can't get your hands on any, you can always make your own.