Rachael Ray Just Shared An Inspiring Message About Her New Cookbook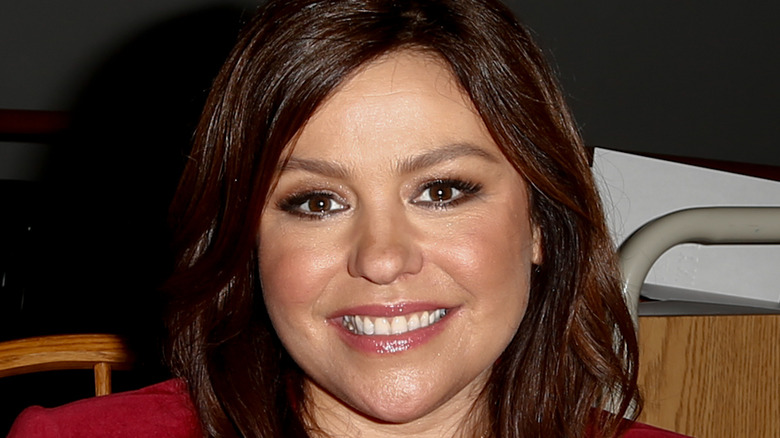 Debby Wong/Shutterstock
Rachael Ray has been a longtime messenger through her TV shows and cookbooks, helping us prepare food that is fast, easy, and affordable. Ray has even given our four-legged friends food that is fun and delicious with the introduction of her pet brand Nutrish. Now, the celebrity chef and foodie is once again bringing food and comfort into our homes with her new cookbook, "This Must Be The Place" (to be released in October 2021, via Penguin Random House). And she's sharing a sweet message behind the name and concept for he book on Instagram. In the post, Ray says to fans, "Through everything that happened in the last year, we learned that home is a state of mind, not an actual place."
This new cookbook by the prolific food author was inspired by Ray's experience during the pandemic in 2020 as she moved production of her namesake cooking show to her home in upstate New York that she shares with husband John Cusimano. After shifting from the professional studio and being set up at home in her own kitchen, Ray created more than 125 recipes using ingredients from her own pantry, with John filming it all on an iPhone. 
As noted by Penguin Random House, it was the only cooking show on broadcast TV at the time and allowed Ray to help people connect during the difficult phase through cooking. Some of the dishes included One-Pot Chickpea Pasta, Porcini and Greens Risotto, and Moroccan Chicken Tagine, according to her official website, which will be a big part of the new book. With Ray already known for her versatile and affordable cooking, the cookbook is said to be a record of "the words, recipes, and images that will forever shape this time."
The inspiration for "This Must Be The Place"
Rachael Ray's Instagram post focuses on a sheet of lyrics she has framed in her home's front entry way, taken from a Talking Heads song that shares the name of her new book, "This Must Be The Place." The framed image is a gift from the editor of the book (and Ray's magazine), Lauren Iannotti. The lyrics read, "Home is where I want to be/ But I guess I'm already there / I come home, she lifted up her wings / I guess that this must be the place."
The celebrity chef expounds on that meaning, and how it ties into her upcoming pandemic-inspired book, saying in the Instagram post, "It's not the things you lose. We didn't lose each other and we didn't lose our family, we just lost stuff. This is still home." 
Ray also has said she hopes her book will help her readers to rethink and rebuild what it means to be home. As noted by Penguin Random House, she has explained, "I wanted to write this book because for the first time in my fifty-two years, everyone on the planet was going through the same thing at the same time. We were all feeling the same fear, heartsickness, worry, and sadness, but due to the nature of the virus, it was hard to connect. I connect through cooking, and I noticed that's what many others were doing as well. We took to the kitchen to share something of ourselves — and cooking became the discipline, diversion, and devotion that got us through." 
"This Must be the Place" is currently available for preorder on her official website with expected delivery in October 2021.