Caribou Coffee Has Good News For Fans Of Its Maple Waffle Breakfast Sandwich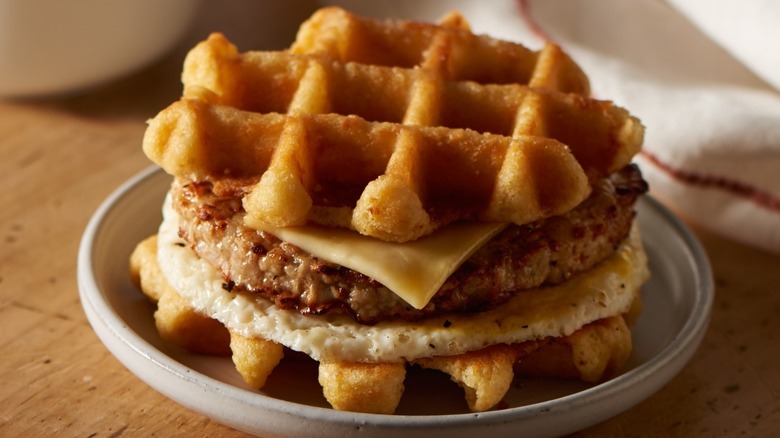 Caribou Coffee
Caribou Coffee is taking fall way beyond the pumpkin patch this season. The Minnesota-based coffee brand just announced its roster of limited-time autumn specialties and fans are psyched. According to Chew Boom, returning favorites include the ever-popular Maple Waffle Breakfast Sandwich (above) and Apple Blast beverages. Caribou Coffee's Maple Waffle Breakfast Sandwich is the brand's version of chicken and waffles — a sweet-and-savory breakfast sandwich consisting of chicken sausage, gouda cheese, and a cage-free fried egg served between two maple waffles. Sounds like a winner, but don't just take our word for it. Reacting to the announcement on Caribou Coffee's Facebook page, Peggy Drabant Markstrom posted, "Had one the other day. Amazing," and Cheryl LK chimed in, "These are soooo good!"
Also making a comeback: Apple Blast, a tried-and-true perennial favorite. Responding to Caribou Coffee's Facebook post announcing the return, Katrina Olson declared, "It is like liquid apple pie and it is amazing." We're intrigued. The Hot Apple Blast is a blend of apple cider steamed caramel apple flavor, then topped with whipped cream, caramel drizzle, and ground cinnamon. It's also available iced, blended, or BOUsted (kicked up a notch with a touch of caffeine, guarana, and ginseng).
Pumpkin is making a comeback, too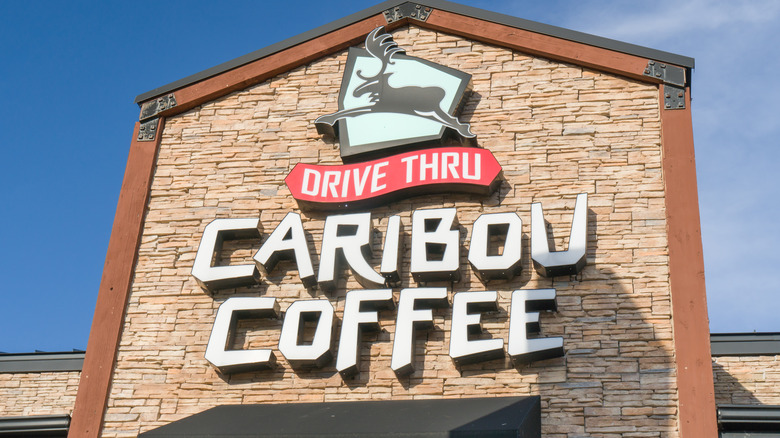 Ken Wolter/Shutterstock
Fear not, pumpkin lovers. Your favorites are on Caribou Coffee's fall menu, too. According to a company statement posted at PR Newswire, the limited-time roster includes Nitro Pumpkin Latte (espresso whipped cream, nitro cold press, and milk blended with pumpkin flavors), Pumpkin Crafted Press (slow-crafted, cold-filtered coffee either steamed or blended with a splash of milk, sugar, pumpkin), and Pumpkin White Mocha (chocolate melted into steamed milk then combined with espresso and pumpkin and topped with whipped cream and chocolate chips).
Commenting on Caribou Coffee's Facebook post announcing the return of all things pumpkin, Kelly Anderson made a poignant observation. "I am a teacher. This fall brings many unknowns. Thursday, I had my first sip of my first pumpkin spice latte of the season and I thought, 'All is right with the world.'" The power of pumpkin — it's a wonderful thing.
In addition to its in-store fall menu, Caribou Coffee is also offering a limited-time blend at retail outlets, including Target, nationwide. Pumpkin Love is a medium-roast Rainforest Alliance-certified ground coffee blend with notes of fresh pumpkin, warm spices, and sweet cream. An 11-ounce bag listed on the Target website is priced at $7.79.