The Strangest Moment In Worst Cooks In America Season 18
"Worst Cooks in America" makes a point of taking its viewers on a rollercoaster ride. Just the premise of the show is entertaining: Participants who have no idea what they're doing in the kitchen are put through a boot camp to become better cooks. The brave competitor who manages to impress judges the most gets a handsome reward of $25,000. The show has featured impressive culinary stars such as Bobby Flay, Anne Burrell, Robert Irvine, and Rachael Ray as the judges. Pretty intimidating for the amateur cooks, eh?
Former "Worst Cooks in America" competitor Mike Glazer shared on Reddit that the judges are actually very helpful and try to be there for the contestants as much as they can during the competition. "The fun of the show is that we learn, but there's always so many twists for the actual timed competition that it's like The Three Stooges are in the kitchen," he added. While the judges do make themselves available as mentors to these novice cooks, they also like to joke around when odd events inevitably occur in the arena.
The strangest moment involved a pair of pantyhose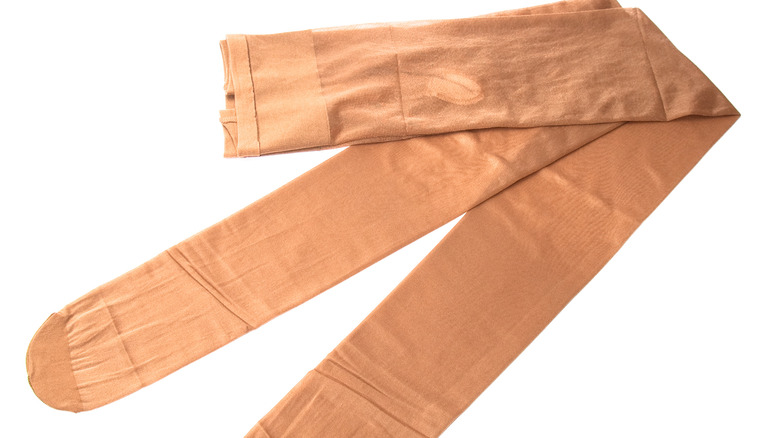 Evgeny Tomeev/Shutterstock
Considering how inexperienced the contestants on "Worst Cooks in America" are with food, things can get pretty funny in the kitchen. According to the Food Network, one of the craziest moments on the show involved host Anne Burrell and nurse Jolynn Singh, a contestant on Season 18 in early 2020. Burrell was taken aback when she saw Singh trying to strain cheese through a pair of beige pantyhose that she had tied to the sink — a resourceful alternative to cheesecloth. In fact, Burrell was so amused that she couldn't help commenting, "Alton, did you lose your pantyhose? We're draining cheese in it," to fellow host Alton Brown.
While the season provided levity for the judges, it was a valuable learning experience for Singh. "Alton Brown was always telling us we need a certain amount of sweetness, tartness, spices, and other flavors in our food. ... That is a lesson I have taken home to my cooking," the Texas-based contestant told Plano Magazine.