Jenny Lam Talks About MasterChef And Life After The Show - Exclusive Interview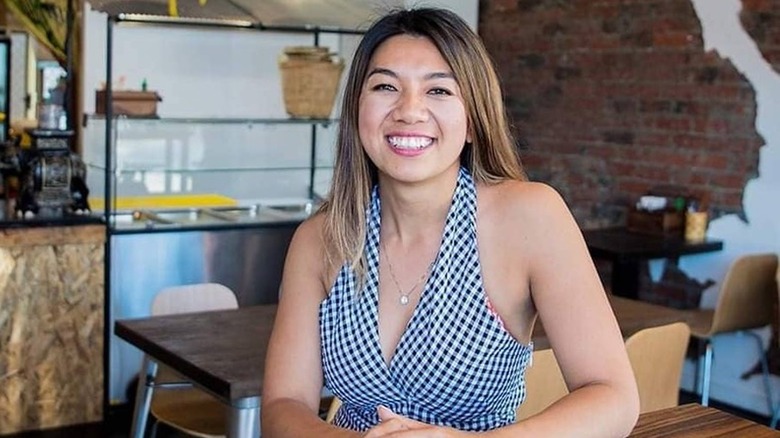 Savdeep Kundi
In Season 13 of "MasterChef Australia," Jenny Lam brightened the kitchen set with her generous smile and effervescent personality. But she also showed off her expert cooking chops up to the tenth week when she was eliminated during the chicken challenge. The judges deemed her chicken as perfectly cooked, but the rest of the dish she presented "didn't make sense." In an exclusive interview with Mashed, Lam caught us up on everything that's happened since "MasterChef Australia" and talked about her fascinating upbringing as a Vietnamese Australian. 
In autumn 2018, Lam opened her own restaurant, the acclaimed Bunn Mee in Perth, Australia, where serves up her inspired interpretations of traditional Vietnamese dishes, such as bánh mi and pho. Her hit cookbook, "Eat Like A Viet," is not only a collection of her recipes for Vietnamese "street food," it's also an in-depth exploration of her heritage and Vietnamese culture, which she felt compelled to preserve for future generations. In our interview, Lam also gave us an intimate, behind-the-scenes look of what it's really like to compete on "MasterChef," the differences between the U.S. version and the Australian version, and her encounters with judges Nigella Lawson and, yes, Gordon Ramsay.
How Jenny Lam got on MasterChef and what Gordon Ramsay yelled at her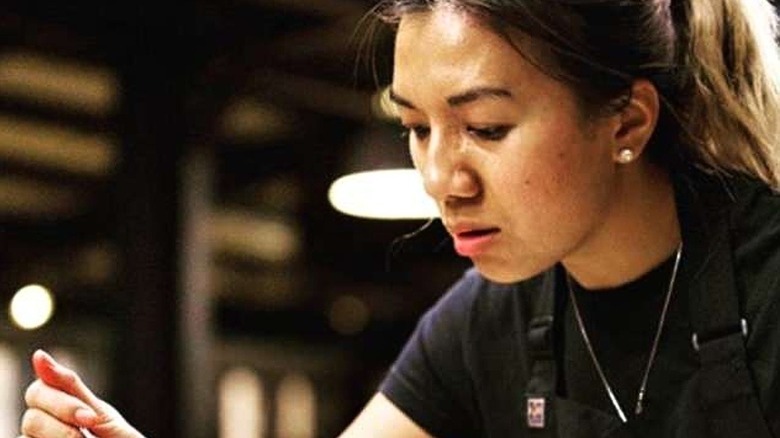 Angela Stoles
Thirteen thousand people applied for Season 13 of MasterChef Australia. How did you make the cut?
it was a really rigorous auditioning process. If you wanted to get in the show, you had to start with a big questionnaire, so it was about 20 pages and like a mini essay. You had to send in photos of your cooking, a video audition tape. And from there, if you were shortlisted, in Perth where I'm from in Australia, on the west coast, there were 200 people that got invited to cook. And it was over two rounds. One of the days was the Mystery Box that was filmed, and if you made it through that, you got through to the next one, which was then 60 people. And out of the 60 people, there was about 10 of us that had to go through a psych evaluation. And then from that, three of us got flown to Melbourne for the top 50. And then from there, we got into the top 24. So it was a three-month process getting into the show.
How did you feel on your first day on the set?
I think you're in awe. I just remember going, "I can't believe this is the place that you watch on TV." You know, the MasterChef gardens, there was confetti, the judges, there was a lot of excitement. Oddly enough, there was probably more excitement and joy than there was nerve and stress. So I think you're just overwhelmed with joy that you've got in, really. And you got to meet the judges who, you get starstruck. I was, anyway.
Nigella Lawson and Gordon Ramsay were the judges on the first episode?
Yeah. And you know, Nigella's so sophisticated, and she's everything you would expect, but so warm. She was one of the nicest, most humble famous people that we met. So lovely.
Did Gordon Ramsay yell at you?
Well, I'm glad he didn't call me an idiot sandwich, but he asked me if I was allergic to salt. He made me spell it. He goes, "Have you heard of S-A-L-T?" I was like, "Salt?" He goes, "Use some." So, yeah. He was everything you imagined and more. He was great. You could tell that his passion was food. You know, some contestants would say he was very mean, but you know, I remember one of us girls were really struggling with the deep fryer, trying to really lift it, put oil in, and she was tiny. And he just helped her. He goes, "Just leave it and I'll give you a hand." Yeah, he was really nice.
This is why Jenny Lam was eliminated from MasterChef Australia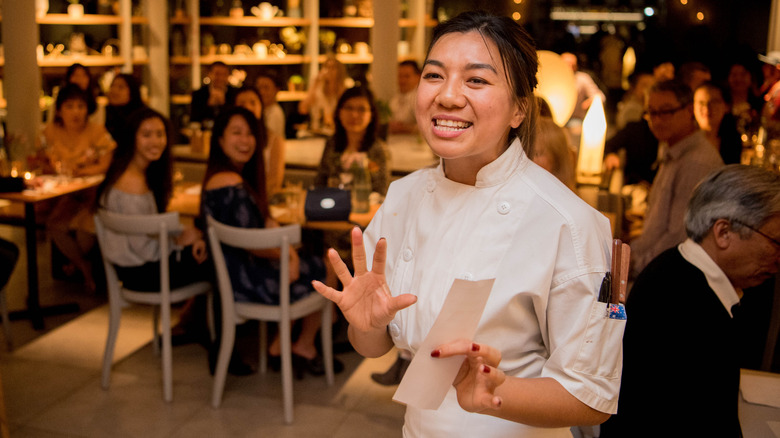 Hien Nguyen
What was the first dish you created on MasterChef Australia?
It was dumplings. The first challenge we got given was if the judges came around to your house for a dinner party, what would you serve? What would be your go-to dish to impress them or wow them. And yeah, dumplings is just something that I've always cooked and I love cooking. So I made some from scratch for them, the wrapper and the filling. And I made two fillings and they loved it. They were confused, they're like, "Why didn't you just do one?"
What were the two fillings? 
I made chicken mushroom and water chestnut one, and then a pork and ginger one. Pot stickers. They're more delicious. Yeah. I remember Gary Mehigan asking me to teach him how to fold the plates.
Then you were eliminated on the tenth week. What was the last dish you cooked?
I got out on a chicken challenge. It was at the Barossa Valley with Maggie Beer on her farm. And you had one chicken over three rounds, and each time, if you didn't make it, and you got into the next round, you had less cooking time and less chicken. So first round you had 45 minutes and a whole chicken, second round, you had half now, whatever's left. And the last one, which is when I got out, was 15 minutes, and the only part of the chicken I had left, I think, was the breast. So the good news was the judges said, "Jenny, your chicken is perfectly cooked. However, the rest of your dish doesn't make sense." So that was how I went home.
What are the differences between MasterChef US and MasterChef Australia?
I think the biggest difference is the contestants are really pitted up against each other in the U.S. version, where I think you're really made to pick the winner, the loser, it almost causes rifts between the contestants. So never, ever in the Australian season would you get asked of "who do you think is going home today?," "who do you think is going to win?," or "pick your own teams." "Who do you want to be the team leader?" Because all of those situations makes it a bit awkward later on when you go home.
And I think the second-biggest thing was we rarely had opportunities where it was apples versus apples when it came to our culinary skills. So, I noticed in the U.S., there [were] a lot of technical skills tests where, for example, we all had to cook a steak or a soufflé the same way. Whereas in the Australian version, it's very much like each person would choose their own recipe. So, it's almost like you were judged on the execution of your own dish, but very rarely were we cooking against each other.
Jenny Lam teamed with her family to open her own restaurant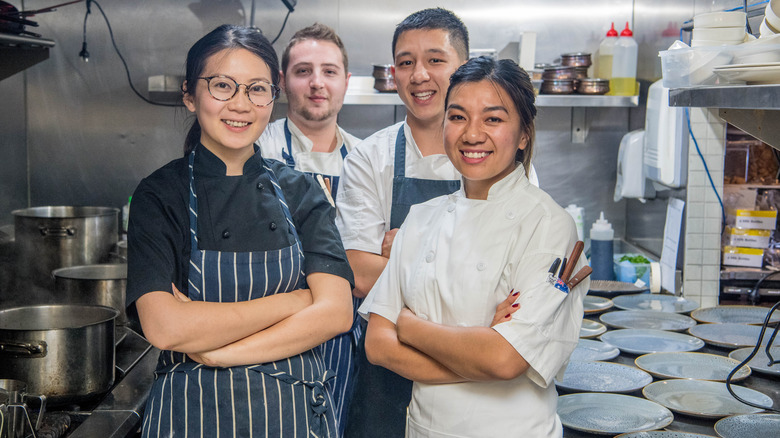 Hien Nguyen
Tell us about your career after MasterChef Australia?
When I graduated MasterChef, my original intention was to open up a cooking school. Well, the first thing I did was I actually went and got some commercial experience in kitchens. I was very lucky to actually get offered a job. I did a bit of work experience at the number one restaurant in Perth at the time, it was a fine dining restaurant called Wildflower. So I worked with a lot of native Australian ingredients and world-class chefs. And I got offered a job, so I was there as a, you know, "Call me chef" for about six months. And in that time, my mom had convinced me on opening up my own Vietnamese restaurant. And she goes, "I don't think you see it, Jen, but there's a really big following that you have, and buzz, and people want to come taste your food. You know, there's a great location that's just popped up, you should take it."
And I was in a bit of two places and having worked in a restaurant, being the chef, I would just see how much work there was. But you know, the family's been in hospitality for over two decades. So they said, "Look, we'll do it together with you." And so I opened up a Vietnamese street food restaurant called Bonn Mee, and that was two-and-a-half years ago now. I'm so glad it's doing so, so well. And I'm so glad that at the very beginning we got a lot of publicity from MasterChef and whatnot, but now it stands on its own two feet. Now it's a place that's famous for its beautiful food, its great service. And along the way, I wrote a cookbook. Pre-COVID, I started writing a cookbook ["Eat Like A Viet"] in 2018, and it got released in October 2020, and we just sold out. We just sold out of our first 2000 copies, organically, no advertising. So we're about to do a second print run as well. It just won an award, as well, actually.
What inspired you to write "Eat Like A Viet"?
The biggest inspiration for me was wanting to preserve my heritage and my culture, and so much of the food that I loved growing up. You know, I always think if you asked me, "what's your favorite food?" or "what's the most memorable dishes?" It's always mum's cooking. And a lot of my friends who are Vietnamese, Aussie, born in Australia, can barely speak the language, let alone cook the food. And the food brings me so much joy and memories. And so for me, it was about preservation. I said regardless of how it does commercially, I would want to document the food because I want to pass it down, generation after generation. Hopefully one day my kids can cook the food that I grew up loving. And along the way, it evolved, because I started writing the cookbook and the recipes, and it was going to be shot just in my hometown. And it was missing something, it was missing Vietnam.
So the photographer and I flew over to Vietnam and went back to grandma's house and visited the aunties, and we visited the markets. I wanted to really capture the food of my mum growing up and how it translated to my childhood. And I think that's a big reason why it's such a big success, is because it's not only recipes or Vietnamese food, it was about Vietnamese culture, and how we eat, and how it ties in with our lives.
What Americans don't know about Vietnamese food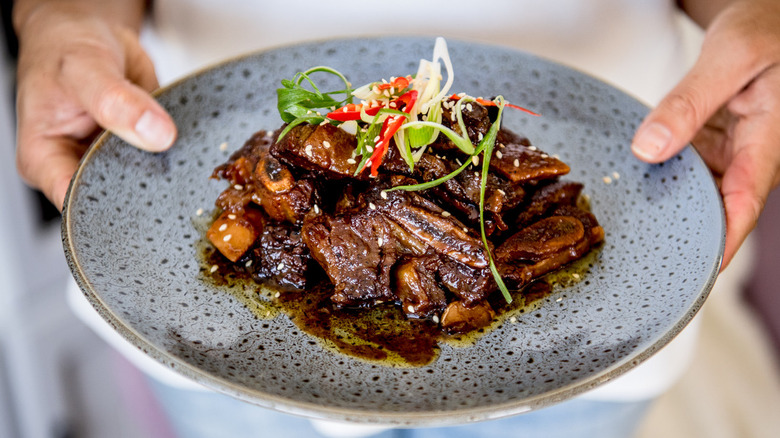 Craig Kinder
What do you think is a misconception that Americans may have about Vietnamese food?
I think the biggest misconception is, unfortunately, from my own experience. Some restaurants and the chefs, I think will westernize a lot of dishes and they won't present it traditional. So I think that the biggest misconception is you're not actually eating how we eat it. I think there's a lot of streamlined recipes that everyone knows, like everyone knows Pho, everyone knows the rice paper rolls, but there's so much more to Vietnamese cooking. And most of the things that you actually eat at the restaurants isn't home cooking. And that was what was to me about my cookbook, was I wanted to present what Vietnamese families eat day-to-day, because a lot of these dishes that you see in restaurants, like pho, you don't eat them day-to-day. That was actually a dish that you eat on special occasions, because it was something that took 12 hours to cook.
It is a national dish, but I think most people, if you thought Vietnamese and the most popular dish, I think people would say that, pho, or however you want to say it. But there's so much more. So much more. There are so many ingredients, herbs, greens, that I think the regular person has never experienced that is very common in Vietnamese cooking, like winter melon. It looks like a honeydew, but it's a vegetable. Normally it's a soup that they make with prawns and you would normally eat it, because it's quite a light soup, almost to refresh your palate. You'd eat it with something very fatty or caramelized, like caramelized pork belly. So the whole point of it is to balance out all the fat. And so you'd eat it to refresh your palate.  
Do you have a culinary hero?
It's definitely my mum. But you know, both my parents, they're refugees who came out to Australia, who, to be honest, before they became small business owners, worked three jobs. They were working around the clock. And I learned how to cook when I was 8 years old. And by the time I was 13, I cooked every home meal. And part of that, to be honest with you, was because mum and dad were never home. Mum and dad were busy trying to make as much money as possible to raise us, and to provide a better future. So it created this environment where we all had to grow up and play our part.
And you know, the one thing I must admit, for me, food, no matter what happened in the house, you know, obviously some days mum and dad would have a fight or whatever, it was the one constant, there was always food on the table. And at dinner time you put all your differences aside, and you ate. And we came together as a family. So, it's mum and dad, definitely. And then in the culinary world, I love Luke Nguyen. I love what he's done in the food space for Australia. He's like the Asian Anthony Bourdain in effect. He's got many other TV series on SBS and he's traveled the world, just highlighting what food has done in his life as well.
Jenny Lam's recipes are Vietnamese street food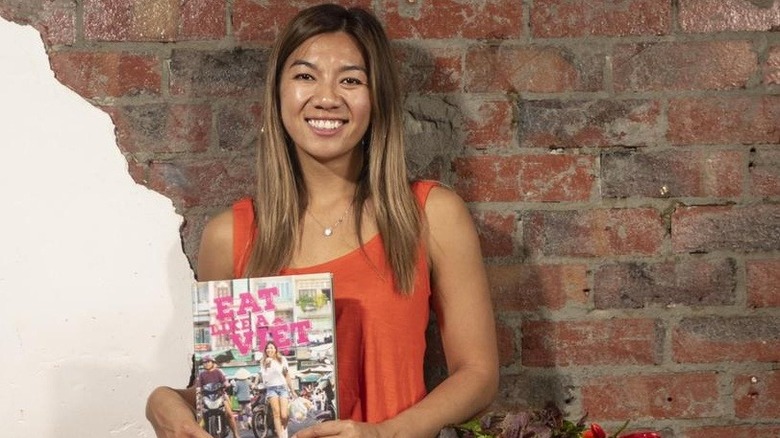 Matt Walsh
What is Vietnamese street food?
So for me, the definition of street food, what I mean by that is all the day-to-day, or the, I suppose, lower-class, middle-class, what we eat, humble peasant food. But a lot of that is French influence. When the French colonized, there's a great coffee is something that got left behind. So Vietnamese iced coffee with a condensed milk is definitely French influence. And it's a permanent feature of the Vietnamese day-to-day life. You've also got things like banh mi, you know the baguettes, like everyone eats banh mi, it's a national breakfast, lunch, dinner. In fact, our restaurant is famous for those lunch baguettes, and they're eaten all across Vietnam. Every everyone eats them. And pastries. I think the French really had a big influence on how Vietnam bakes, and how, like we do a lot of snacks, like a lot of baked goods, like puff pastry. And it's kind of odd because you don't think it would, but it works really well. But all the Asian flavors you have like a, it's got a patê sô, and it's puff pastry and inside is pork minced with water chestnuts and the fish sauce in there. So it's French and Asian at the same time. It's delicious.
Anything else you'd like to tell us about "Eat Like A Viet"?
Every recipe has its own photos, which was important to me, because when you cook a cuisine that you're not familiar with, you need to know what it looks like. Or even when you're in that scenario, that's why I put the ingredients in the background. So you can see what it even looks like to look for at the grocery shop. You know, there's a whole page dedicated to all the different sauces, what do you do with fish sauce? How many different sauces can you make? Pickles. 
We did a couple of pages dedicated to pantry staples. So all the top picks of the ingredients, but also all the different herbs in Vietnamese cooking. And you know, it tells you how to use them. So now you've identified it at the grocery store, there's a guide on what it will pair well with. All the different sauces. It's a beautiful book, and I wanted it to be a guide to Vietnamese food. Like literally the only book that you would need to learn everything Vietnamese cuisine.
Is your cookbook available in the U.S.?
For anyone in the U.S., we do ship internationally, but the book is actually available on Amazon Kindle as well. So, it's definitely a very affordable way for everyone to enjoy the cookbook as well.
What's your favorite thing to cook?
Dumplings. It totally has to be dumplings. They're just so Moorish and easy to eat. And I think something really therapeutic about the plating, the folding of them. So they're probably the most popular in our household.
What do you typically eat during the day?
If I'm at the restaurant, it will either be always a banh mi or a bowl of pho for breakfast, and at lunch, I generally have a noodle salad with some extra spring rolls if I'm at the restaurant, and then for dinner, we're pretty casual. My favorite go-to dinner, though, is the beef salad with steamed rice. That one's delicious.
For more information about Jenny Lam and her restaurant Bunn Mee, visit her Facebook page. Her cookbook "Eat Like A Viet" can be purchased as a Kindle version on Amazon.