Everything We Know About Antoni Porowski's New Cookbook Antoni: Let's Do Dinner
We may receive a commission on purchases made from links.
Antoni Porowski is best known as the quirky, lovable food and wine expert on the Netflix series "Queer Eye." During each of the beloved, Emmy Award-winning show's episodes, the handsome charmer teaches people with minimal or novice cooking skills how to whip up wholesome and delicious meals with basic techniques and simple, attainable ingredients, many of which are staples you likely already have in your pantry. His patience and kindness go a long way, as his subjects end up gaining more confidence in the kitchen than they ever had before. More often than not, there are tears of joy and relief, not to mention an incredible plate of food. Porowski uses this same hands-on, heart-to-heart home-cooking philosophy with his fans, particularly via his social media and his best-selling cookbooks.
And now for some good news for Porowski's fans: His newest, highly anticipated cookbook, "Antoni: Let's Do Dinner" is coming out this month. Here's what we know so far about this collection of tasty goodness à la Antoni.
What do we know about Antoni's new cookbook?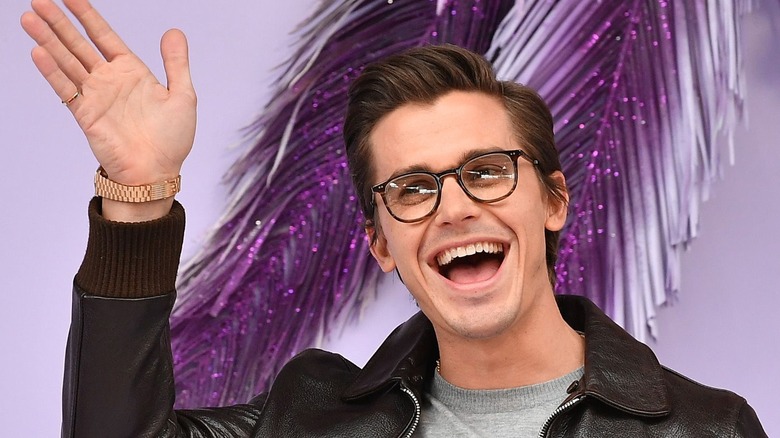 Amy Sussman/Getty Images
Like most of us, Porowski believes that when it comes to a home-cooked dinner, the options are seemingly endless. He also understands that creating a wonderful meal should be both fun and exciting, as the culinary arts allow people from all walks of life to experiment with new flavors and cuisine categories, regardless of whether you're a newbie or a pro. His new cookbook is filled with recipes that call for "clean protein and loads of vegetables, with splurges of carbs and decadence." According to the book's Amazon product page, some of these recipes include pulled chicken nachos, pasta carbonara with scallions and peas, pan-seared steak with harissa butter, a vegan grain bowl, and crispy potatoes. Yum.
"Antoni: Let's Do Dinner" will be released on September 14, and will be available at most book retailers, both stores and online. You can pre-order the cookbook now and have it delivered straight to your doorstep or pick it up at your local bookstore. He and his team made the decision to make the book tour virtual due to the COVID-19 pandemic, as he stated in his latest Instagram post.
But wait — that's not all. According to Porowski's official Instagram, if you fill out his pre-order form, you'll get access to five recipes from the cookbook before its official release date. One lucky fan will also win a chance to cook with Porowski himself over Zoom. Let's get cooking!