This Company Sells The Most Ice Cream Worldwide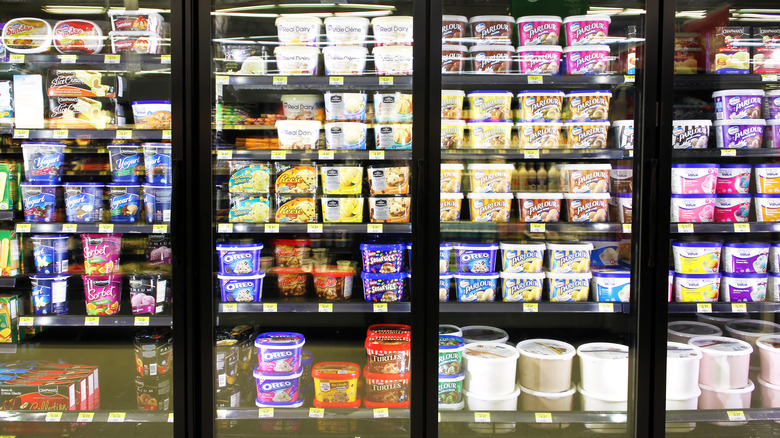 Niloo/Shutterstock
With all those options in the grocery store's ice cream aisle, you might assume there are plenteous companies you could choose between when you allocate your ice cream budget for the week. However, whether you pick up a pint of Ben & Jerry's, Talenti gelato, a Klondike bar, or one of about 10 other options, you'll be handing your dollars over to one particular company, the company that sells the most ice cream worldwide and has for years: Unilever.
Unilever is, of course, much more than ice cream. With more than 400 brand names under its belt, Unilever operates in more than 190 countries and ice cream is just one leg of its business. However, as an IMARC Group 2021 analysis points out, it's ice cream that puts Unilever well ahead of its competitors, outranking other manufacturers such as Nestle (which primarily offers Dreyer's and Movenpick ice cream) and General Mills (which you likely know best for Haagen-Dazs). According to CNN, Unilever manages to control a larger share of the global ice cream market than all of its top four competitors combined, prompting the news outlet to name the company "the undisputed king of ice cream."
So what's Unilever's top-selling ice cream brand?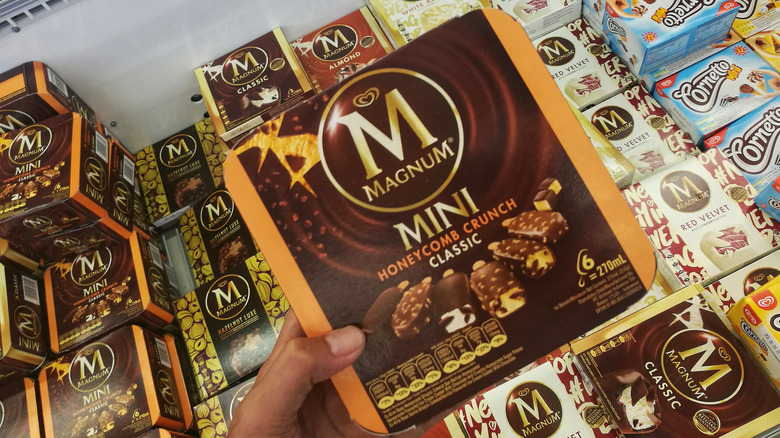 zairiazmal/Shutterstock
You might think that it's Ben & Jerry's, but, actually, Unilever's top-selling ice cream option is Magnum (via Forbes). The brand, known for its chocolate-coated ice cream bars and slightly sexualized marketing, was expected to make $3.8 billion in 2020, putting it well ahead of second-place Cornetto (another Unilever ice cream brand), which was projected to bring in $2.4 billion (via CNN). But what exactly puts Magnum so far ahead of the pack? 
From its launch, Magnum was adult-focused, versus kid-geared, and was positioned as more luxurious and high-end than other ice cream options, which greatly helped its success and also helped to change the ice cream industry as a whole. IMARC Group further notes that Unilever has been careful to improve the Magnum brand over time, to align with food trends, introducing new flavors to fit new fads, as well as offering plant-based Magnum treats over time. Unilever has also made an effort to make its ice cream more accessible to consumers, something that it's continued to do over the pandemic. Most recently, Unilever launched Ice Cream Now, a home delivery business that delivers ice cream within 30 minutes, all over Europe, so you can get your Magnum even faster.