Instagram Loves This Throwback Photo Of Paula Deen As A Cheerleader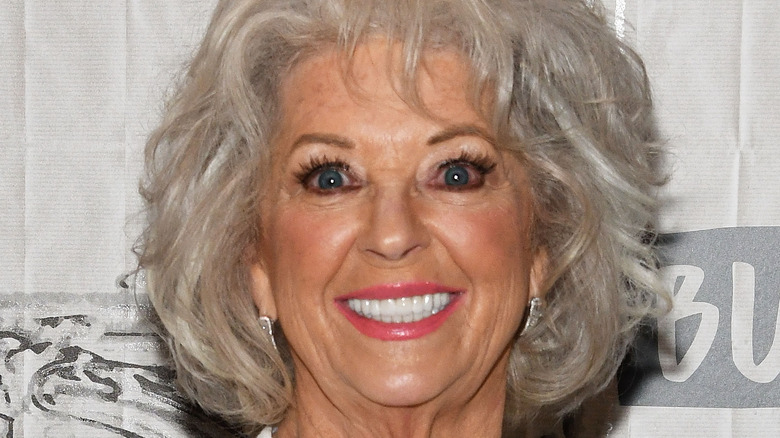 Slaven Vlasic/Getty Images
Paula Deen Deen has truly been a staple on the low country food scene, sharing her recipes and humor on the Food Network while serving up the hospitality and food that goes hand in hand with being Southern. We love her peach cobbler recipe (via Deen's website) and cannot get enough of those piping-hot, golden delicious biscuits she makes (per her website). While getting to know her food, we've learned quite a bit about her, too. We know that Deen has faced tragic circumstances and scandals across her life and career. We also know that Deen is not a fan of margarine. Give her butter or forget about it! You have to appreciate that. But just when you think you know everything there is to know about the celebrity chef, she drops a new nugget of information that makes you realize how little you actually know about this woman who established herself as Southern culinary royalty.
It's in her memoir, "Paula Deen: It Ain't All About the Cookin'," where we get a deeper look into the factors that shaped Deen's life and love of food and family. But if you haven't had time to crack open your copy, don't worry. Every so often Deen shares tidbits from her past on Instagram, and one of her recent posts has us all realizing that Paula Deen was quite the Betty during her high school years.
A blast from Paula Deen's cheerleading past
Taking to Instagram, Paula Deen posted a photo of herself decked out in her high school cheerleading outfit, and fans could not be loving it more. In light of school and football games resuming, Deen captioned the picture of her teen queen self, "With it being both back-to-school season and football season, I thought I'd dig up an old photo from my days as a cheerleader!" Deen then encouraged her followers to share their own memories with her, writing, "Do y'all have any photos from your high school days to share with me?" Many commenters seemed more eager to share praise. One follower wrote, "The hair!!!" Another wrote, "Awwww down right beautiful Miss Paula." A different Instagram admirer declared, "Oh my goodness. I love you even more!" The post, published on September 2, has over 14,000 likes.
In her "Paula Deen: It Ain't All About the Cookin'," Deen revealed, "I wasn't much for the academics (I failed algebra three times), but I was a big social butterfly, excelling at dating, beauty pageants, and cheerleading. ... If I could have made a livin' cheerleading, that would have been my chosen life path." We're pretty sure Deen would have been a great cheerleader, but we're so glad that she turned in her pom-poms for a spatula. Tailgating just wouldn't be the same without her food, which makes us want to cheer for her.