The Cheesecake Factory Has A Real Treat For Fans Of Coconut Cream Pie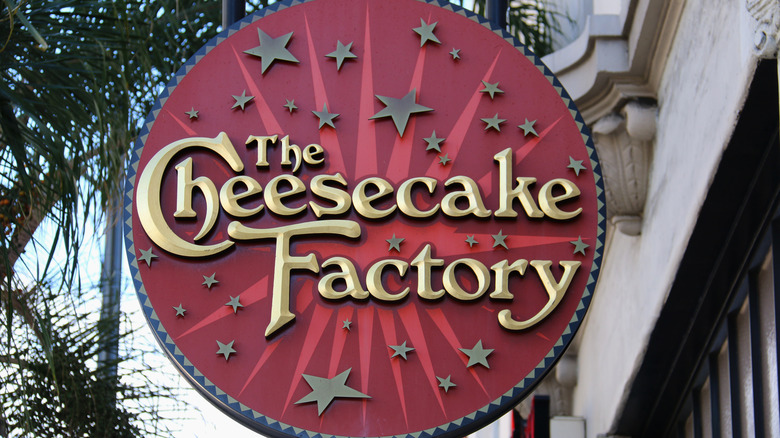 Idealphotographer/Shutterstock
Going to The Cheesecake Factory can sometimes be well, overwhelming. With more than 200 items on the menu, let's just say you'll never have to worry about what to order. Boasting more than 200 items (via the restaurant website) on its menu, The Cheesecake Factory is home to 34 flavors of cheesecake. Perusing the online menu, you will find everything from classics like pumpkin and key lime to more whacky ones where cherry meets chocolate and raspberry meets lemon mousse. It seems safe to say that if it's cheesecake you're craving, no matter how bizarre the flavor, you'll find your fix at The Cheesecake Factory.
Speaking to Nation's Restaurant News, founder and cheesecake wizard David Overton said that for over 40 years now, the chain has changed its menu twice a year, explaining that "it keeps us current. We don't rest on our laurels. There's nothing that America wants to eat that can't go on the Cheesecake Factory menu. And I think we've improved it."
In keeping up with the spirit of a fresh menu, Cheesecake Factory fans will be happy to know that once again, there are new items on the 200-item menu. Along with Caramel Apple Pancakes, Korean Fried Chicken, and Cauliflower Tacos, the chain introduced four new cocktails to its drink menu (via The Cheesecake Factory website).
The best addition? A brand new cheesecake. If you've already worked your way through all of the chain's other flavors, there's good news – you have a Coconut Cream Pie Cheesecake to try!
The Coconut Cream Pie Cheesecake comes with a good cause
On July 30, National Cheesecake Day, the chain rolled out its Coconut Cream Pie Cheesecake (via Dayton Daily News). Inspired by a classic coconut cream pie, the cheesecake version of it has some expected and unexpected flavors. Fans can expect coconut cheesecake, of course, but also a layer of vanilla custard and a layer of chocolate, all sitting firmly atop a crust of coconut macaroon (via Taste Of Home). Sounds quite promising if you ask us.
Better than the joy of eating a brand new flavor of the cheesecake itself, fans can also rest easy knowing that money spent on a slice of the delicious new treat will go into feeding a thousand more Americans. The Cheesecake Factory had announced that they were going to donate $1 of every cheesecake sold at its outlets to Feeding America on the day.
While that $1 drive was only valid for a day, moving forward, each slice of Coconut Cream Pie Cheesecake purchased will result in a 25-cent donation to Feeding America till July 29th, 2022. Not that you ever need a reason to eat cheesecake, but The Cheesecake Factory has made digging into one a touch sweeter.