The First Actor To Play Ronald McDonald Has Died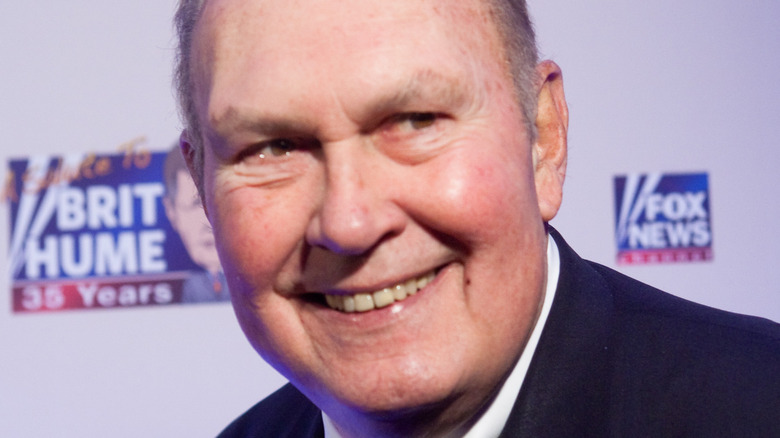 Brendan Hoffman/Getty Images
The Today Show and NBC meteorologist Al Roker (via Instagram) have announced the death of long-time Today weather presenter Willard Scott. Scott was 87. The legendary personality's 35-year career with NBC began in 1980, but before that, Scott had gained fame in Washington, D.C., as a fixture of the capitol's NBC affiliate. While there, Scott was offered what would become an iconic role: that of McDonald's mascot Ronald McDonald. The ad appeared only in the Washington, D.C. market, but it was the first time the character appeared in any advertising for the restaurant chain, according to Today and Business Insider.
In fact, Scott created Ronald McDonald. The role came about in 1963 when McDonald's took note of Scott's work as "Bozo the Clown" on local television (per Vanity Fair) and hired Scott to develop a clown character for the chain. The result was "Ronald McDonald, the Hamburger-Happy Clown."
Scott as Ronald McDonald made a nose out of a McDonald's cup and wore a hat that consisted of a tray that held a Styrofoam burger, a bag of french fries, and a milkshake.
How Willard Scott's time as Ronald McDonald came to an end
Scott's career as burger mascot was short-lived, however. As McDonald's made the decision to take the Ronald McDonald character nationwide, the chain's ad agency decided Scott was the wrong fit, claiming he wasn't the right size to portray an "extremely active" clown, according to Business Insider. In the book "McDonald's: Behind the Arches," the famously folksy and normally buoyant Scott recalled, "It was the first time I was really screwed by the mass media."
Journalist Michael Weinfeld shared a 2004 video on Twitter in which Scott said losing the role Ronald McDonald role "was a terrible disappointment," explaining, "I created the character. I named the character." He described having to audition for the part he created, an ordeal that involved running around and "making a total fool of myself." Scott remembered that "the guy [he auditioned in front of] never smiled, just stared at me ... When it was over, he just pulled the chair up, turned it around, and he said, 'You're just too big. You don't look like a clown.'"
"It hurt my feelings," recalled Scott, but he added circumspectly that without that rejection, he would have missed out on "everything good" that happened to him since.
R.I.P., Willard Scott.