BJ's Restaurant Has Good News For Pizookie Fans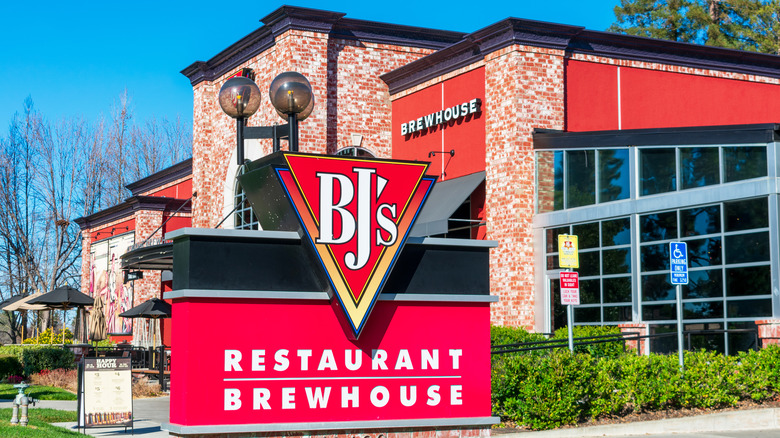 Michael Vi/Shutterstock
In non-pumpkin spice news, BJ's Restaurant & Brewhouse has announced a new fall-themed Pizookie, the Sweet Apple Cinnamon Pizookie. According to Chewboom, the Pizookie features a heated cinnamon cookie topped with cinnamon apples and caramel bits, along with two tasty scoops of vanilla ice cream and a drizzling of caramel sauce. 
While the new dessert item is available daily at each of the fast food chain's locations, you may want to check it out on a Tuesday as it will be eligible for the $3 Pizookie Daily Brewhouse Special at that time. As the outlet also explained, the Sweet Apple Cinnamon Pizookie made its debut on BJ's menu on September 2 and will be available only for a limited time.
If, however, you do not live close enough to a BJ's Restaurant & Brewhouse, you can easily replicate the limited-time offer. The Spruce Eats provides a copycat recipe for a basic Pizookie that takes just over half an hour to make. Take all the sugars, vanilla extracts, and butters that you normally use to make cookies and bake the dough in a skillet. Then, add ice cream. To copy the Sweet Apple Cinnamon Pizookie, simply mix in the added cinnamon and apple bits to your dough and drizzle your own caramel on top.
BJ's Restaurant isn't the first chain to add an apple-flavored item for fall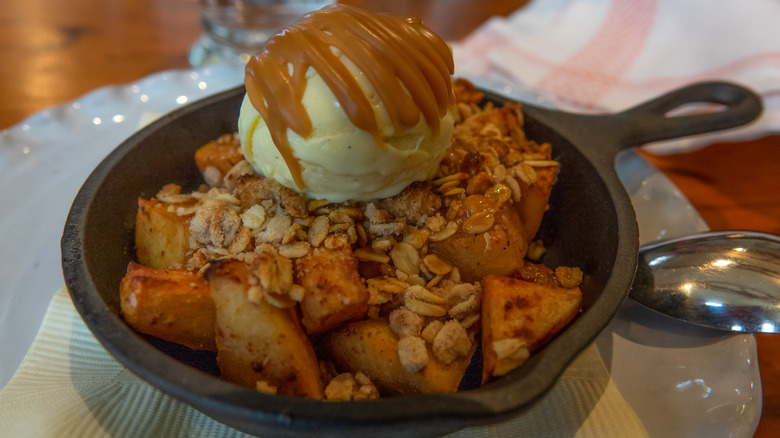 Evgenia Parajanian/Shutterstock
BJ's is not the only chain to introduce an apple-flavored item this fall. Starbucks has too with its Apple Crisp Macchiato. What makes these moves interesting is the attempt at a pushback against the typically-favored pumpkin spice. Although apple is certainly tasty, in most people's opinions, pumpkin is the reigning champ when it comes to the top fall flavors. 
During an interview with The Takeout in 2020, Marie Wright, Chief Global Flavorist at ADM Nutrition, explained why pumpkin is so desirable. "Pumpkin spice is a comfort flavor, a nostalgic flavor. They're warm flavors, they make us feel comforted, warm, relaxed. The combination of what's in pumpkin spice—cinnamon, ginger, nutmeg, cloves, and good pumpkin spice has allspice as well. It's very fragrant. All of them are very nostalgic flavors, very comforting," she explained. 
Because of this nostalgia, people gravitate towards to cuddly feeling once the air grows brisk. Apples, though more popular in a general sense, have not managed to gain the same purchase over the public. Still, if anything can give pumpkin a run for its money, it's an apple-inspired dessert.