Pumpkin Spice Fans Will Love The Two New Items Starbucks Is Introducing For The Fall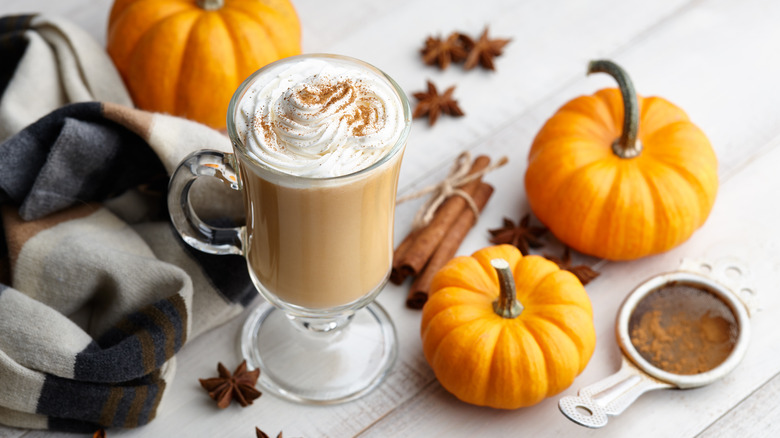 Shutterstock
How do you know exactly when summer ends and fall begins? You know when fall begins because that's when Starbucks drops its Pumpkin Spice Latte and reportedly, fall begins on August 24 this year. Although officially, Starbucks has yet to announce the date when it will roll out its fall menu and pumpkin-based treats this year, unofficially, a lot of rumors have been doing the rounds.
Taste of Home reports that the 2021 Starbucks fall menu has leaked online, and if that is true, there's a lot for fans to be happy about. Reigning over the fall menu is the Pumpkin Spice Latte as usual of course. But along with it, it seems that there will be plenty of other pumpkin-based faves returning to the menu. The website says that Pumpkin Scones, Pumpkin Breads, and Pumpkin Cream Cheese Muffins will all be back.
With these will come a brand new non-pumpkin-based fall drink — an Apple Crisp Macchiato. An unnamed Starbucks barista reportedly told Let's Eat Cake that the Apple Crisp Macchiato will be similar to a Caramel Macchiato but with the addition of an all-new apple brown sugar syrup and a spiced apple drizzle. But obviously, if pumpkin spice is the apple of your eye, you might be more interested in these two other new items that Starbucks is introducing.
There will be new Starbucks items to enjoy at home, too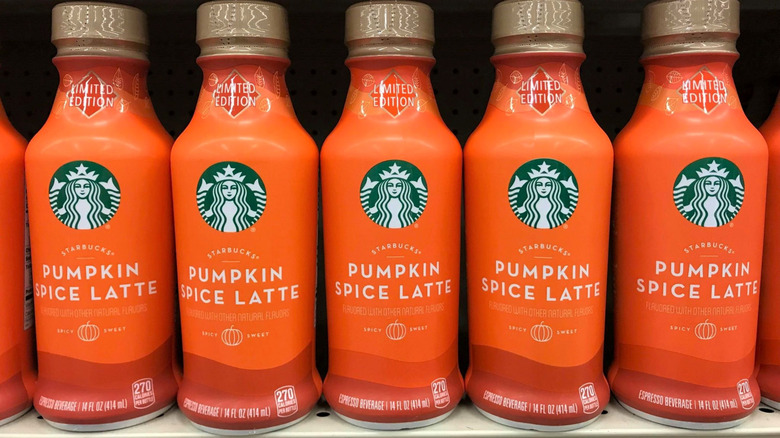 Shutterstock
It seems that new additions to the Starbucks fall menu for 2021 won't be limited to the coffee shops. Chew Boom reports that two new pumpkin-based products will be joining Starbucks' fall-themed treats on grocery store shelves.
One of those grocery items is a Pumpkin Spice Flavoured Non-Dairy Creamer which will apparently combine oat milk and almond milk with nutmeg, cinnamon, and, of course, pumpkin flavoring. A 28-ounce bottle of this creamer comes with a recommended price tag of $4.99. The second addition to the fall offerings is a Pumpkin Spice Cold Brew Concentrate, which, from the looks of things, is basically a regular Starbucks Cold Brew Concentrate with autumnal spices. The pumpkin version is said to have a suggested selling price of $9.99 for a 32-ounce bottle.
Fall fans can also expect to find the usual range of Pumpkin Spice, Maple Pecan, and Starbucks Fall Blend coffees, K-Cups, and dairy creamers.