Dutch Bros Just Rolled Out 2 Drinks That Are Perfect For Fall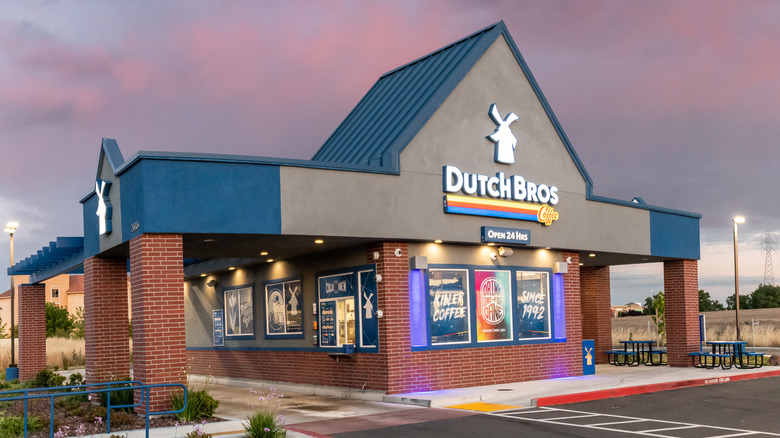 calimedia/Shutterstock
Dutch Bros Coffee may not be in an East Coaster's repertoire, but those on the West Coast should be more than familiar with the popular chain and its impact on caffeine levels of customers everywhere. According to Delish, and backed by claims on the Dutch Bros Coffee website, the company can give the ultra-popular Chick-Fil-A a run for their money in the customer service department, as they are known for their "great customer service."
In addition, PopSugar created a list of the best on and off-menu drinks at Dutch Bros, noting that many tend to be inclined to immediately drive "to the closest Dutch Bros every time" they get in the car. They included items frequently seen on TikTok, including the Pomegranate Orange Blended Rebel, the Iced Golden Eagle Beve (a vanilla and caramel blend), and the Sparkling Lavender Lemonade. But recently, and just in time for the fall season, Dutch Bros released an all-new lineup of drinks.
Dutch Bros Coffee didn't leave pumpkin off its menu
Chewboom recently reported the two newest members of Dutch Bros Coffee's seasonal roster. First, the restaurant chain is introducing a new level of competition for pumpkin spice lovers everywhere, the Caramel Pumpkin Brûlée Breve, which is a pumpkin and salted caramel beverage topped with pumpkin drizzle, sugar sprinkles, and Dutch Bros Coffee's Soft Top. The item can be ordered as a Cold Brew, a Breve or a Freeze.
The second drinks is called the Cinnamon Swirl Oat Milk Latte and is made with hand-pulled espresso, vanilla and cinnamon flavoring, and plant-based oat milk. Both were released on September 1, 2021 and are available through the end of October. And while they signal the end of the season of fresh melons and berries, and lemonade, they also signal the start of all things fall, leafy, cuddly, and pumpkin-y. In a word, comfort season is nearly here, and Dutch Bros is welcoming it with open arms — and coffee cups!