For The Perfect Cup Of Coffee, One Coffee Bean Grinder Stands Above The Rest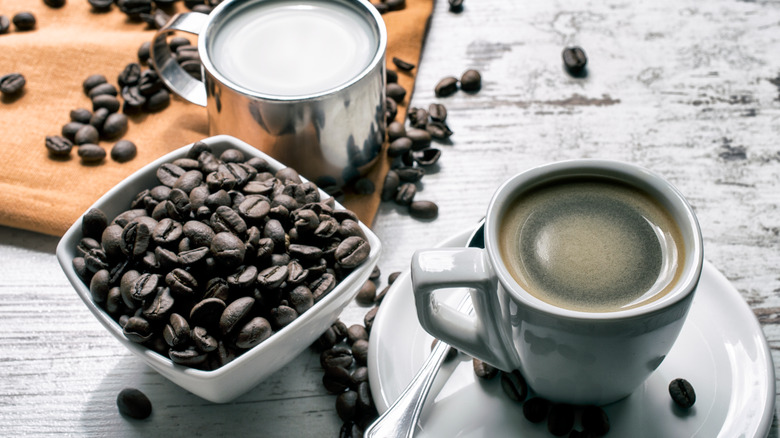 jurgal/Shutterstock
We may receive a commission on purchases made from links.
Even if you aren't a coffee fanatic, you can't deny the glorious smell of a freshly brewed cup of joe in the morning. (Really, the aroma is appealing for a reason: Roasted coffee has some of the same scent compounds as freshly baked bread, says The Conversation.) If you're a caffeine fiend who enjoys both the scent and flavor of coffee, you likely have a favorite way to make the beverage. Maybe you're a purist and drink it black, or maybe you prefer it with extra cream and sugar so it verges on a warm, coffee-flavored milkshake. 
However you like your brew, one thing is certain: The best cup of coffee starts with properly ground beans. While some folks may leave it up to their barista to hand them perfectly powdery ground coffee, if you want to fine-tune your espresso game at home, you might want to invest in a good coffee grinder. With more than 25,000 reviews and an average of 4.4 out of 5 stars on Amazon, the Cuisinart DBM-8 Supreme Grind Automatic Burr Mill seems to be at the top of its bean-grinding game. And at $59.95, it's one of the more affordable gadgets out there.
It's the grinder with the best bang for your buck
The Cuisinart Burr Mill's sleek design would fit seamlessly into any coffee lover's kitchen. Compact and lightweight at just under 11 inches tall and 4.5 pounds, it's at home on the countertop or tucked into a cabinet. As for how it works, The Coffee Folk reports that the gadget is easy to navigate for first-time users, since its automatic time settings remove the need to think about how long to grind your beans. Just load the beans into the hopper, select how many cups you need, and press start. There's even a nifty safety feature that checks to make sure all of the parts are securely in place before the machine starts.
While it can be tempting to associate a lower price with inferior quality, that's not the case with the DBM-8. According to Home Grounds, this grinder gets top marks when it comes to its overall value for money. With 18 grind options ranging from fine to coarse, the Cuisinart also beats many products on the market because it uses a ceramic block burr grinder instead of a blade grinder, which can result in a more uniform texture. 
A warning: One Amazon reviewer admits that the machine is very loud but acknowledges, "What isn't loud when it comes to grinding coffee?" Another customer had no idea that the grinder would make such a "humungo diff in the flavor" of her "morning addiction." "OMG. How did I ever live without this??!!" they wrote.
Convinced? Purchase the stainless steel Cuisinart DBM-8 Supreme Grind Automatic Burr Mill for $59.95.