Mini Apple Pies Recipe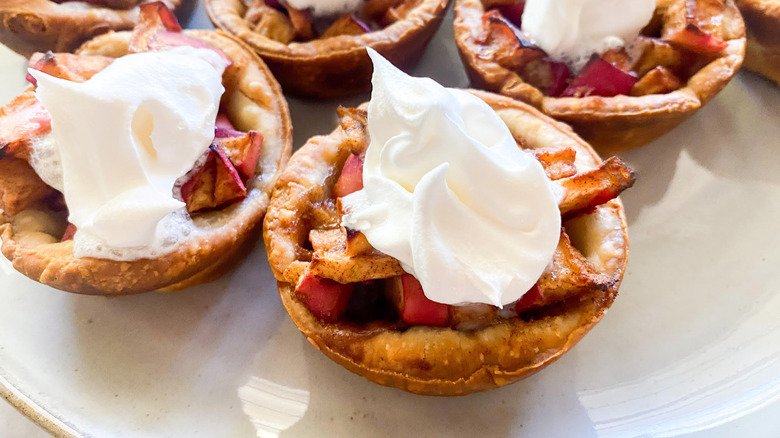 Miriam Hahn/Mashed
When it's apple season, you know what they say, right? Make apple pie. Of course, even when it's not apple season, they say that, too. There are two reasons for that, only one of which takes into account how much we love this all-American pastry. The other reason is that apples can be stored for far longer than many other fruits — as much as eight weeks in the refrigerator, according to Healthline. Whatever time of year it happens to be, here is a wonderful mini apple pie recipe from recipe developer Miriam Hahn that has all the taste of a classic apple pie in miniature form. 
"I actually love these so much better than a whole apple pie," Hahn tells Mashed. "So much more fun to serve because they are so cute!" 
And as an extra added bonus, this recipe is easy to make ahead and alter for various dietary needs. For instance, if you're gluten-free, it's pretty easy to switch out the flour-based crust used here for one that uses alternate gluten-free flours. Moreover, as you'll see, these mini apple pies are fantastic with whipped cream, but if you're following a dairy-free diet, then please go substitute whatever dairy-free topping you prefer. And if you're making these for a party or other get-together, even better. "You can make them ahead and just reheat," says Hahn. What's not to love about these sweet little treats?
Gather your ingredients for mini apple pies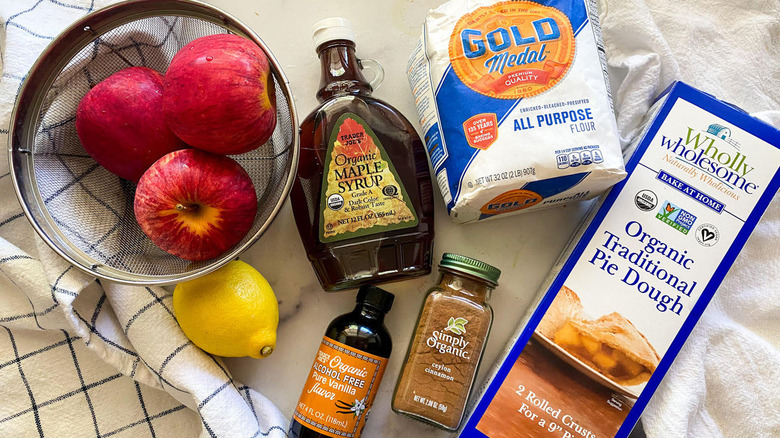 Miriam Hahn/Mashed
The first reason this recipe for mini apple pie recipe pie is easy is that it makes use of pre-made refrigerated pie crusts (of course, you are always welcome to use your own favorite pie crust recipe if you prefer). The trick to working with refrigerated pie crust is to keep it as cold as possible while still making it easy to handle.  If you store yours in the freezer, this means that you'll want to move it to the refrigerator at least an hour before you plan to start prepping. If you store yours in the refrigerator, you'll want to consider unrolling and popping it in the freezer a short while before you start prepping. That's to make sure that it's properly chilled and you won't inadvertently melt the butter inside the dough.
For the filling, you'll need two apples, which you'll dice. Granny Smith apples are a particular baking favorite for their flavor and firmness, but you have multiple apple options here. Those apples with go along with one teaspoon of lemon juice, two tablespoons of maple syrup, one tablespoon of all-purpose flour, one teaspoon of cinnamon, and one teaspoon of vanilla extract. If you want to top your mini apple pies, consider snagging some whipped cream or vanilla ice cream as an extra treat.
Preheat your oven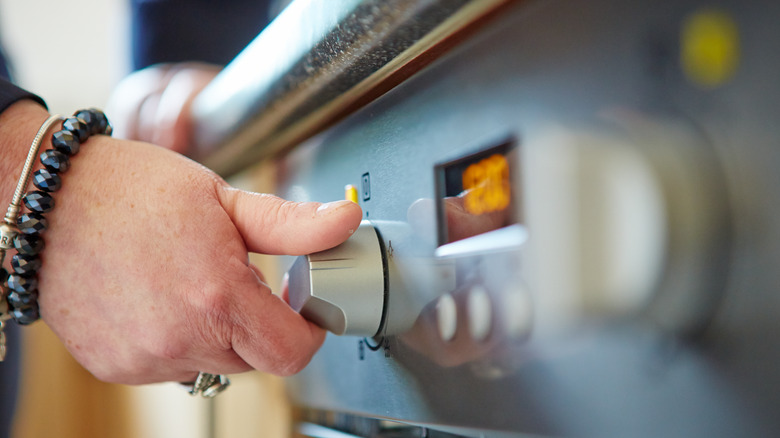 Onzeg/Shutterstock
Although we tend to think of 350 F as the "baking temperature," many baked goods are cooked at slightly lower, but more often, slightly higher temperatures. Hahn's recipe for mini apple pies is one that makes use of a slightly higher baking temperature, in this case, because the higher temperature cooks the pastry faster than it cooks the pie filling. It won't sit there forever, though, as you'll turn the oven down to a lower temperature so that the filling can cook more slowly without burning the pastry. 
All this means that you'll set your oven to preheat to 400 F. But before you move onto the next step, get out your muffin pan (to be specific, you'll want one that's sufficient for 12 traditional-sized muffins), and give it a good spritz with a nonstick cooking spray. 
Prepare the mini pie crust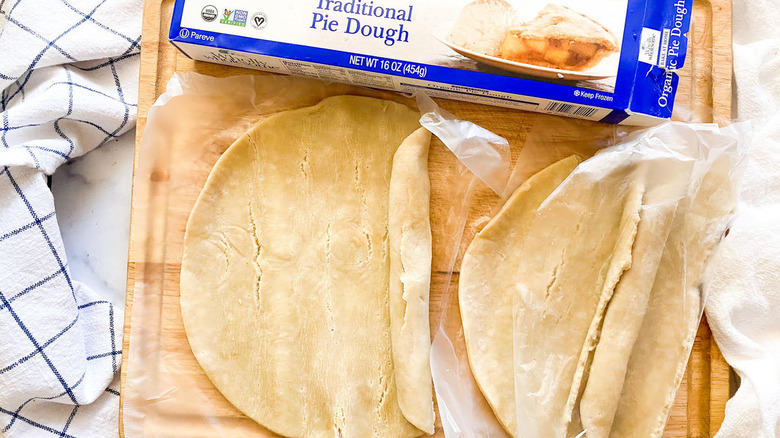 Miriam Hahn/Mashed
Working with pie crust dough can be a breeze when you chill it before working with the pastry. Hopefully, that's where your pie dough is at now, so it's time to take one crust out of your refrigerator. 
Lay it on a piece of wax paper and, using an appropriately-sized cookie cutter or even a drinking glass, cut as many 3 ½ inch circles as you can. Get the circles as close to each other as you can. Re-roll the scraps and repeat as necessary, though be aware that allowing the dough to warm up too much could melt the butter inside and will affect the flakiness of the final crust. Do the same with the second crust. When you're done, press all the dough circles into the pre-sprayed muffin compartments in your muffin tin. If you need to work in batches, it's smart to let the pre-cut circle chill out in the fridge while they wait.
Chop the apples for your mini apple pie filling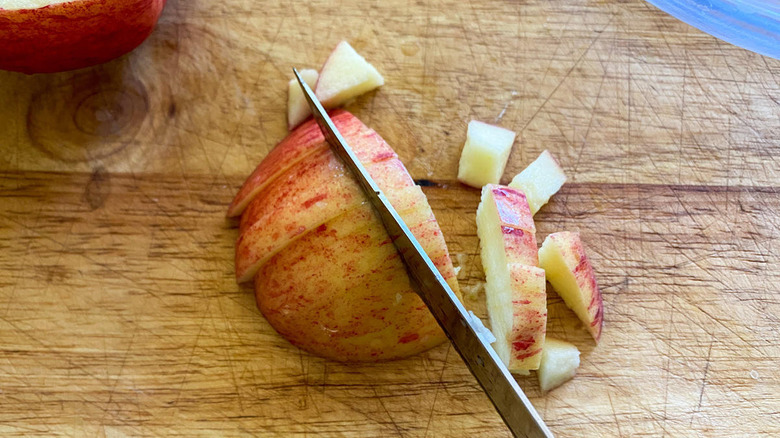 Miriam Hahn/Mashed
Now we turn to the apple prep. For Hahn's apple pie, there is no need to peel your apples. Just rinse them well beneath a running tap and be sure to dry them, so you won't have to work with slippery, wet apples.
Now, it's time to dice these apples into perfectly sized pieces for your mini pies. Hahn advises that you start by cutting four chunks of apple around the core, then slice each piece into lengths and cross-sectioning each section further until the chunks are between ¼ and ½ inch square. Or, in Hahn's words, "I slice up each chunk, turn them 90 degrees and dice." This will result in apple pieces that are just big enough to offer the right flavor and texture, without being unwieldy in the smaller pie crusts waiting in your muffin tin.
Fill the muffin tins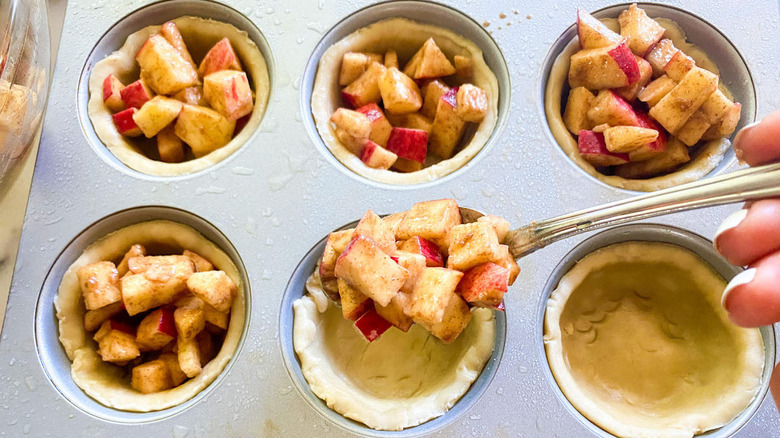 Miriam Hahn/Mashed
Transfer the diced apples to a large bowl, where you'll then add the maple syrup, all-purpose flour, cinnamon, and vanilla extract. Stir gently to coat the apples evenly. By coating the diced apples with flour, you're enabling the juices that are released during baking to thicken into a delectable and perfectly textured sauce. 
Fill each muffin tin with an equal portion of this mixture. When your oven has fully preheated, pop the muffin tin into the oven for 17 minutes. If the pie crust is not yet golden brown at the end of that time, give the mini pies up to another three minutes in the oven, for a total of 20 minutes. Keep an eye on the color of the crust towards the end of the cooking time, just to make sure nothing burns or overcooks. 
When it's ready, remove the tin from the oven and allow the pies to cool there for 30 minutes. Then, using a butter knife, loosen the edges and gently remove the mini pies from the tin. Serve the mini apple pies warm or cold, with whipped cream or ice cream toppings, as desired. 
Mini Apple Pies Recipe
This highly tasty mini apple pie recipe has all the taste of a classic apple pie in miniature form. It's easy to prepare and sure to please everyone this fall.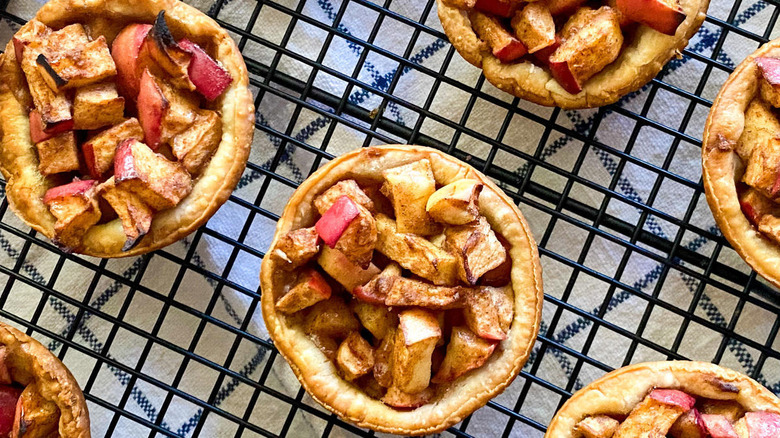 Ingredients
2 9-inch refrigerated pie crusts
2 apples, diced
1 teaspoon lemon juice
2 tablespoons maple syrup
1 tablespoon all-purpose flour
1 teaspoon cinnamon
1 teaspoon vanilla extract
Optional Ingredients
Whipped cream or ice cream, for topping
Directions
Preheat oven to 400 degrees.
Spray muffin tin with nonstick spray.
Take one pie crust out of the refrigerator, lay on top of wax paper, and cut as many 3 ½-inch circles out of the crust as possible. Reroll the scraps and repeat as necessary.
Press the dough circles into the muffin tin. Repeat with the second crust.
Dice the apples into ¼ and ½ inch square pieces
In a large bowl, mix the diced apples, maple syrup, flour, cinnamon, and vanilla together.
Fill each muffin tin with equal portions of the apple mixture.
Bake for 17 to 20 minutes or until the pie crust is golden brown.
Cool for 30 minutes, then loosen mini pie edges and remove from tin.
Top each pie with whipped cream or ice cream if desired.
Nutrition
| | |
| --- | --- |
| Calories per Serving | 198 |
| Total Fat | 9.8 g |
| Saturated Fat | 3.7 g |
| Trans Fat | 0.0 g |
| Cholesterol | 0.0 mg |
| | |
| --- | --- |
| Total Carbohydrates | 26.7 g |
| Dietary Fiber | 1.5 g |
| Total Sugars | 5.2 g |
| Sodium | 156.9 mg |
| Protein | 1.3 g |