Summer Tomato And Corn Salad Recipe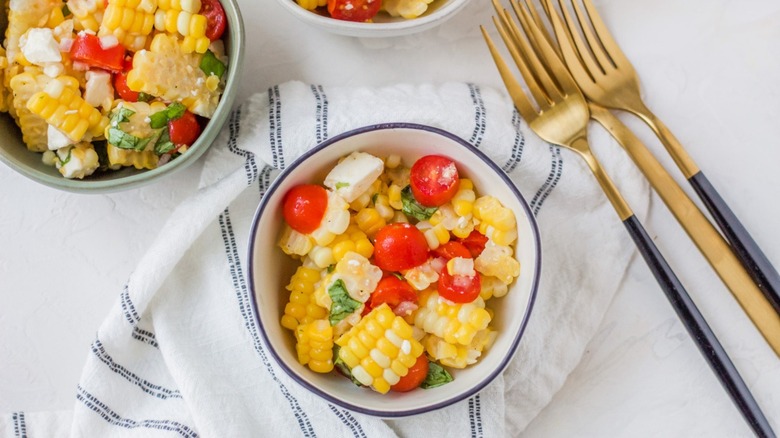 Jaime Shelbert/Mashed
Whether you're in the thick of summer and your fridge is overflowing with fresh produce, or you simply have a craving for light, fresh flavors to cut through a chilly gray day, sometimes a quick and easy salad can be exactly the right choice for dinner. You might make it to serve alongside your favorite protein, or simply eat it as a main course all on its own. This tomato and corn salad from recipe developer and nutritionist Jaime Shelbert is the perfect way to make the most of your seasonal summer produce (or indulge that summery craving, no matter the season).
"This is a perfect summer picnic dish," says Shelbert. If you don't have the ingredients growing in your own garden, Shelbert still advises sticking close to home when doing your grocery shopping. "I definitely recommend buying local ingredients for the freshest flavor!" she says. But even if you're outside of the growing season for fresh corn on the cob, don't worry, as this easy and colorful salad is still delicious when it's made with frozen corn.
Gather your ingredients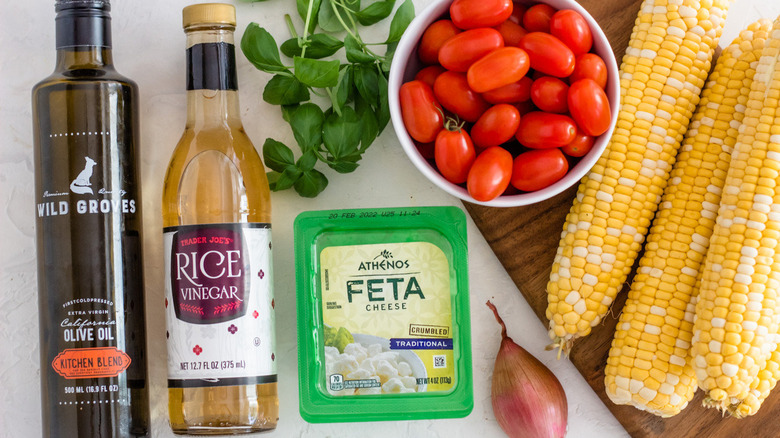 Jaime Shelbert/Mashed
The star ingredient in this simple summer salad is, of course, the titular corn. If fresh corn is in season, be sure to hit up your local farmer's market and pick up a few ears — for this recipe, you'll need approximately four ears of corn. If you're using frozen kernels, you'll need a total of four cups. You'll also need grape tomatoes, fresh basil, a shallot, a container of feta cheese, olive oil, rice vinegar, salt, and pepper.
Feel free to add additional veggies if you like, too. Shelbert recommends cucumber or avocado, or you can get creative with other seasonal produce. If you can't find fresh basil, or your basil selection doesn't look particularly appealing, don't fear, either, as there are a couple of substitutions you can try. "Parsley would work well," Shelbert says. "Even arugula with its peppery flavor." Swapping out the basil for different fresh herbs or greens is preferable to going to the spice cabinet for dried herbs, which may not carry the same flavor kick that fresh stuff does. Trust us, your taste buds will thank you.
Boil the corn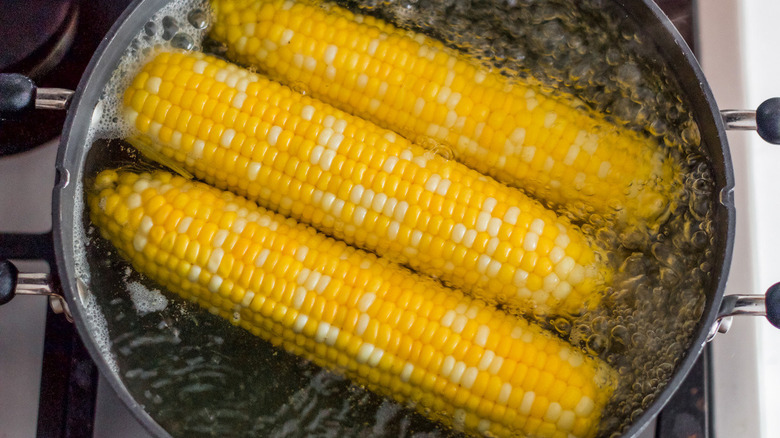 Jaime Shelbert/Mashed
If you're using frozen corn, you can, of course, skip this step. All the frozen stuff needs is a short time outside the freezer to thaw. However, if you're using fresh corn, it will need a bit of prep to get it ready for this salad. First, shuck the corn, removing the husks and as much of the silk strands as possible. While you're doing that, bring a large pot of water to a boil. Once it's ready, add the corn to the pot and boil for three minutes.
While your corn is boiling, prepare an ice bath by adding ice and water to a large bowl. After the corn cobs have boiled, remove them from the pot and submerge in the ice bath. That way, the cooking process stops and your corn stays nice and crisp, rather than overcooking. Once the corn has cooled, remove it from the ice bath.
Prepare your produce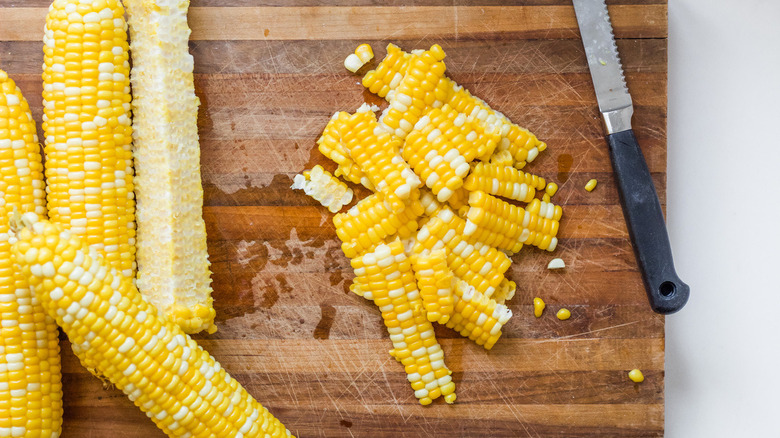 Jaime Shelbert/Mashed
Once your corn is ready, you just need to take a few minutes to prepare the produce so that it's ready to mix together. Cut the corn kernels from the cob with a sharp knife, placing the cob on its end and shaving the corn off of each side, as close to the cob as possible without cutting into the core.
Then, cut your grape tomatoes into halves or thirds, depending on their size. Whatever you do, make so that all of the pieces are relatively the same size. Mince the shallot and set aside. Then run your knife through your fresh basil, chopping it into small pieces. Or, if you want some eye-catching basil strips instead of chopped bits, you can chiffonade this ingredient by rolling the leaves into a tight cylinder and cutting them into thin strips.
Mix up your salad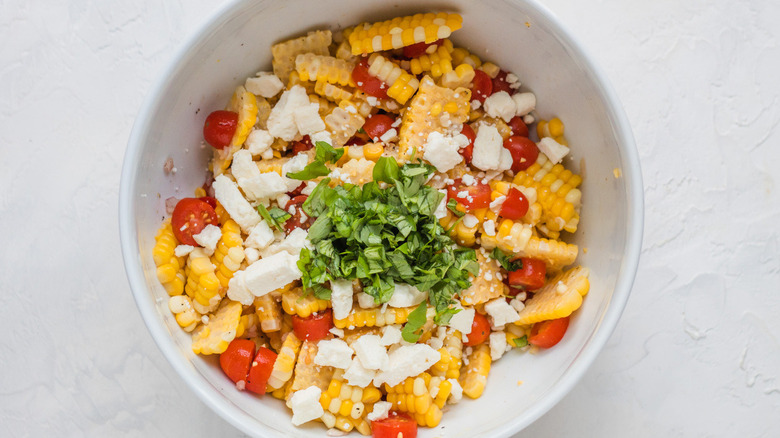 Jaime Shelbert/Mashed
Bringing all of the ingredients together for this tomato and corn salad couldn't be easier. Simply add the corn kernels, tomatoes, minced shallot, oil, vinegar, salt, pepper, feta, and basil to a large bowl.
If your feta comes in a single, large chunk or a batch of big pieces that won't distribute well throughout the salad, take a minute to crumble it with your fingers. Then stir it all together until everything is well combined. To ensure even distribution throughout the salad, it may be beneficial to mix the salt, pepper, olive oil, vinegar, and shallot together first before adding the larger ingredients.
Serve and enjoy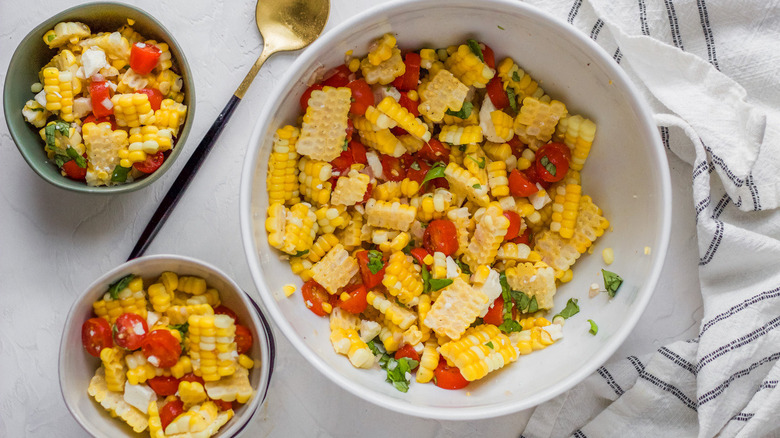 Jaime Shelbert/Mashed
This summer tomato and corn salad can be served as soon as you make it, or can go in the fridge to chill for a little while before dishing it up. However, Shelbert advises against making it too far in advance, since fresh veggies will continue to release juices over time, which could make the salad watery.
"I would prepare this the same day you plan to serve it because of the tomatoes," Shelbert says. "It will keep for up to three days in the refrigerator. Beyond that, the tomatoes may become unappetizing. If you want to make this a day in advance you could, I would add the tomatoes in just before serving." With just a touch of planning, this could be a perfect make-ahead dish for a casual get-together or cookout.
Summer Tomato And Corn Salad Recipe
This tomato and corn salad is the perfect way to make the most of your seasonal summer produce - or indulge that summery craving, no matter the season.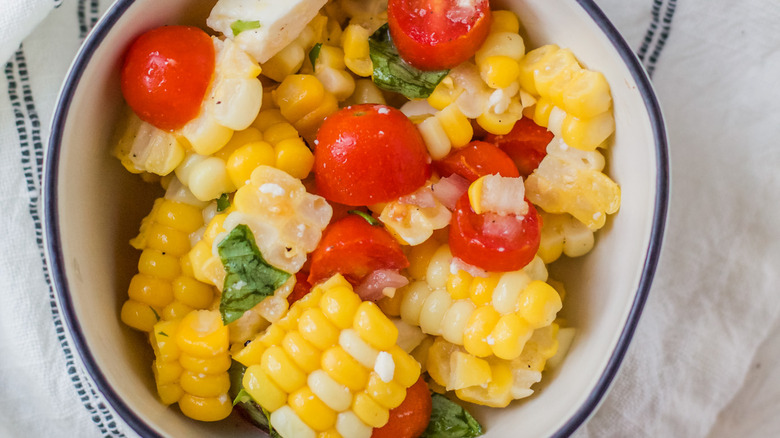 Ingredients
4 ears of corn or 4 cups frozen corn
1 cup grape tomatoes, halved or cut into thirds
1 small shallot, minced
3 tablespoons extra virgin olive oil
2 tablespoons rice vinegar
Salt and pepper to taste
½ cup feta cheese
¼ cup basil, chopped
Directions
If using fresh corn, bring a large pot of water to a boil. Add the corn and boil for 3 minutes. If using frozen corn, allow it to thaw.
While the corn is boiling prepare an ice bath. After the corn has cooked for 3 minutes remove it from the pot and submerge it into the ice bath.
Remove the corn from the ice bath and cut the kernels from the cob.
Add the corn, tomatoes, shallot, oil, vinegar, salt, pepper, feta, and basil to a large bowl. Stir to combine.
Serve immediately or refrigerate until ready to eat.
Nutrition
| | |
| --- | --- |
| Calories per Serving | 187 |
| Total Fat | 10.1 g |
| Saturated Fat | 2.9 g |
| Trans Fat | 0.0 g |
| Cholesterol | 11.1 mg |
| | |
| --- | --- |
| Total Carbohydrates | 22.7 g |
| Dietary Fiber | 3.0 g |
| Total Sugars | 5.0 g |
| Sodium | 336.8 mg |
| Protein | 5.0 g |