Pokémon Fans Won't Want To Miss This Limited Edition Oreo Collab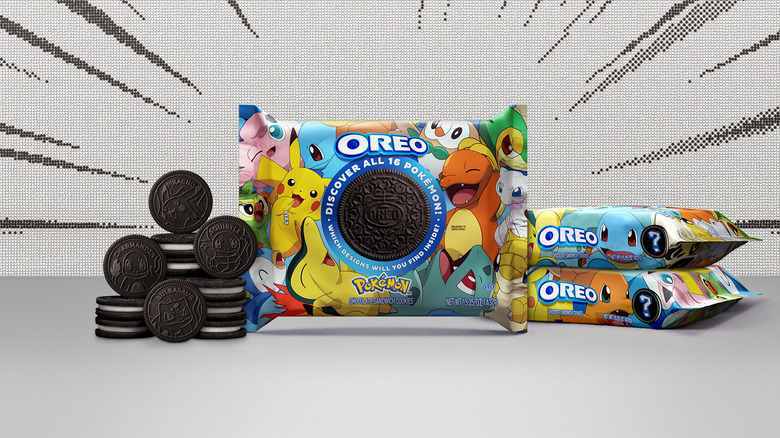 Oreo/Pokémon
If you're an avid Pokémon or Oreo fan and have been following this Twitter thread from June — which hinted at a collaboration between the two companies — you'll be excited to hear that the rumors are true. In a press release received by Mashed, Oreo announced that they are teaming up with the popular television and video game franchise for a limited-edition Pokémon x OREO cookie pack.
This video on Oreo's YouTube channel revealed that there will be limited edition cookies embossed with the faces of Pokémon characters. This sets "trainers" up on the mission to "catch them" all, as there are 16 different cookie designs featuring different Pokémon, and not all are guaranteed in one pack.
When the collab was first teased during the summer, fans speculated that there would be special Pokémon wrappers or new flavored biscuits (via ScreenRant). While both weren't that much off the mark, fans can be pleasantly surprised and excited about the opportunity to collect all these new varieties of Oreos, which will be available in stores and on Oreo.com.
Some Oreo x Pokémon cookie designs will be hard to find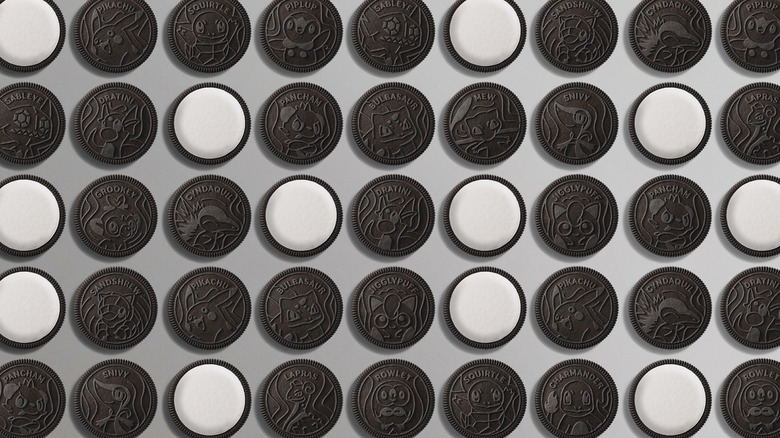 Oreo/Pokémon
The Pokémon fandom has been alive for over 25 years, according to Livemint.com. Many of its fans are millennials who still feel a sense of nostalgia when it comes to the franchise (via Atom Tickets). Therefore, partnering up with Oreo, another iconic snack many millennials enjoyed in their childhoods, truly makes this collaboration a power move.
The announcement on Oreo's YouTube channel uses animation elements and features characters from Pokémon's earlier generations — such as Pikachu, Bulbasaur, Charmander, and Squirtle — both of which are a call to the franchise's first fans, per Goliath. Furthermore, snackers will be pushed to take on Ash Ketchum's mission to "catch them all," as some characters will be harder to find than others. The hardest of them all will be a cookie with the character Mew, who Techrader.com declared as "the rarest Pokémon in the entire Kanto region."
Cookies will be available for preorder online on September 8 and will begin appearing in stores on September 13. In addition, an art installation with a giant, Pikachu-themed design will be up for display on Venice Beach Boardwalk in Los Angeles from September 7 to October 3.