Instagram Is Melting Over Photo Of Daphne Oz's Daughter's First Day Of School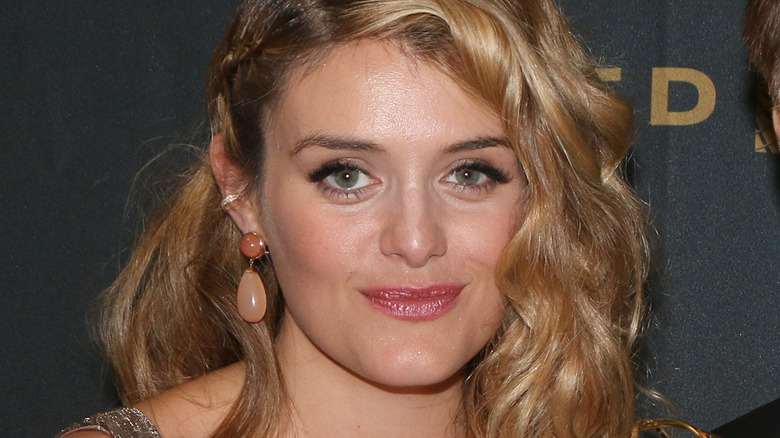 Kathy Hutchins/Shutterstock
It seems like yesterday that Daphne Oz — co-host of ABC's "The Chew," popular TikTok food creator, and daughter of Dr. Oz — was pregnant with her third child with her husband, John Jovanovic. Time sure does fly; that was all the way back in June 2017! At the time, Oz and Jovanovic's two children, Philomena and Jovan, were three years old and one year old, respectively. "Philo and JJ will be the best big siblings!! I know lots of you guessed, and I could not wait to tell you!!" Oz gushed at the time, while also revealing that the new baby would be a girl. Today, that baby girl is growing up. Oz took to Instagram to post a couple of of Gigi Jovanovic's "first day of school" photos. And Instagram is positively MELTING!
If you're wondering what all the fuss is about, then check out the photos below of Daphne Oz's daughter's first day of school, which, along with Oz's sweet post, is spreading a serious case of "the cutes" throughout the social media platform.
Instagram is turning into a puddle over these photos
There is, of course, an extraordinarily simple reason why Instagram is melting over photos posted by "The Chew" alum Daphne Oz. As you can see from the photos above, Daphne Oz's daughter, three-year old Gigi Jovanovic, is, well, just absolutely adorable. So adorable, in fact, that if someone out there is creating a photographic version of the dictionary, this little girl could easily serve as the definition of "precious."
"Sorry yes that was just my heart exploding 😍😭 Gigi is in preschool! you will be thrilled to know the Duchess thoroughly enjoyed her first day and plans to return ❤️," Oz wrote of sending her "baby" off to her first day of school. Instagram is obviously thrilled to know this, not to mention bowled over by the photos. "Couldn't be any cuter!" commented Instagrammer Simon Huk, possibly channeling Chandler Bing from "Friends." And apart from the occasional trolling comment, which we've come to expect in this day and age, that was pretty much the consensus.