Instagram Is Obsessed With Nigella Lawson's Unconventional Ice Cream Sandwich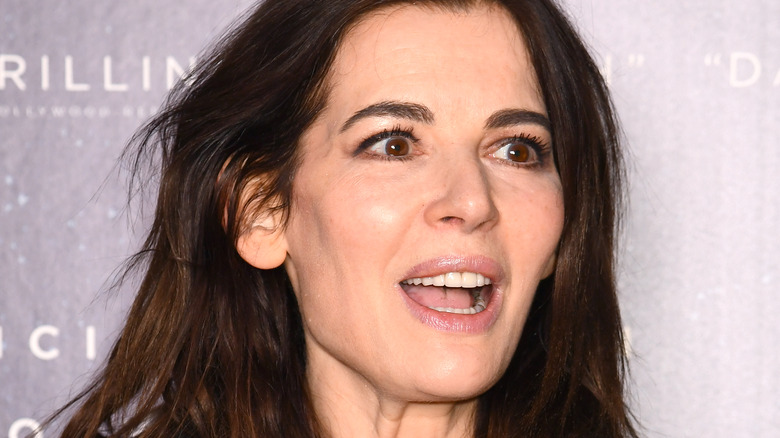 Dave J Hogan/Getty Images
If it's food, and you've never seen anything like it before, then chances are you don't know the whole story. And when a thoroughly British food-TV personality makes one of her cookbooks about Italian food, you realize everyone is borrowing their food ideas from someone else anyway.
Nigella Lawson is captivating Instagram with her recipe for coffee-flavored no-churn ice cream, sort of a super-simple gelato that skips a lot of the steps involved in making the authentic Italian dessert (via Recipes from Italy). Lawson pulled her Instagram recipe from her 2012 cookbook "Nigellissima," her collection of simple Italian-inspired recipes (via Lawson's website). In true Italian fashion, Lawson presents her no-churn coffee ice cream on a sweet brioche bun. "Brioche con gelato" is Italy's version of the ice cream sandwich, and it's typically served for breakfast, according to Today. If you want to eat Lawson's ice cream sandwich for breakfast, you should whip up the ice cream the night before. It needs at least six hours in the freezer.
Nigella Lawson put ice cream on a bun?! Yes, it's a thing in Sicily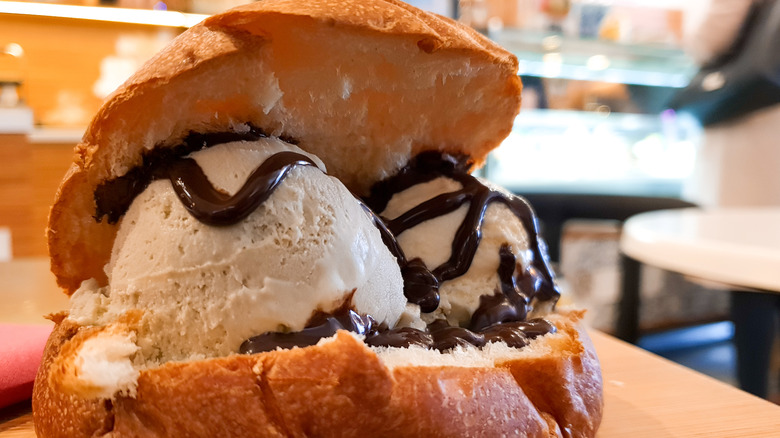 Salvatore Allotta/Shutterstock
Nigella Lawson's recipe for Italy-inspired homemade ice cream on a brioche bun, available on her website, has just four ingredients (not counting the bun): double cream or heavy whipping cream, condensed milk, instant espresso powder, and espresso liqueur (just two tablespoons, nothing that will send you from the breakfast table reeling). "I'm almost embarrassed at how easy this is but, as you will find out, simple though it is to make, its flavour is deep, complex, and utterly compelling," Lawson writes in the recipe's introduction.
The British food personality's fans on Instagram were impressed. "Ice cream IN A BUN?! Oh Nigella ... thank you," British comedian Dawn French wrote in the comments under Lawson's Instagram post. Instagrammer Sohail Dossa commented, "Before I accuse @nigellalawson of being mad, this sounds like the perfect thing to test during lockdown."
Several other commenters recognized Lawson's unusual ice cream sandwich for what it was. "So Sicilian," an Instagram user and food blogger named Caroline Stewart said. "Gosh they know how to do breakfast."