Homemade Edible Sugar Cookie Dough Recipe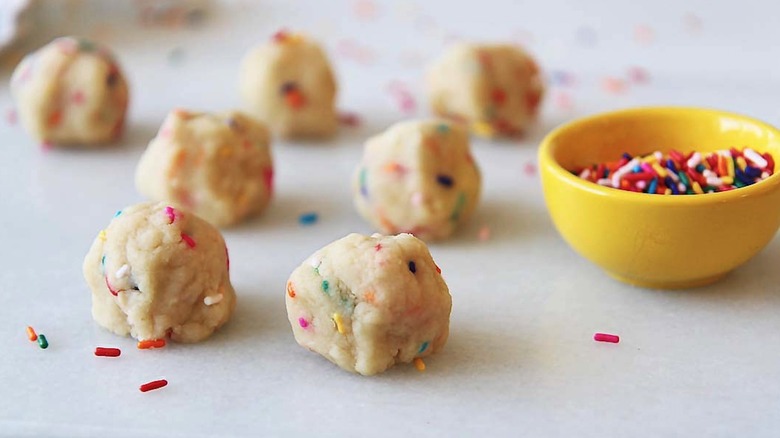 Jason Goldstein/Mashed
It's a struggle as old as time. Kids want to get their hands on sweet, chewy cookie dough, while adults are ready to warn about its health dangers. But now, thanks to this egg-free recipe for homemade edible sugar cookie dough, there's a middle ground both sides will welcome will open arms (and mouths). "Growing up, we made lots of cookies and we were always told not eat the raw dough," says chef and recipe developer Jason Goldstein of Chop Happy. "But now you can eat as much as you want. Also I am not a baker, so this makes me feel like I can bake!"
When asked whether he prefers this dough as-is or baked into cookies, Goldstein says, "I think [it's] better as dough — it's a great midnight snack!" But don't worry, because this dough makes a delicious cookie when baked, too. Whether you're a novice baker or all but ready for your turn on The Great British Baking Show, this dough will be a hit as it's easy to make and even easier (and way less risky) to enjoy.
Gather your ingredients for edible sugar cookie dough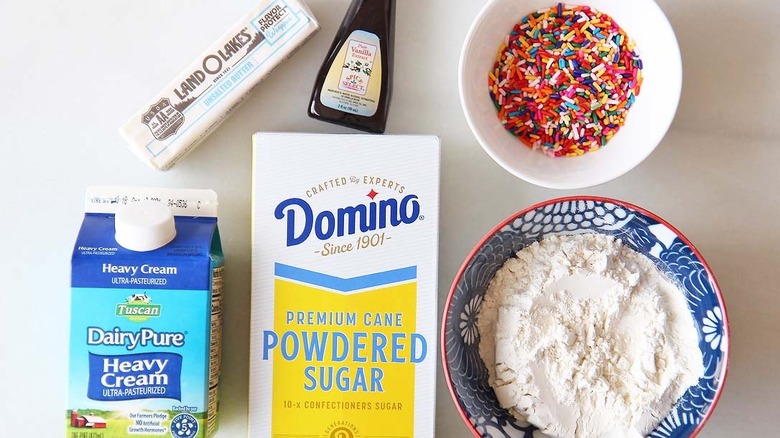 Jason Goldstein/Mashed
It doesn't take much to make a picture-perfect (and taste bud-perfect) batch of this edible sugar cookie dough created by Goldstein. All you need is all purpose flour, a stick of butter, some vanilla extract, salt, heavy cream, and a good deal of powdered sugar — and some rainbow sprinkles, because why not?
Where things can get even more exciting is when you add your own twists. Why not try chocolate sprinkles or even chocolate chips? Or crushed nuts? Or a dash of cayenne pepper? The options are as endless as your imagination.
Heat the flour in the microwave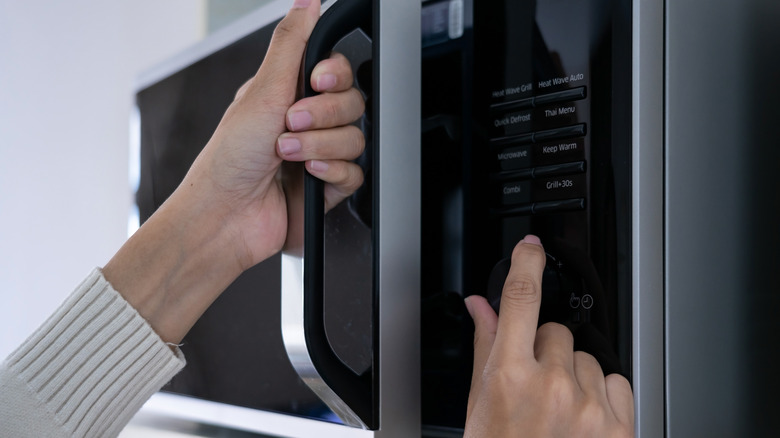 NavinTar/Shutterstock
As you'll soon see, there is no real "cooking" to be done in this recipe at all. As such, it's critical that you don't skip this step, as it is a stand-in for the food safety (and flavor) you get when you cook foods. Place the flour in a microwave-safe bowl and then microwave it, on high, for two minutes. This will kill off any bacteria present in the flour and will render it safe to enjoy sans any time spent in a conventional oven.
Whip up the raw sugar cookie dough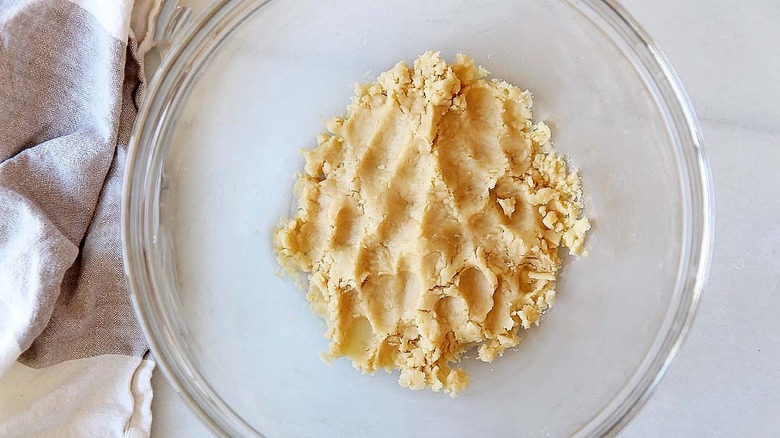 Jason Goldstein/Mashed
After sterilizing the flour in the microwave, this next step is really a single process, provided the butter is already melted. If not, go ahead and do that first. Now, simply place the flour, melted butter, vanilla extract, salt, heavy cream, and sugar in a bowl, and mix everything together until it has completely incorporated.
Next, mix in the sprinkles and ... that's it! Time to enjoy your cookie dough without any fear. Take a moment to let your inner child rejoice.
Eat it, bake it, or freeze it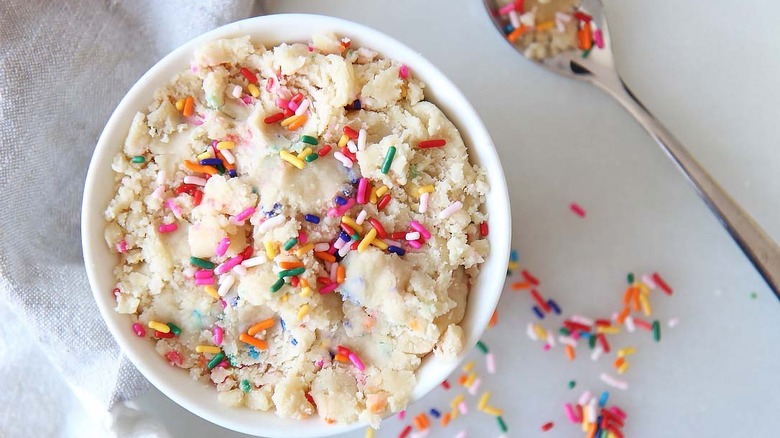 Jason Goldstein/Mashed
With the dough finished, there's really no wrong way to go about enjoying the stuff. You can eat it as-is right out of the bowl, you can roll it into little bites, or you can, of course, form dough balls and bake them into cookies, which need to be baked in a 350 F oven for 12 to 15 minutes — just keep a close eye for browning in case they cook faster.
There's also no rush to devour this dough immediately. Pro tip: You can freeze this dough for up to six months, Goldstein says, which means if you plan accordingly, you'll always have cookie dough bites on hand when the craving kicks in. 
Homemade Edible Sugar Cookie Dough Recipe
This egg-free recipe for sugar cookie dough is easy to make and safe to eat. Top with sprinkles for the cookie dough your younger self always wanted.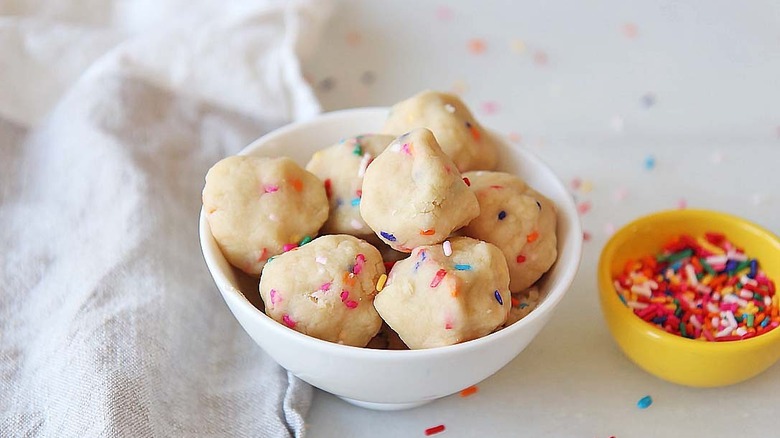 Ingredients
1 cup all-purpose flour
1 stick butter, melted
1 teaspoon vanilla extract
1 teaspoon salt
2 tablespoons heavy cream
¾ cup powder sugar
¼ cup rainbow sprinkles
Directions
Microwave the flour for 2 minutes on high to protect from bacteria.
Place the flour, butter, vanilla extract, salt, heavy cream, and sugar into a bowl, and mix until completely incorporated.
Mix in the sprinkles, and enjoy.
Alternatively, roll the cookie dough into balls, and bake in the oven at 350 F for 12 to 15 minutes.
Nutrition
| | |
| --- | --- |
| Calories per Serving | 269 |
| Total Fat | 13.0 g |
| Saturated Fat | 8.1 g |
| Trans Fat | 0.5 g |
| Cholesterol | 35.5 mg |
| | |
| --- | --- |
| Total Carbohydrates | 37.1 g |
| Dietary Fiber | 0.4 g |
| Total Sugars | 25.2 g |
| Sodium | 137.3 mg |
| Protein | 1.8 g |