Martha Stewart's Gourmet Food Is Coming To Your Freezer Aisle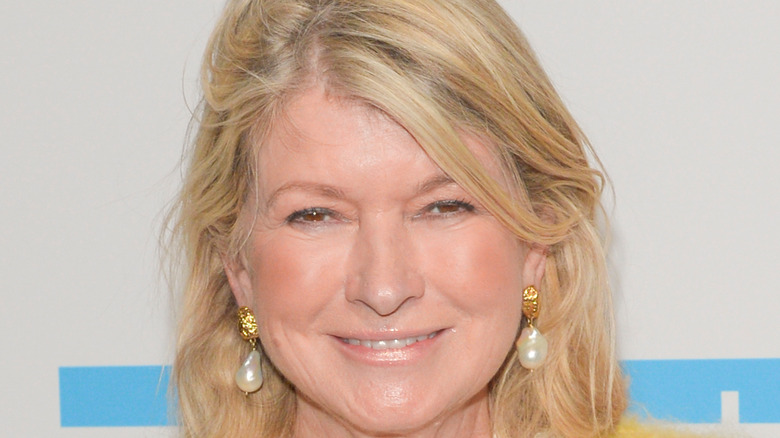 lev radin/Shutterstock
Media mogul, cookbook author, and queen of the lifestyle space, Martha Stewart is no stranger to new business ventures, from eponymous magazines and television shows to home decor lines and meal kits. Now, Stewart is hoping to have her next success with a line of prepared foods that aims to elevate the frozen food aisle.
The new Martha Stewart Kitchen line — which was created in partnership with Marquee Brands — will feature a number of Martha-approved frozen prepared dishes ready to heat and eat in minutes. Speaking to People about her latest venture, Stewart shared that the Martha Stewart Kitchen line was partially inspired by the constraints of the COVID-19 lockdown.
"Especially during COVID, so many people were at home, and they had their family to take care of and their jobs to take care of, and it was convenient for them just to pop something into the oven," Stewart said. Creating a line of quick, high-quality meal options was important, as "food is just ... the most important thing for sustaining a happy family and a good environment," she added.
Stewart was involved in every aspect of the development, including selecting a handful of recipes from thousands of potential options and working to create flavorful, fresh tasting meals that elevate the typical frozen dinner. "These are very well made, and very clean food," Stewart described. "It's the way I eat at home, and it's what people should be offered in the frozen food department."
Martha Stewart's frozen line will include a variety of savory and sweet dishes
The full Martha Stewart Kitchen lineup of meals includes an array of appetizers, entrées, side dishes, and desserts — offering everything you'd possibly need to pull off a quick dinner party.
Some of the line's standout appetizers include Baked Brie, Leek & Cheese Bread Pudding Bites, Goat Cheese Hors D'oeuvres, and Tomato Tartlets with Fontina Cheese, as well as classics like Pigs in a Blanket, Mini Spinach Quiché, and Macaroni and Cheese Bites.
Entrées include a duo of Pot Pies and three different meaty hand pies, in addition to classic dishes like Red Wine-Braised Short Ribs, Braised Chicken with Potatoes, and Beef Pot Roast. Stew fans are also in for a treat, with options like Sicilian-Style Beef Stew, Pork and Tomatillo Stew, and Pork and Pinto Bean Stew.
The wide-ranging lineup of side dishes include indulgent dishes such as Mashed Potatoes with Cream Cheese (which were based off Stewart's mother's own recipe), Scalloped Potatoes, and Four Cheese Macaroni and Cheese, as well as veggie and grain-based sides like Corn and Zucchini Sauté, Parmesan and Garlic Cauliflower, and Herbed Rice and Barley with Dates and Pomegranate Seeds.
As for dessert, Stewart has created Apple, Peach and Apple, and Mixed Fruit Hand Pies, in addition to Apple and Mixed Fruit Crisps, Double Chocolate Brownies, and Carrot Cake with Cream Cheese Frosting.
Per People, the Martha Stewart Kitchen line is available now at select retailers nationwide — including Publix, Hannaford, and Kroger markets — and will continue to expand its retail presence as the mogul's latest venture in the food space continues to grow.