Shota Nakajima Dishes On Iron Chef Gauntlet - Exclusive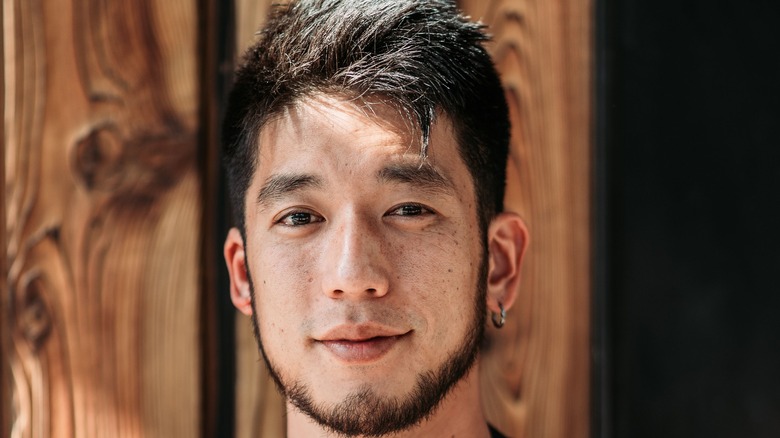 Austin Quach
Chef Shota Nakajima has become well-known for his time on "Top Chef" Season 18. During that season, the Seattle-based chef impressed both judges and viewers and made it to the finals. But even though he didn't win the title, he did walk away being recognized as the season's Fan Favorite (via Bravo) and won the $10,000 prize money that came along with it. 
But while Nakajima certainly made his mark on "Top Chef" in Portland, that's not the only cooking competition show that he's been on. As The Seattle Times reported, in 2017, years before Nakajima showed us his skills on "Top Chef," he competed on Food Network's "Iron Chef Gauntlet" hosted by Alton Brown. And of course, we wanted to hear all about what that experience was like.
In an exclusive interview with Mashed, Nakajima dished on his time competing on "Iron Chef Gauntlet" and shared all about the standout moments and best memories for him on the show.
Chef Shota Nakajima was proud of how far he made it on 'Iron Chef Gauntlet'
Chef Shota Nakajima certainly made a name for himself in Seattle with his first restaurant Adana and now his recently reopened Taku, per Eater. But it was his time on "Iron Chef Gauntlet" that helped him find his love for competing on cooking shows.
"I love competitions because you get really close to the people you compete with, and you learn so much in a short period of time. You learn about cooking, you learn about yourself, you learn about your strength and weaknesses," he said. "It's uncomfortable throughout the whole process, which is great." Much like the camaraderie Nakajima found amongst the competitors on "Top Chef," he also found the same experience of making lasting friendships on "Iron Chef Gauntlet." "It was a lot of fun. I still talk to the people I competed with. They're great mentors of mine," he said.
Nakajima also noted he was incredibly proud of how far he had made it on the show. Being the youngest contestant and making it to the fourth round was a major achievement for him. " I was, number one, proud of making it on the show. And number two, very proud that I made it to where I made it to."
To learn all about Nakajima's favorite places to eat and shop in Seattle, check out the Visit Seattle I Know a Place campaign.