Top Chef Finalist Shota Nakajima Dishes On The Competition - Exclusive Interview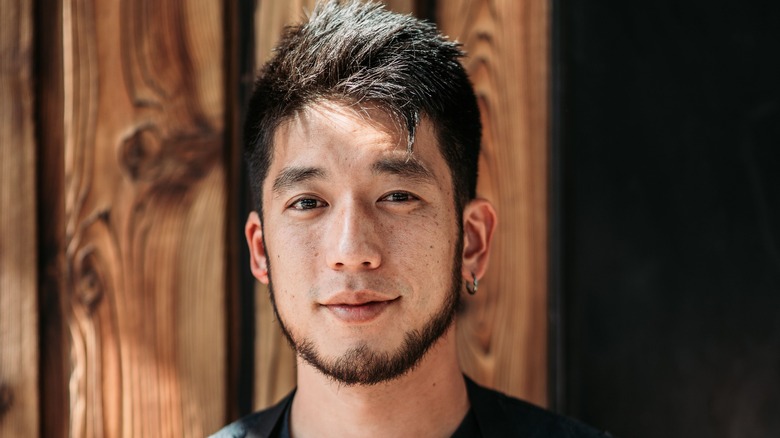 Austin Quach
With two parents each with culinary backgrounds, Chef Shota Nakajima certainly followed in their footsteps. And while Nakajima has indeed followed suit, opening his first restaurant concept in 2015, this Seattle chef has also paved his own path in a multitude of ways. One in particular? Competing on cooking shows.
Nakajima beat Bobby Flay on Food Network's "Beat Bobby Flay." He also showcased his skills on "Iron Chef Gauntlet." But most recently, Nakajima won over the hearts of both fans and judges on season 18 of Bravo's "Top Chef," which filmed just a few hours away from his hometown of Seattle. Nakajima made it to the final round of "Top Chef" Portland and was voted the season's Fan Favorite, and we got to hear all about it. In an exclusive interview with Mashed, Chef Shota Nakajima shared all about his time on "Top Chef," how things have changed since the show, and a few of his favorite must-visit spots in Seattle.
Chef Shota Nakajima dishes on his audition and how he prepped for Top Chef
What prompted you to audition for "Top Chef"? Of course, it was close proximity in Portland, but what drew you to the show?
I was having kind of a hard time with COVID in general after closing a restaurant. I had no idea what I was really doing. I was like, cool, nothing to lose.
Once you found out you made it on, how did you prep for going on the show?
I watched an episode for about five minutes, got a panic attack, turned it off and said, "I'm going to figure it out when I get there."
So you just kind of dove in head first? Didn't want to think too much.
Yeah. I didn't want to emotionally exhaust myself. I'm an over-thinker anyway, so I was like, you know what? Might as well not think about it at all. I've had 17 years of practice of cooking. You know what? That'll take me somewhere, hopefully.
So other than that five minutes, had you watched the show before?
I can't watch cooking competition shows. It gives me anxiety.
Chef Shota Nakajima reveals his best dish and most difficult challenge from Top Chef
What would you say was your most difficult challenge on "Top Chef"?
Just in general, I think the length of it. The length of the competition is long. It's really a marathon, not a sprint. I think a lot of it boiled down to yes, cooking too, but the stamina of being able to withhold that kind of pressure I think is a big one.
What dish were you most proud of serving on the show? 
The black corn dog. I'm joking.
Or the rice that didn't turn out.
Grey chicken. No, I'm joking. Probably the cheese dish, yeah. I had a lot of fun with that dish. It came out better than I thought. I was like, hey, that's not bad.
What does downtime on the show look like? Or is there any downtime?
There is. I think this year is kind of a cool year because if we had downtime and we were able to talk through it all, just talking about what our restaurants were going through, what we're going through in the industry. So, outside of it, it was a really cool experience. Just getting to know all these talented people on an intimate level, knowing that we're all going through the same thing. And we're just here to compete.
Shota Nakajima shares how his life has changed since being on Top Chef
What was it like to watch yourself on TV?
What was it like to watch myself on TV? Well, I've been on other competition shows, it wasn't my first time, but almost feels like I'm watching someone else sometimes, to be completely honest with you. Maybe it's a defense mechanism, but I filtered out certain parts like it's a separate person.
How would you say your life has changed since you were on "Top Chef"?
A lot of business opportunities, which has been amazing. But honestly, it's different and the same. Same in the sense that I'm working nonstop still, with my team, trying to create off this and all that. It's something that I've always done with my team and the people around me. I think the biggest difference would be, oh yeah, when I'm walking down the street, I'll be laughing with my friend and sometimes people will recognize me just from the laugh.
Tips for becoming a better chef at home, according to Shota Nakajima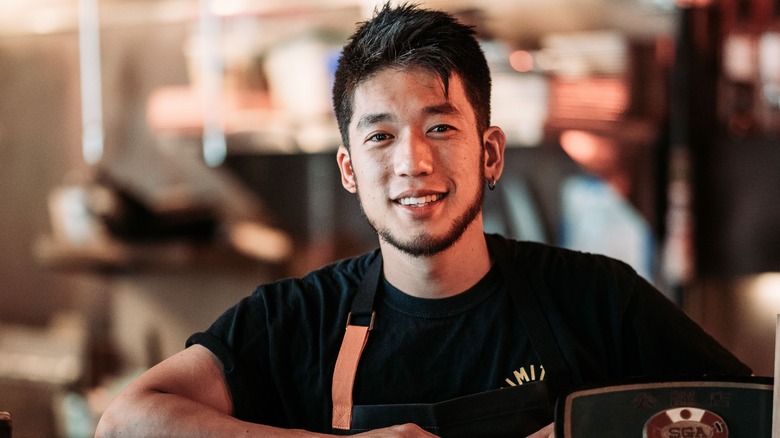 Austin Quach
You've talked a lot about your parents' culinary background. With that background, did you always know that you'd end up cooking, or did you dream of doing something else?
I think I naturally kind of went to it because I grew up with it in all my family. Still to this day, we just talk about food, at the dinner table, wherever.
What are some of the best tips that you have for people trying to become a better chef at home?
Don't worry about what other people say, and cook what you want to cook, cook what you enjoy, and have fun with [it]. And if anyone's negative about it, you really just don't need those people in your life.
Shota Nakajima dishes on what it was like competing on Iron Chef Gauntlet
What was it like competing on "Iron Chef Gauntlet"?
It was a lot of fun too. I still talk to the people I competed with. They're great mentors of mine and kind of the same thing. I love competitions because you get really close to the people you compete with, and you learn so much in a short period of time. And that's kind of my favorite part. You learn about cooking, you learn about yourself, you learn about your strength and weaknesses. It's uncomfortable throughout the whole process, which is great.
Any standout moments from your time on "Iron Chef Gauntlet"?
I made it to the fourth round and I was the youngest guy there. So I was, number one, proud of making it on the show. And number two, very proud that I made it to where I made it to.
Chef Shota Nakajima talks about his restaurant having to close at the start of the pandemic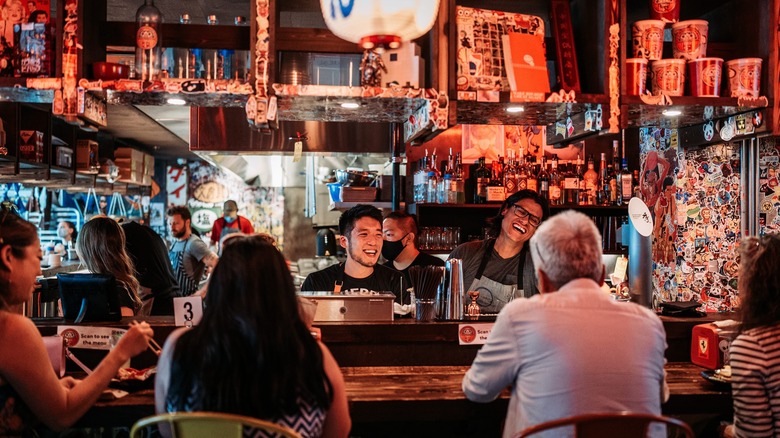 Austin Quach
When the pandemic hit, you shut down your restaurant just five days after opening. What was that like?
Bad timing as they say. I mean, number one, it was very hard. It was hard because going from number one to number two, as a restaurateur, that itself is really hard. I was at the point that me and my management were stretched so thin of opening this bar and then we had to change everything. So realistically, I remember just talking with each other, being like, "Yo, is your brain functioning?" All of us were just like, "No we can't, this is so much right now." So, I don't know what was it like hard, hard, but those are the moments that you learn the most about yourself, and grow the most. I think me and the people around me grew in the best way possible, wanting similar things compared to, before the pandemic, what is important in our lives, what's important in their lives, and a lot of things are similar that are things that we weren't concentrating as much on.
There was a line out the door and around the corner when you reopened. How did it feel to have Seattle respond in that way once you were back up and running?
Incredible, incredibly humbled. So blessed. That location itself was a concrete box. And I had the lease for two years. It was my first project from scratch. I put a lot of money, a lot of work, a lot of energy, a lot of love into that place and the fact that people were there to come and I had a team that was there to work and do their best. I couldn't ask for more, as a restaurateur, that was a very incredible feeling.
Shota Nakajima shares his favorite spots around Seattle
You're kicking off a new campaign with Visit Seattle, and being from Seattle, you're the perfect candidate for it. What are some of your favorite or must-visit restaurants other than your own in Seattle?
I would say Gan Bei. I love Gan Bei. It's in the International District, this little mom and pop shop, the daughter is outside bartending/selling food, and the food is the coziest food you can get. I started going there because late night, I was like, I just want somewhere where I can get a beer and shot and some good rice, something that's cozy after service. And that became one of my biggest spots that I went to all the time. What else? Il Nido in West Seattle is incredibly delicious. But I will say if I had to give one restaurant that you have a must to go to, it's actually in Kirkland, which is 15 minutes away. But Café Juanita with Holly Smith, her food is incredible. I also love to eat at Itsumono. The chef is from Hawaii. They do pan Hawaii-Japanese food in this super funky environment. Love it, lots of fun. So yeah, it's a fun place to be.
Where are some of your go-to spots within the Seattle area to shop for ingredients?
I love Uwajimaya. I go there all the time, they have a bunch of Asian ingredients. I honestly go to all the markets around the International District like Viet-Wah, Wong Tung Seafood, where they have live eels sometimes, live lingcod that's like this big. Yeah, kind of those areas, little shops, little malls, random spots.
For more of Shota Nakajima's favorite spots around Seattle, check out the Visit Seattle I know a Place campaign. To visit his restaurant, check out Taku or cook his recipes on Nakajima's YouTube channel.