Chewy Coconut Almond Chocolate Chip Cookies Recipe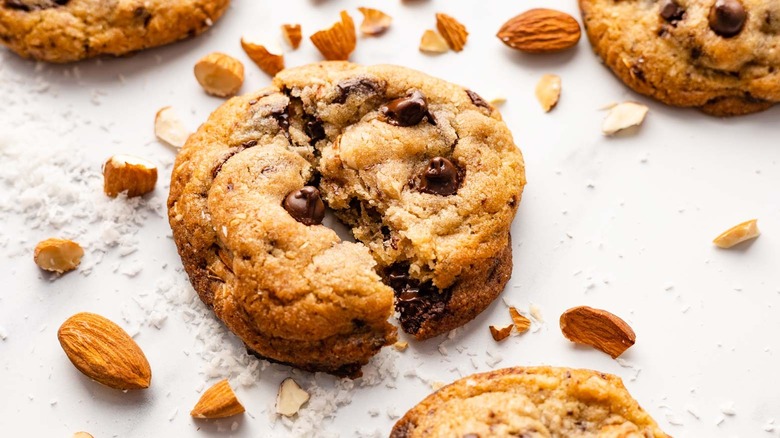 Mark Beahm/Mashed
What's tastier than a chocolate chip cookie? One with coconut and almonds. While there's no doubt that chocolate chip cookies are some of the most delicious and most popular cookies on the block, this incredible recipe takes your average chocolate chip cookie to a whole new level. If you're looking for something fun to make at a bake sale or another way to impress friends and family, this recipe is perfect for people of all ages. And we'll be honest — we've never met a chocolate chip cookie that we didn't like, but these are one of our all-time faves.
Recipe developer Mark Beahm is known for serving up some of the tastiest baked goods around, and these coconut almond chocolate chip cookies are no exception. "I love that these cookies are easy to make and they're not your typical chocolate chip cookies," Beahm shares. "The addition of coconut and almond makes them like Almond Joys! You can bake them right away if you need a quick cookie fix, or you can chill the dough overnight for a flavor boost." Keep reading to find out how to make these incredible cookies.
Gather the ingredients to prepare these coconut almond chocolate chip cookies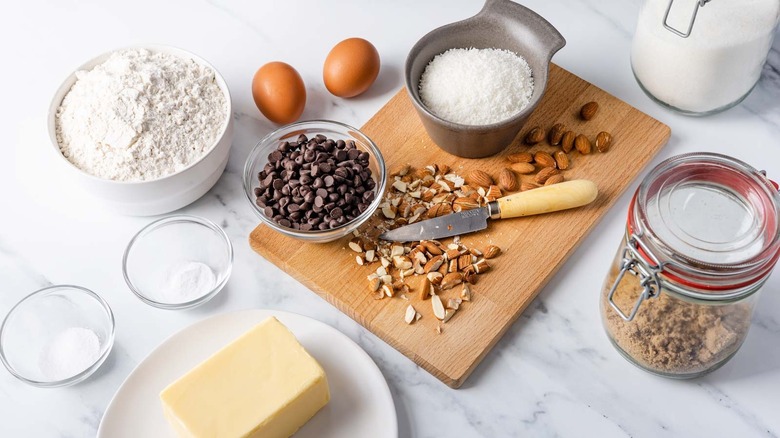 Mark Beahm/Mashed
The first thing you will need to do is make a list of items required for the cookies. If you bake a lot, you will probably already have a few ingredients at home, saving you time and money. For starters, you'll need all-purpose flour and baking soda, as well as some unsalted butter. You'll also need salt, which you likely have in your pantry. Be sure to leave the butter out when you get home, as it will need to be at room temperature to use.
Moving down the list, the recipe calls for two types of sugar — light brown and granulated. You will also need some eggs and vanilla extract. To complete your list, add semisweet chocolate chips, shredded coconut, and chopped almonds. Now, you can get to work.
Preheat the oven, and combine the dry ingredients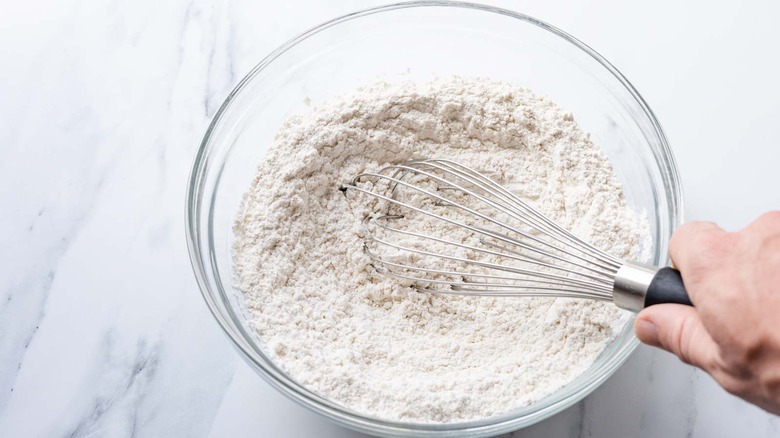 Mark Beahm/Mashed
Before you do anything else, preheat your oven to 375 F. You want to be sure the oven is at the correct temperature when you put the cookies in so they cook evenly. If you don't preheat the oven in advance and put the cookies into an oven that isn't the right temperature, it can ruin the whole thing. 
As you're waiting for the oven to preheat, grab a mixing bowl, and toss in the flour and baking soda. You can also add salt at this time. Whisk the ingredients together and set the bowl aside. You will need it again shortly.
Cream the sugar and butter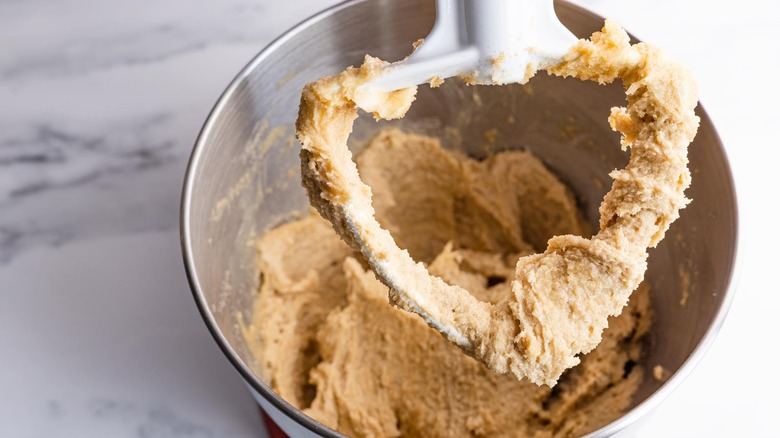 Mark Beahm/Mashed
Now, you will need to use a stand mixer to beat the tough-to-mix ingredients. A stand mixer does the job way more quickly and efficiently than your hands. If you don't have a stand mixer, you can use a large bowl with a hand mixer. Toss in the butter, followed by the brown and granulated sugars. Turn the speed to medium and cream the mixture for about two minutes until it's light and fluffy. "Creaming the butter and sugar together creates tiny air pockets in the batter that later expand and leaven the cookie while it's in the oven," explains Beahm.
Next, add in the eggs and the vanilla extract. That should be all of your wet ingredients. Continue beating the mix, scraping the sides of the bowl as you go.
Combine the dry and wet ingredients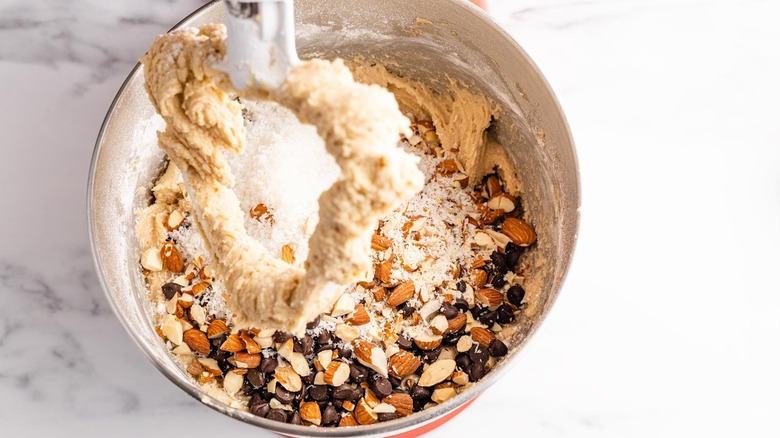 Mark Beahm/Mashed
Grab the bowl with your flour mix, and add it to the wet mixture, adding small batches at a time, mixing on low speed until the dough is well-combined. Again, be sure to scrape down the sides of the bowl to incorporate all of the ingredients, leaving nothing behind. "The flour is the last ingredient before adding the mix-ins because as soon as the flour hydrates, gluten will begin to form. A little bit of gluten is necessary for structure, but if the batter is over-mixed, the cookies will be tough, flat, and crisp," Beahm explains. 
Next, fold in the chocolate chips, coconut, and almonds. Keep the speed on low, and continue mixing until it's evenly distributed. Now, you have completed your cookie dough and can move on to the next step.
If you want to toast your almonds instead of buying them already toasted, roast them in a single layer on a baking sheet at 350 F for eight to 10 minutes, or until lightly browned and fragrant. Make sure they are completely cooled before adding them to the dough along with the chocolate chips and coconut.
Chill the cookie dough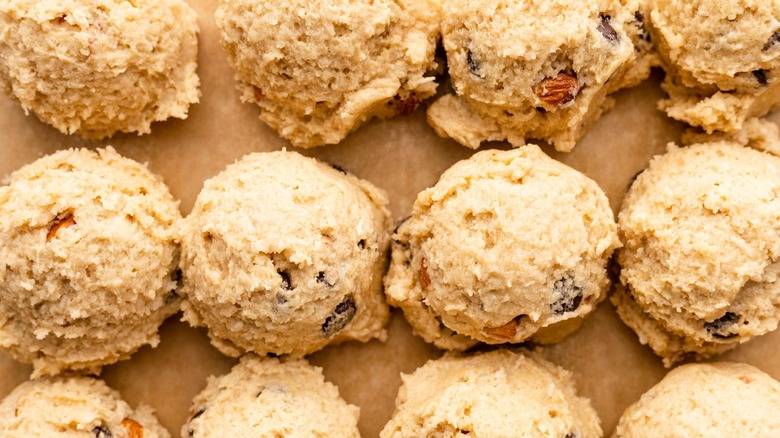 Mark Beahm/Mashed
This next step is totally optional, so feel free to skip it if you're in a rush. It's just a way to make the dough a little bit better. All you need to do is cover the bowl that your dough is in with plastic wrap, and chill it in the fridge overnight. This produces cookies with crisp edges and chewier centers, also known as the perfect cookie. It also yields a darker golden brown cookie. Again, you don't need to do this, but if you have extra time, it's a good idea.
Scoop the dough onto a lined baking sheet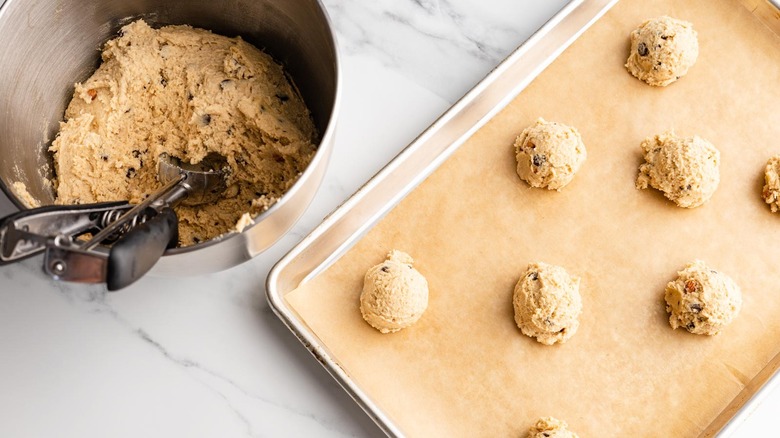 Mark Beahm/Mashed
If you chilled the dough, remove from the fridge. If you didn't, no sweat — you can continue with business as usual now that you're done making the dough. Grab a few baking sheets and line them with parchment paper. You can also use a single baking sheet, taking turns in the oven. Next, take a tablespoon (or small ice cream scoop), and scoop out the dough mixture onto the baking sheet. The parchment paper will prevent it from sticking to the bottom. Be sure to leave at least two inches between the cookies since they will spread as they cook.
Bake the cookies, and let them cool on a wire rack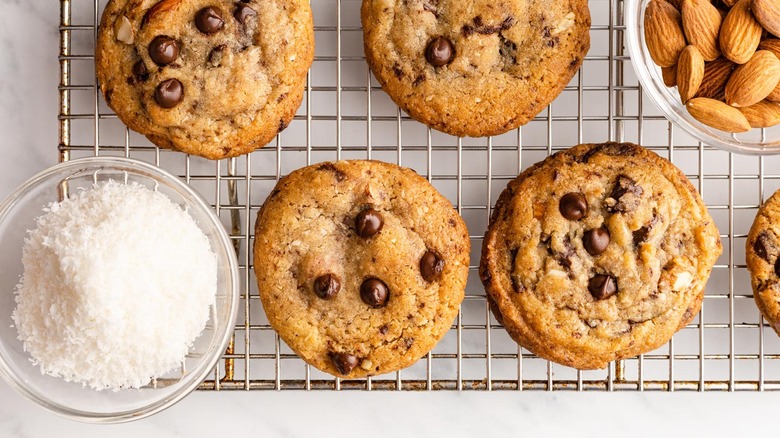 Mark Beahm/Mashed
Now, the cookies are ready for the oven. Pop them into the preheated oven, and bake for eight to 10 minutes, or until the edges start to brown and the middle sets. Remove the cookies from the oven, and let them cool on the sheet pan for about five minutes before transferring them to a wire rack to cool completely.
If you need something to pair the cookie with, Beahm has a few great suggestions. "I love a warm cookie with a scoop of ice cream. You could also use these to make ice cream sandwiches. When in doubt, a glass of milk is classic." It's the perfect sweet treat!
Storing your cookies for freshness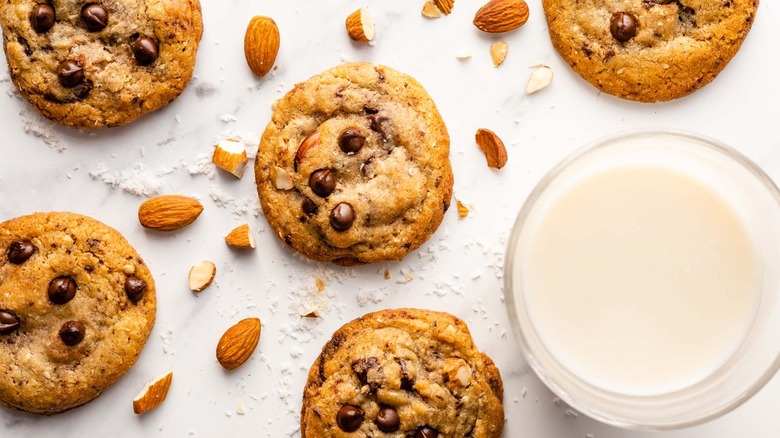 Mark Beahm/Mashed
The great part about this recipe is that you can keep leftovers for a while. "The cookies will keep for up to five days stored in an airtight container at room temperature," Beahm says. "The baked cookies can be frozen for up to a month."
You can also make the dough ahead of time. "You can also freeze the dough," Beahm says. "Portion the cookie dough using a cookie scoop onto a parchment-lined tray. Freeze until firm. Transfer the frozen dough from the tray to a freezer bag, and store for up to three months. You can bake the dough directly from the freezer. You just may need to add a couple minutes to the bake time."
Chewy Coconut Almond Chocolate Chip Cookies Recipe
Chocolate chip is one of most delicious cookies, but this recipe for chewy coconut almond chocolate chip cookies takes them to a whole new decadent level.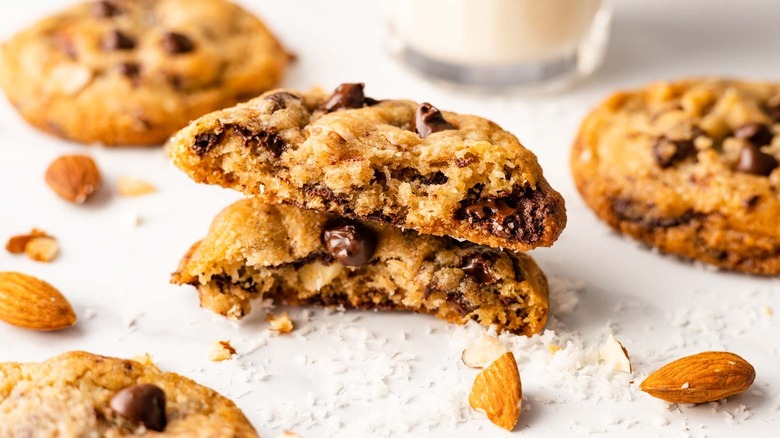 Ingredients
3 cups all-purpose flour
1 teaspoon baking soda
1 teaspoon salt
1 ¼ cups (2 ½ sticks) unsalted butter, room temperature
1 cup light brown sugar
1 cup granulated sugar
2 large eggs, room temperature
1 teaspoon vanilla extract
1 ½ cups semisweet chocolate chips
¾ cup shredded coconut
¾ cup toasted almonds, chopped
Directions
Preheat the oven to 375 F.
Whisk together the flour, baking soda, and salt in a mixing bowl.
Using a stand mixer fitted with the paddle attachment, or a large mixing bowl with a hand mixer, cream the butter, brown sugar, and granulated sugar on medium speed until light and fluffy, about 2 minutes.
Add the eggs and vanilla extract, and beat until just combined. Scrape down the sides of the bowl.
Add the flour mixture, and mix on low speed, scraping down the sides of the bowl as needed.
Add the chocolate chips, coconut, and almonds, and mix on low speed until evenly distributed.
As an optional step, cover the bowl with plastic wrap and refrigerate the dough overnight.
Drop rounded tablespoonfuls of dough onto parchment-lined baking sheets, leaving at least 2 inches between cookies.
Bake for 8 to 10 minutes, or until the edges have started to brown and the middle has set.
Remove cookies from the oven and cool on the sheet pan for 5 minutes before transferring them to a wire rack to cool completely.
Nutrition
| | |
| --- | --- |
| Calories per Serving | 199 |
| Total Fat | 11.6 g |
| Saturated Fat | 6.6 g |
| Trans Fat | 0.3 g |
| Cholesterol | 27.3 mg |
| | |
| --- | --- |
| Total Carbohydrates | 23.1 g |
| Dietary Fiber | 1.3 g |
| Total Sugars | 13.7 g |
| Sodium | 99.4 mg |
| Protein | 2.5 g |