Everything We Know About Top Chef's Leah Cohen's Baby Announcement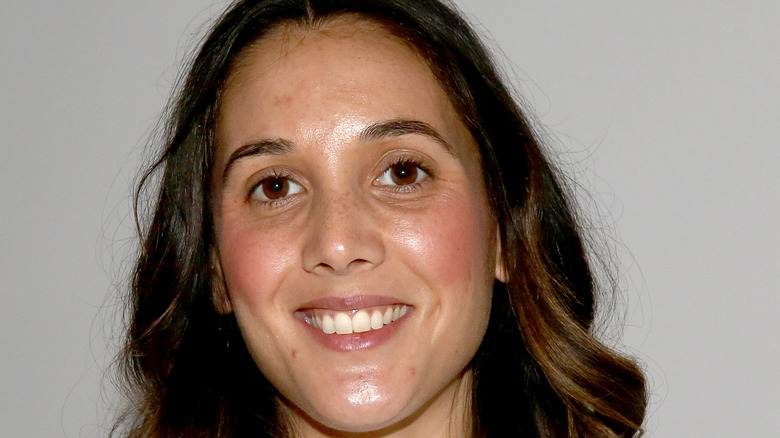 Paul Zimmerman/Getty Images
"Top Chef" fans remember Leah Cohen as the contestant who made it to the top 10 on Season 5 of the show. Others might associate her with her restaurants Piggyback Bar and Pig & Khao in New York, the latter acclaimed for its South Asian street food menu inspired by Cohen's Filipino background (via the Pig & Khao website). The restaurant, which is now a favorite among celebrities and fellow chefs alike, is run by Cohen with the help of her husband Ben Byruch. Ben originally started as Pig & Khao's sous chef, but found himself juggling various hats, eventually turning into the restaurant's operations manager.
While the husband-wife pair are successful restaurateurs in the culinary world, they are also amazing parents to a 2-year old-son at home. The couple welcomed their first child — Carter Graham — in September 2019. According to People magazine, Cohen didn't even realize that she was going into labor until Byruch started timing her seemingly normal stomach aches at the time.
Now, Cohen and Byruch have announced that they are ready to welcome their second baby in early 2022, and it's going to be a baby brother for Carter (via People)!
Leah Cohen can't wait for 'that new baby smell' again
In an interview with People, Leah Cohen said that the couple had been trying to get pregnant for a few months now, as she wanted Carter to have a sibling relatively close to his age. While hoping for a healthy baby, the excited mama also admitted that she was nervous about both Cohen and Byruch going back to work full time with two young kids. Considering Cohen was home quite a lot due to the pandemic, she said that Carter is used to having his mommy around all the time. Now that she goes back to work, as well as having another newborn to give attention to, she's nervous about preparing Carter — who doesn't quite understand what's happening just yet — for all the new changes in his life. Although, "he is a very calm, easy-going child, and I am excited to see him become a big brother," she said.
Along with a new baby and a new work schedule, the young family is also going to be moving into a new house fit for their growing family of four. While she shoots her first cooking competition show "The Great American Recipe" for PBS, it will be up to Byruch to oversee the move and take care of Carter.
The best part about expecting another baby, though? She can't wait for the smell of a new baby to waft through the house again! Although she has a young son already, "toddlers don't quite smell the same," she teased.