Aldi Fans Are Baffled By This Blueberry Coconut Avocado Dip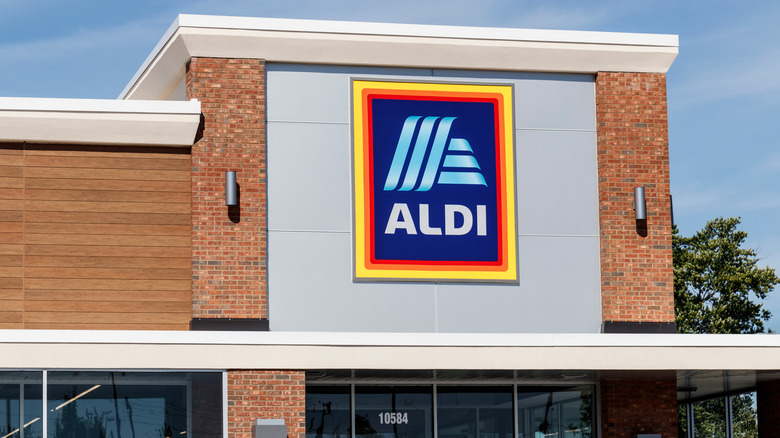 Jonathan Weiss/Shutterstock
More than any other fruit, the avocado gets singled out by the food industry for use in all kinds of strange recipes. Guy Fieri has stuffed avocados into egg rolls (via Cooking Channel). Rachael Ray has a recipe for avocado tartar sauce. Goop even found a way to make a matcha avocado smoothie. And now Aldi is turning heads with its own, unusual take on the popular fruit: an avocado dip flavored with blueberries and coconuts.
An Aldi customer, YukiHase, broke news of the product in a recent post to Reddit, sharing an image of a boxed "Coconut & Blueberry Avocado Dip & Spread" and asking whether any other Aldi fans had sampled it yet. The comments section exploded with responses, and fans and customers of all stripes weighed in on the matter.
Many were intrigued, reflecting on the versatility of avocados as a main ingredient, and a few even announced plans to pick up a box of the dip on their next Aldi run. One commenter posted an in depth review of the product: "It looks super weird but I was pleasantly surprised," they said. "I didn't not like it, if that makes sense. Would I get it again? Maybe, if I find the perfect application for it."
This spread sparked some skepticism
For every enthusiast in the comments section, however, there was a skeptic. Some seized on the opportunity to crack jokes at Aldi's expense. "Covid can cause loss of taste and smell," wrote one member of the subreddit. "Maybe all of the Aldi taste testers caught it? Because otherwise they've got some sadists working in new product development."
Skeptics of the Blueberry & Coconut Avocado Dip struggled to understand the thinking behind the product, with some even suggesting that Aldi had invented the dip as a means of cutting losses on low-quality, surplus ingredients. By and large, though, the skeptics were in it for the jokes, the best of which was a comment claiming that Aldi's R&D process boils down to "Casual Fridays [where] they spin a wheel of flavors to make up concoctions like this."
For the record, Aldi has a history of unusual ingredient combinations. The retailer took its customers by surprise earlier in the year with a Cucumber Lime Ginger Flavored Cold Brew — a coffee/fruit fusion for which there was already a market. Whether fans will go for the blueberry coconut avocado dip, only time will tell. But this is almost certainly not the last we'll hear from Aldi's trailblazing R&D team.