Instagram Is Loving Andrew Zimmern's Fun Selfie With Martha Stewart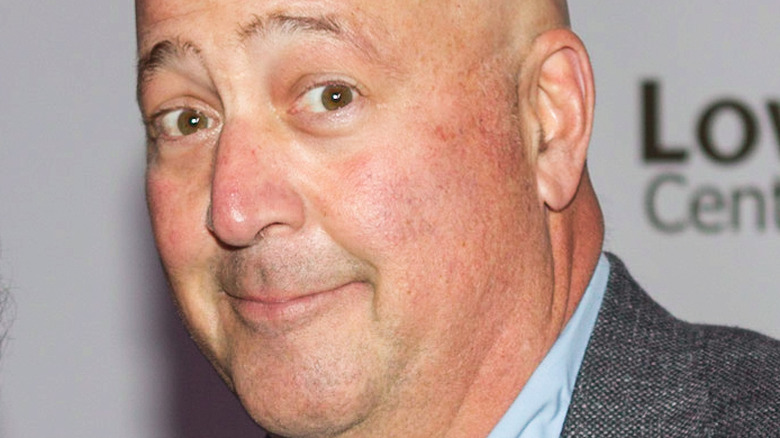 Jamie Lamor Thompson/Shutterstock
Andrew Zimmern doesn't always do selfies, but when he does, it's sometimes with one of his super-famous celebrity chef friends. Zimmern has photos with such big names as Jose Andres and Eric Ripert. His latest addition to the catalog? A selfie with none other than Martha Stewart.
As it happens, the celebrity chefs are both panel members at the 38th Annual Food & Wine Classic in Aspen, Colorado. According to Food & Wine, The premier culinary event kicked off September 10th and lasts three days, with attendees getting the chance to see Zimmern, Stewart, and other professional chefs and wine experts show off their skills in a series of live demonstrations, panel discussions, and wine tastings. 
The entourage of chefs and sommeliers (which also includes Carla Hall, Guy Fieri, and Mark Oldham, per the website) took a moment for an early morning group photo in front of one of Aspen's several mountain ranges (via Aspen Snowmass). At some point, Zimmern snuck in a selfie with Stewart, which he then posted to his Instagram, writing, "Had a fun early morning photo shoot with the OG royalty and someone I've known for almost 40 years (yikes) @marthastewart and 25 other rockstars ... that make working in this industry so much fun." 
The celebrities' fans ate it up, showering the two with over 19,000 likes. "Marvelous. Such a rock star!" wrote one person. Another said the famous friends "look amazing." An envious fan confessed to being "a lil (a lot) jealous."
A 40-year friendship
Andrew Zimmern revealed in the caption to the post (via Instagram) that he and Stewart have known each other for 40 years. That implies Zimmern, who was born in 1961 (via All Famous), was in his 20s when he met Stewart. Stewart's media career was just beginning to take off in the early '80s, with the release of books like "Entertaining" (1982), "Martha Stewart's Hors D'Oeuvres" (1984), and others (via Britannica). Her consistency led to a deal with Time Publishing Ventures and the launch of "Martha Stewart Living," a monthly magazine, in 1990. Zimmern, meanwhile, got his first big break in 1992 when he became an executive chef at Cafe Un Deux Trois (via Zimmern's website). National attention during his six years there helped launch Zimmern's media career, which took off in 2006 with the airing of "Bizarre Foods" on the Travel Channel.
These days Zimmern and Stewart still move in similar circles. In addition to this year's joint appearance in Aspen, the longtime friends co-headlined at 2019's Food & Wine Classic (via PR Newswire). Forty years of friendship, working in the same industry? That's something worth toasting.