This Is What Makes Raising Cane's Chicken So Delicious - Exclusive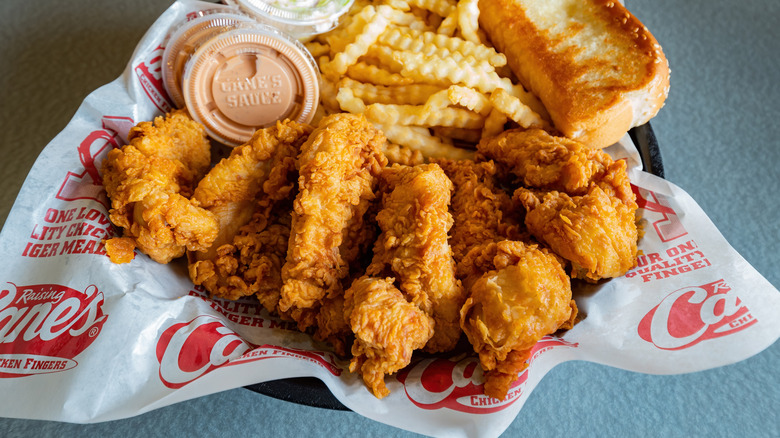 Kit Leong/Shutterstock
Many thoughts may run through your head as you wait in that epic lunch rush hour drive-thru line to score yourself some juicy Raising Cane's chicken fingers with sauce. You wouldn't be the only one to ask yourself, "Wait, didn't I just eat this yesterday?" or, "Should I order some extra to eat for dinner?" And if you're feeling especially self-reflective, maybe you've wondered, why, in the first place, Raising Cane's chicken fingers have been your favorite fast food craving for years. On your way to this familiar destination, you likely drove past several other joints dishing up various iterations of fried chicken, after all.
According to Raising Cane's co-founder Todd Graves, the answer to all of these questions is one word: "craveability." In an exclusive interview with Mashed, Graves shared what sets his brand's chicken fingers apart from the competition. "Our chicken fingers are the highest quality. It's breast tenderloins — it's not cut strips," Graves explained. "It's the breast tenderloins that come underneath the chicken breast." While this part of the chicken literally may indeed be a cut above what other poultry brands offer, Graves noted that it takes a special kind of bird to produce exactly the right tenderloin. "I like to get the right size bird. It's around a two-ounce tender, and it gets down to a lot of specifics on breeds and all that good stuff, just to have the best, most flavorful chicken," he said. These carefully sourced chicken tenderloins are stored in "a brining solution, for 24 hours, which helps basically to get water retention, to keep it juicy," Graves said, "and then it's hand-battered and breaded in a cook-to-order fashion."
What makes Raising Cane's different from Chick-fil-A, according to Todd Graves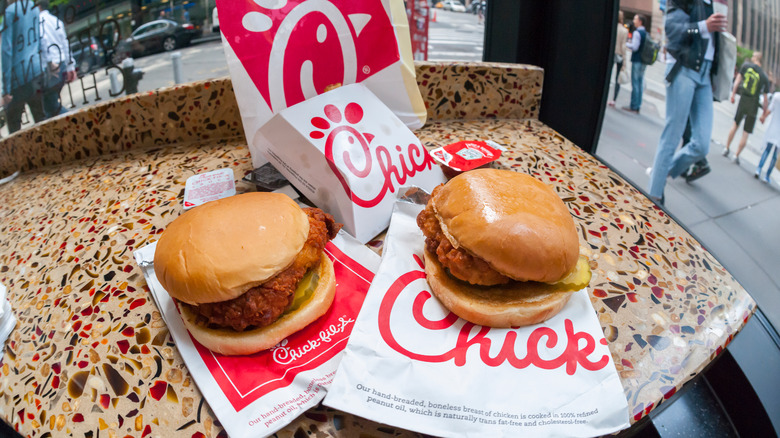 rblfmr/Shutterstock
Let's talk about the elephant in the room — or, er, the chicken: Chick-fil-A also offers a very craveable bird, and their drive-thru lines are no joke, either. So what sets Raising Cane's apart from Chick-fil-A? Graves is the first to admit that this competitor does "a really good job, and they're really good at what they do." But while Chick-fil-A is known for sandwiches, waffle fries, and a menu that includes salads and soups, Raising Cane's is laser-focused on chicken fingers. "It's just our niche," Graves explained. "It's our one love, and it's the fact that we do one thing and we do it, I believe, better than anybody else, right? We make a truly craveable meal."
Not only that, but Graves said that Chick-fil-A and other chicken restaurants don't take away from Raising Cane's bottom line — because people never really get tired of good chicken. "The reason why I believe we co-exist with all these other great brands around us is you'll have somebody that will go — we know this from our customer data — we'll have somebody that they'll go get a chicken sandwich from Chick-fil-A, but then two days later, they'll come get our chicken fingers," he explained. "Luckily and very fortunately for all of us in the chicken category — chicken is just such a ... popular protein. People eat it repetitively during the week." When they want fingers and not a wing or a sandwich, Graves added, "the way we're positioned, people know, chicken fingers equals Cane's. Cane's, Cane's, Cane's!"
You can find your nearest Raising Cane's through their restaurant locator and keep up with promotions and menu items by following them on Facebook.