The Chick-Fil-A Menu Used To Look A Lot Different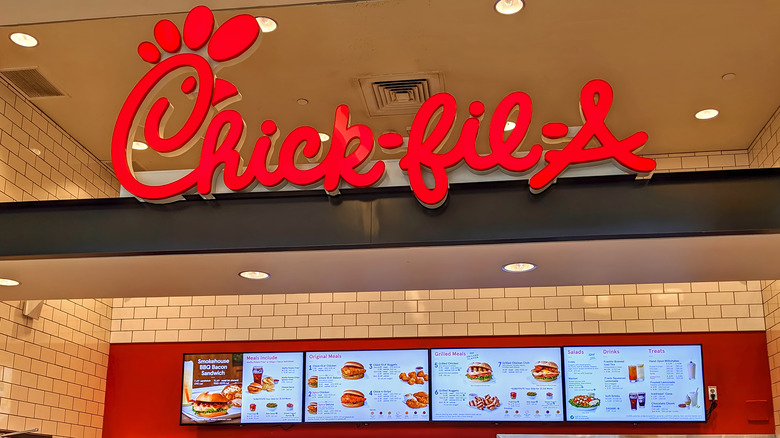 Shutterstock
While Chick-fil-A is probably best known for its Original Chicken Sandwich, its menu includes much more than fried chicken. From kale salads to sausage breakfast sandwiches, there is much more on offer at Chick-fil-A than poultry. In fact, at just under 70 items long, the Chick-fil-A menu is the largest in its sector, according to a 2017 Restaurant Business profile.
It didn't always used to be this way, however. As broken down over on Chick-fil-A's PR site The Chicken Wire, the original Chick-fil-A menu was just five items long, and offered "the Original Chick-fil-A® Chicken Sandwich ... salads with boneless chicken breast, coleslaw, lemon pie and lemonade." A much smaller offering, to be sure, but a menu built on a solid foundation. Chick-fil-A is generally acknowledged as the originator of the chicken sandwich (via The Chicken Wire), and while its menu has expanded greatly since its debut in 1967 (with the important addition of Waffle Fries in the mid-1980s), its core offerings remain the same. In fact, the recipe Chick-fil-A uses for its Original Chicken sandwiches today is the same one used over 50 years ago.
Years in the making
Shutterstock
Chick-fil-A's signature chicken sandwich, developed by company founder S. Truett Cathy, took over four years to perfect, with small details like pickling time and frying method being boiled down to a science. The hard work paid off, and today Chick-fil-A sells millions of its Original Chicken Sandwiches every day, per The Chicken Wire. As Chick-fil-A continues to expand beyond its original menu, other menu items have become popular, with Chick-fil-A Nuggets claiming the "best-seller" title in 2019 and 2020 (via Taste of Home).
Menu size varies greatly across different sectors of the fast food industry, but a general trend of streamlined menus began in 2020, per CNN, in response to pandemic conditions. At Chick-fil-A, however, menu expansion is a strategy that appears to be working. With nearly 70 items on offer daily at its over 2,500 U.S. locations, the company has come a long way since its five-item menu of 1967.